The Fastest Ways to Learn Online Rummy
|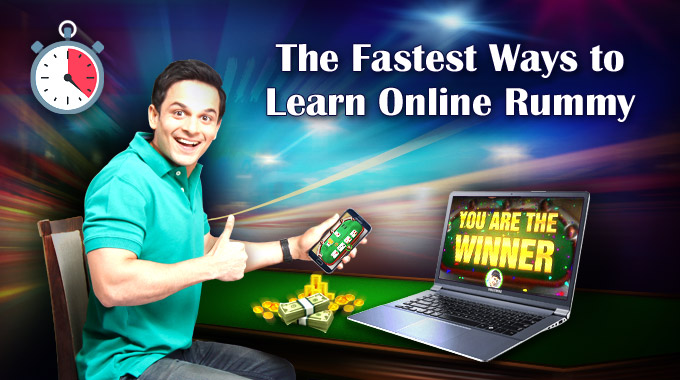 You must have heard from your friends that Indian rummy is quite easy to learn and absolute fun to play. But for every player out there the challenge is to learn the different variants of rummy and then practice the game online. Well, here are the some of the fastest ways to learn online rummy and win them as well.
Understand the rules clearly
One thing that should be very clear is the rummy rules. If you want to learn how to play rummy online, then having clarity on the rules is absolutely necessary. With the three different variants of rummy, the rules of the game also differ. Start with points rummy and understand how to play this variant. You should also understand the scoring pattern because that's how the total points are calculated. Some important things to remember here:
You need minimum 1 pure sequence before you close the game. The other can be an impure sequence
Sets can't have two or more cards of the same group.
You need your cards in proper sequences and sets before you click the 'Declare' button
Get familiar with terminology
When you are just starting off with online rummy games, you will find various terms that may or may not be familiar to you. Before you get started with playing online games, you need to understand these terminologies. You would definitely not like to get confused with terms when you are in the middle of a crucial move. You will find all the online rummy terminologies that you would require on our website.
View the demo videos
Even though you have gone through all the rummy rules, there is nothing better to watch the game play right on your screen. This helps in you getting familiar with the game and understanding how the game moves on the live screen. This also helps in getting familiar with how the website works and you don't make the mistake of making a wrong move at a crucial time.
Play Practice Rummy Games
Now you have understood the rules and watched the demo videos as well. Now, let's try playing the rummy game for real. RummyCircle offers practice games running continuously. Just register and start playing with real players. What is unique about these games is that you are playing with players just like you, who are learning rummy. You can improve your skills and check if you are making valid declarations. If you find yourself constantly losing in games, then just keep practicing till you get more confident. If you are making invalid declarations, then possibly the rules are still not clear. Just go through them once more.
Get started with playing cash games
Now that you have got familiar with practice games, it is time to get started with playing rummy cash games. Since, you are starting off, you can avail the joining bonus to play your first cash games. Start with a small amount and as you gain confidence, you can scale up.
Remember, rummy is a game of skill and it is up to you how quickly you can improve your rummy skills.