Harvest Happiness Ugadi Rummy Utsav at RummyCircle.com
|
As it has always been the case, RummyCircle has come up with yet another extraordinary festival bonanza commemorating Ugadi, a new year celebrated in the southern parts of India, mostly in Telugu and Kannada speaking belts. Will not it be wonderful to start your new year on a happy note? When someone wishes you a happy and prosperous new year you can ensure his/her words come true by arranging for your own prosperity, participating in this lucrative tournament scheduled by RummyCircle on the day of Ugadi. So, when the festival kick starts on 29th of March this year, you should have no second thought as to how to spend it.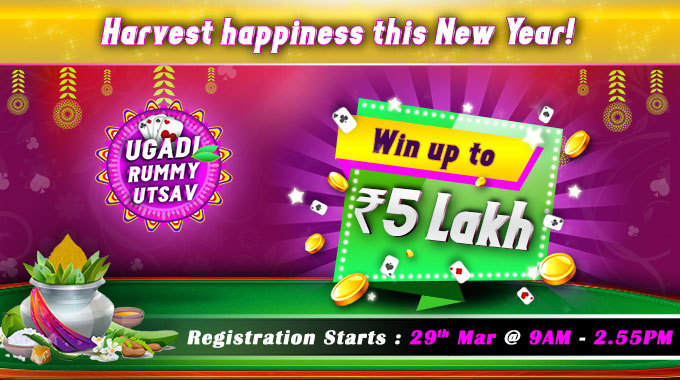 Tournament and its timings:
RummyCircle has introduced a new tournament called "Ugadi Rummy tournament" which will be on air on 29th of March only. The tournament offers free entry to the users as a token of celebration. After formally wishing your friends and other close ones on the new year day, rush and have yourself registered for the tournament. The window will be opened for registration from 9 am to 2.55 pm with the game starting by 3 pm.
Prize Money:
The highlight of the tournament is the prize money that it offers which is fixed at Rs.5 lakhs. How good is that? That is the speciality of RummyCircle which is bent upon being fair to its members keeping their satisfaction as priority.
Here is the summary of the tournament in brief:
Ugadi Rummy tournament
Date:  29th March
Entry fee:  Nil
Window: 9 am to 2.55 pm
Start Time: 3 pm
Prize Money: Rupees 5 lakhs.
With just a day to go, gear up for this spectacular Rummy experience on 29th and make the first day of the new year an unforgettable one. Download rummy app and play rummy online on mobile anytime anywhere. Read more about rummy rules.