Master your Sundays with entertainment and cash
|
A lazy Sunday often brings with it the Monday blues. But for these 4 people, and many like them, Sundays have become a reason to cheer even on Mondays. That's because they have reserved their Sundays for the Sunday Masters tournament – a combination of cash, prizes and entertainment!
44-year-old Rajesh Gupta from Mumbai chose to play online rummy over other games this Sunday, and it proved to be a wise decision. "I have played all types of games but playing on RummyCircle is a pleasure. So far, I have won around Rs 10,000 and it got credited to my account immediately. I look forward to winning more tournaments and congratulate RummyCircle for providing true entertainment with money."
Another Mumbai resident made his Sunday worthwhile. "I started playing on RummyCircle.com as my time pass while traveling in the train. But after winning the Sunday Masters tournament, Rummy Circle has become a part of my retired life. I can enjoy without going out anywhere", says 62-year-old Ashok Parab.
So what exactly is Sunday Masters? Well, it is a Rummy tournament open for all cash players conducted only on Sundays with 2 smartphones and Rs 40,000 as cash prizes!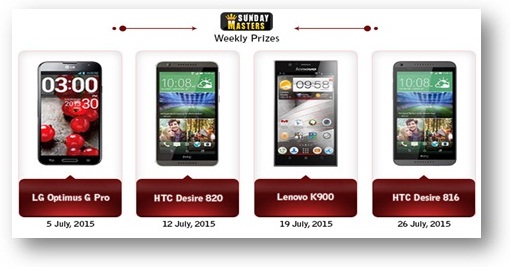 You have two options to participate in this tournament:
Rs 10 entry fee: An entry fee of only Rs 10 makes you eligible to win smartphones and Rs 40,000 in cash prizes. Plus you have to be a cash player. To be counted as a cash player, you should have made at least one cash deposit of minimum Rs 25 and played at least one cash game, before the tournament
200 Rps: You can redeem 200 reward points (RP) to participate in the Sunday Masters tournament. [You get 1 reward point for every Rs 50 that you play with. So if you are a new player, option 1 would suit you. And if you are a regular player, just redeem those reward points to win more.]
Registration starts from 11 am and the tournament starts at 3 pm every Sunday.
There are many stories to get inspired from. 30-year-old Vikas Ranjan from Bihar, who started playing on RummyCircle recently, is awed by the experience. "Its truly amazing and wonderful. Playing on this site is fun and at the same time I can earn money also."
In fact, 36 yr old Praveen Kumar from Hyderabad loved the tournament so much that he is now recommending the game to everyone. "RummyCircle is the best site for playing free games and earning money. Just try it."
Sundays are meant to just sit back and enjoy. And many people are making money while they are relaxing. So don't be left behind. Be a master of your Sunday and win prizes in Sunday Masters. You can make their story your own…or create a better one. Download the rummy app now to become one of the champions now!
For more information, see https://www.rummycircle.com/promotions/sunday-masters.html