Getting Started
Points Rummy Cash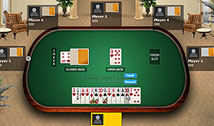 Points Rummy Cash - More Thrill. More Players. More Cash
You can now play Points Rummy for Real Cash on our all new multiplayer tables.
In Points Rummy, the winner takes all the Cash at the end of the game. So gear up to be the next big Cash winner!
None of the players know how much they would win or lose till the game ends and this keeps all glued to their screens.
Our Payment Partners