Create Free Account RummyCircle's 6th Annual Diwali Rummy Tournament Goes International;
Win r 25 Lakhs in Prizes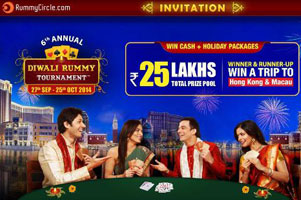 - RummyCircle's 6th Edition of the Diwali Rummy Tournament, the Biggest so Far With r 25 Lakhs Worth of Prizes
- Winner Walks Home With r 5 Lakhs* + a 5-star Vacation for 2 to Hong Kong and Macau
RummyCircle's Diwali Rummy Tournament 2014, now in its 6th edition, is the most talked about online Rummy tournament held annually on RummyCircle.com. Thousands of card players across India have started gravitating to RummyCircle.com. They can play a qualifier every 15 minutes on mobile, tablets and desktops till 23rd October and stand a chance to take home the grand prize. The tournament will end on a glorious note with the Diwali Rummy Finals on 25th October, 2014.
"I am very happy about playing Diwali Rummy Finals. RummyCircle is known for maintaining high standards, and this tournament was no exception," saidan enthusiastic Mr. Purushottam Gorremuchu when he won a cash prize in 2013's Diwali Rummy Tournament. This year's winner will take home a whopping r 5 lakhs* and a 5-star vacation for two to Hong Kong and Macau.
Last Diwali Rummy Tournament's cash prize winners couldn't be happier with the tournament size, fair play and of course the prizes. Mr. Darshan Sirsat from Goa said, "RummyCircle is the best rummy site. No other site can compete with RummyCircle and of course the Diwali Tournament was fantastic because everyone has won prizes. RummyCircle is getting bigger and better every day!" RummyCircle does keep getting bigger and better; this year even the runner-up bags a 5-star vacation for 2 to Hong Kong and Macau along with r 2 lakhs* in cash.
RummyCircle.com is also running a referral scheme for their patrons. Anyone who gets people to join RummyCircle.com and play the Diwali Rummy Tournament will get a r 1000 bonus*. For many Rummy lovers, RummyCircle.com's Diwali Rummy Tournament is a fun-filled annual ritual since it completes their traditional experience of playing cards during the Diwali season. In the first edition of the Diwali Rummy Tournament, which started off in 2009 with r 100,000 in cash prizes, the stakes have amplified year on year.
"The prize pool this year is r 25 lakhs* and we are hoping to create that unmatched winning experience when we conclude the 6th annual Diwali Rummy Tournament as well. It has been a conscious attempt every year to make the tournament bigger and better and create an unmatched gaming experience for all our patrons. We keep adding more value for the winners every year, and this year two winners will win a trip to Hong Kong and Macau. We have carefully designed the schedule of Diwali Rummy Tournament to ensure that players enjoy a fantastic four weeks of Rummy this Diwali. This year's tournament is a milestone since it is the first and only large-scale tournament which will be played on mobile, tablets, laptops and desktops," saidSachin Uppal, Marketing Director at RummyCircle.com.
For an authentic Rummy experience this Diwali, card game enthusiasts can visit www.RummyCircle.com
Date: Tue Sept 30 2014, Mumbai
Source: http://www.prnewswire.co.in/news-releases/rummycircles-6th-annual-diwali-rummy-tournament-goes-international-win-rs-25-lakhs-in-prizes-277555801.html
Games24x7.com has now become RummyCircle.com