5 Quick Tips to Make Your Online Rummy Account Hacker Proof
|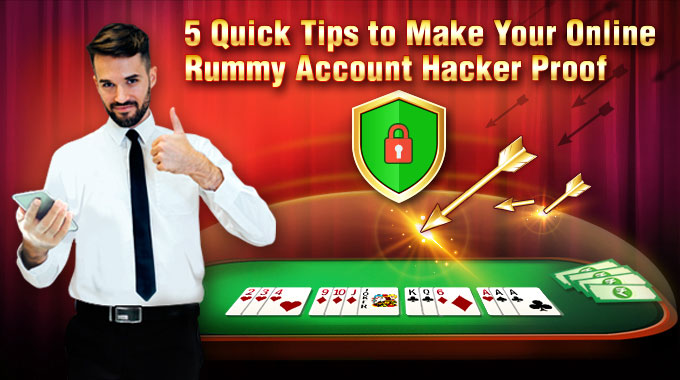 How often have you thought about online security when you are visiting different websites or playing online rummy? Even though our website is absolutely secure, your personal device vulnerability can put your account at risk. Don't let your account be comprised. Here are five things that you can do to protect your online rummy account and make it hacker proof.
Your password is the most important thing
We often take our gaming passwords quite casually and that leads to breach of account security. No matter, who asks for it, you are not supposed to share your passwords. Never write down your password that can be easily picked up and used. Also, making very obvious passwords like your wife's name, kids school or nick names are not a great choice. You may remember them quite well, but you may also give access to hackers without your knowledge. Here are quick things to keep in mind when you are creating your password:
Make it complex with special characters, mix of upper and lower case etc.
Avoid saving passwords to your browser
Don't use the same password for all your accounts
Always log out once you have done playing your game.
Run regular scans for malicious programs
Trojans and keyloggers can very simply put your account on risk. It is important to have an active security suite working on your device. With regular and timely scans, your device will be protected from online threats and not only your RummyCircle account but also all your other digital accounts will be safe and secure.
Avoid visiting unsecure websites
Not all websites out there are secure. There are certain websites that have been created to steal your data. Browsers like Chrome give you a warning when you are about to visit an unsecure website. You should avoid visiting such websites. It is also sometimes possible that the websites that you know are safe have been comprised or infected. If you get a warning, stay away from it.
Don't share confidential information
One thing all rummy players should keep in mind is avoid sharing confidential information. RummyCircle representatives will never ask you to share your credit card details or confidential details like OTP, CVV over a phone. Sharing your confidential information can put your account on risk. So, when you are asked such information, they are definitely not from RummyCircle. Don't share any details and get in touch with RummyCircle customer care team immediately.
Beware of Phishing Attacks
This is another threat that online gamers need to be aware of. Phishing is when scammers send fake emails with a link back to a malicious website looking very similar to popular websites like RummyCircle. The aim is to defraud you off your login credentials and access your banking details and other sensitive data. The simplest solution is never clicking on a link from an unknown email id. If you feel there is some great offer in store for you, then go to the browser and type out the URL and then go the offers page to check it in person.
Putting simple check and balances in place will help you secure your account and keep your account safe, no matter how many games you play online.