A Tournament where Everybody Wins!
|
It's that time of the month again where you get to win massive cash prizes! It's time for Jumbo Everybody Wins Tournament. Yes – all participants win assured, minimum cash prizes.
At RummyCircle, our effort is to give a perfect ending to your long, hard-working month. What better way to do it than with a tournament that offers Rs 3 lakh in cash prizes!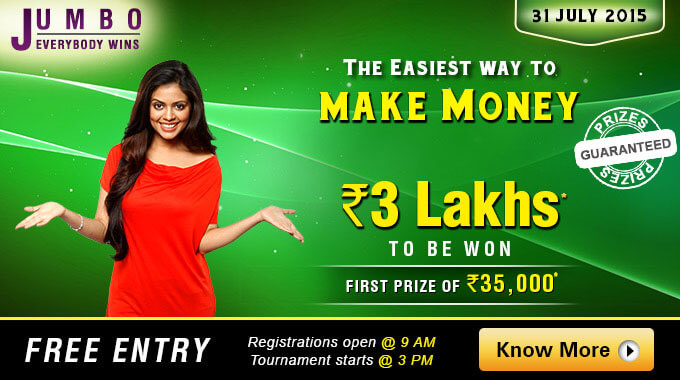 What's more is that the first prize is Rs 35,000 cash. So what are you waiting for? Get your rummy skills ready for 3 pm on July 31st, 2015. Registrations are already on. Don't miss the chance
Free entry for all cash players. And to be a cash player, you must have made at least one cash deposit and should have played minimum one cash game before the tournament.
Thousands of players have played and won in this exciting tournament
Manisha Dhanani from Gujarat has had a great experience playing Jumbo Everybody Wins Tournament. "I have won cash many times and that too free of cost. Thank you RummyCircle", she says.
36-year-old Saravanan C from Tamil Nadu has another experience to share. He says, "It feels so good to win in this tournament for the first time as I have lost several times too. The winning amount gets credited at once. It's a genuine and good site to play."
You can also share your winning stories like Manisha and Saravanan. Just play, trust your rummy skills, and win big money!
Subscribe to our blog for all the latest tournaments