7 Reasons why you will love being a Beginner at Rummy
|
Being new to the game of Rummy can have many advantages. And instead of just listing down the 7 reasons why you'll enjoy being a beginner at Rummy, we will also give you 7 days to celebrate it!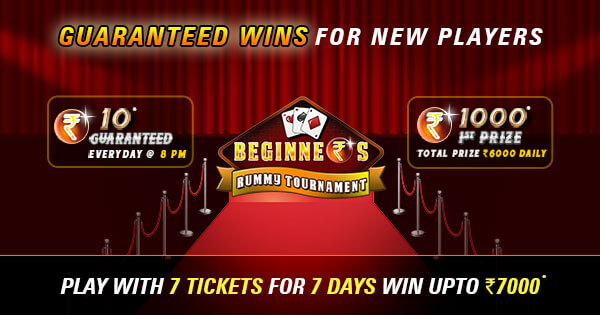 Beginners luck: It is defined as 'novices getting unexpected success against experts in a new field'. This is true for most things just as it's true for Rummy. So if you are new to the game, rejoice as lady luck is standing right next to you ensuring you win!
Earning money: If your beginners luck is working, that means you are winning games. And that means only one thing in Rummy – cash! So if you are playing cash games (for as little as Rs 25) be assured that you will be making money.
Easy to learn rules: Sometimes, a fresh perspective is the best strategy. And since the rules of rummy are fairly simple, you will not only pick up the game very fast but will also be able to excel at it in no time.
Practice makes perfect: Those who feel they know too much, don't feel the need to practice. But as the age old saying goes "practice makes perfect", you have the advantage of practicing well before taking the plunge. It is very rare that a person comes back to a practice game once they feel they know the game. So use this to your advantage and surprise the pros!
Good investment: Playing for as little as Rs 100 can give you returns in thousands. It totally depends on how well you hone your skills. After all, Rummy is a game of skill as recognized by the Supreme Court of India. How many other fair, legitimate games can you think of that promise such kind of returns? The answer is None.
Sharpening the mind: Many health blogs talk about how Rummy helps sharpen the mind as it involves memory and concentration Read. It's interesting to note that Rummy falls in the category of games that enhance mental fitness just like chess does! Rummy vs Chess
Learning new skills: Apart from sharpening your mind, you learn new skills that can be applied in your daily life. For instance problem-solving skills, observation skills, reading hands, mathematical and probability skills and so on. And how does that happen? Well, you are alert at all times as to what cards are being picked or discarded, judging what cards are remaining so you can plan your game, re-arranging your cards to minimize the losses and so on. As you play, these skills sharpen.
These advantages are not all. RummyCircle gives the beginners 7 more reasons to cheer – 7 days of Rummy Tournament exclusively for Beginners with guaranteed cash prizes and a total prize of Rs 7,000!
All you have to do is make a cash deposit of as little as Rs 25 and get 7 tickets to this exclusive tournament for 7 consecutive days. The tournament is at 8 pm every day so you have enough time to plan your day and squeeze in a game.
Let's hear from some of the Beginners who played in the BRT
"It's an awesome game to play. As a beginner, I earned Rs 300 till now. I hope to continue winning", says 28-year-old Rakesh Varma from Hyderabad.
Another player from Mumbai thanks RummyCircle for creating a tournament especially for Beginners. "I am very happy to play and win in Beginner Tournament. I can trust RummyCircle and will be happy to tell my friends about it", says 30-year-old Nirankar Kushwaha.
This Promotional Tournament (BRT) is open to only those players who have valid tickets to it. And the tickets to Beginners' Rummy Tournament are only given at the time of their first successful cash deposit on RummyCircle.com. It's a free tournament with guaranteed prices for all participants. Know More
Let's end with another BRT players comment Alvin Jose from Kerala, "I am very happy with the winning. It's a very good site for making money."
So go on and take advantage of being a beginner.
Subscribe to our blog for more fun updates on Rummy