10 Reasons Why You Should Download The RummyCircle App
|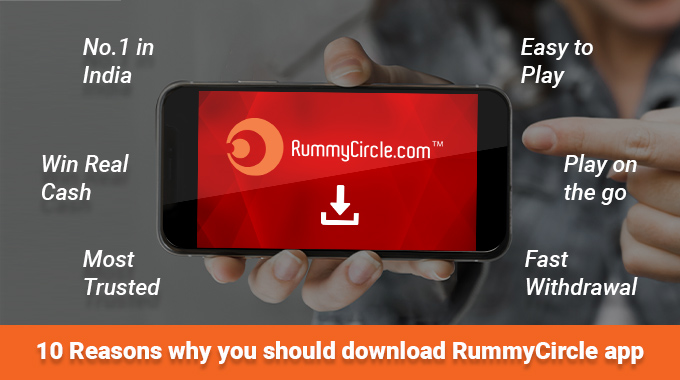 Where have all the years gone? From playing harmless yet competitive card games after dinner with the family to expanded multiplayer matches with strangers on the internet, the world sure became small enough to fit into your pocket!
Now the first place you go to for any assistance is your phone, whether it's checking the latest movies, the most recent trends or even checking what illness you might have by searching for the symptoms. Even traditional games like Rummy games have now shifted to phones, where all you need to do is download an app like RummyCircle, the best rummy playing experience and have fun. But there are more reasons to download the RummyCircle. Here are 10 reasons why you should download the RummyCircle App.
1. Apps Over Websites
Now, this is true, not just for the RummyCircle app but most mobile gaming applications. The user interface is more straightforward, and the information is displayed in a more streamlined fashion. On a desktop, there are often multiple tabs open that slow down the browser. Rummy games require skill and quick thinking, and you might as well have an app that matches your playing speed, in the palm of your hand!
2. Rummy On-the-Go
With the RummyCircle app on your phone, the tournaments never have to end! Whether you are stuck in traffic, in a boring meeting, commuting in public transport, on vacation or even in the washroom, the high stakes excitement and super fast gameplay goes on. You can win money, even foreign trips, no matter where you are.
3. Smartest way to get smart with rummy
You could be a rummy enthusiast, a newbie or an experienced player – the app has you covered. Get acquainted with rummy rules, sharpen your skills or enter into cash tournaments, right from wherever you are. Our rummy app is loaded with all the features that are available on the desktop, yet it gives you the flexibility to play at anytime and from anywhere. It not only improves your rummy skills quickly, but also keeps you challenging in a smart way.
4. For Every Internet Speed
What if you are in a place where your mobile phone is not able to catch high-speed internet? Well, there is a reason RummyCircle has over 5 million downloads. Being India's best rummy app, it works like a charm on 3G as well as 2G network. Nothing spells user-friendly as an application that adapts. Additionally, given how light the application is, it does not take up too much of the mobile phone memory.
5. Mobile Data Friendly
Have you ever been in a situation where you're in the middle of a game, and your mobile data got exhausted? Unlike most online gaming applications, the RummyCircle app consumes the least amount of data, so the fun never ends abruptly. The design of the app is such that it does not slow down your mobile device either.
6. Not Just For Big Screens
But what if you have a modest phone and a knack for rummy? Is the website a better option for you, in that case? This is where RummyCircle wins you over – its smart programming enables it to optimise the visual experience even on a small phone screen. There are no quality compromises. The application also undergoes regular updates, so you as a player can let them know the improvements that will enhance your gaming.
7. Amazing Graphics – The Real Deal
Does it have the thrill factor, though? Hands down, the application offers you the best rummy gaming experience for your android phone. The graphics and UI, thanks to the low data usage and screen-size customisation, gives you the feel of playing an actual card based rummy game, complete with a gorgeous host and tons of excitement.
8. Personalisation
The more you play, the more the app gets to know you and your gaming preferences better. It presents you with tournaments and games in keeping with the level of challenge you are used to.  The application offers you special deals, offers and rewards. As your confidence increases, you can participate in the games running all through the day.
9. Push Notifications and Instant Updates
The one thing that any rummy player will hate is missing out on the big tournaments and cash games. Further, there are updates on the latest events and game variants. With the app, you are always in cue. The app let's you know about everything in the RummyCircle instantly. You don't need to wait home and check your laptop. Get alerts and updates as you go.
10. Multiple Games, One App
RummyCircle has brought the best of games in just one single app. The recent My11Circle fantasy game app can easily be accessed through just a click right from your RummyCircle app. So, whether you want to play rummy games or fantasy, the answer lies in one single app.
So, what are you waiting for? Download the RummyCircle app today, learn all the rummy rules and step into this exciting world and win rewards that will surely keep you coming back for more.