It's true! You can get a mobile for Rs 10!
|
Who says good things in life aren't for free. RummyCircle gives you just the right opportunity. Every Sunday, you get the chance to win a mobile phone – only for Rs 10. All you have to do to Win is to Play!
This Sunday turned out to be delightful for 25-year-old Anthony Raj from Coimbatore. He didn't know what was in store for him when he put in Rs 10 to play in the Sunday Masters tournament. His winnings left him amazed. "Such a wonderful idea. I was playing for fun and won Rs 3,650 and a Samsung Galaxy A7. Wow."
A 66-year-old from Faridabad landed with a Samsung Galaxy A5 phone. "Good experience to play rummy online and win mobile phone," says Tara Chand
So what do you have to do to win? Simple. Just become a cash player on RummyCircle and play in the Sunday Masters Tournament @ 3 pm every Sunday. To be a cash player, you must have made at least one cash deposit (of as little as Rs 25) and should have played at least one cash game before the tournament.
Here's a quick glance at what's in store for the coming Sundays in the month of September. So make your weekend count. Start practicing from now and Play to Win grand prizes only on RummyCircle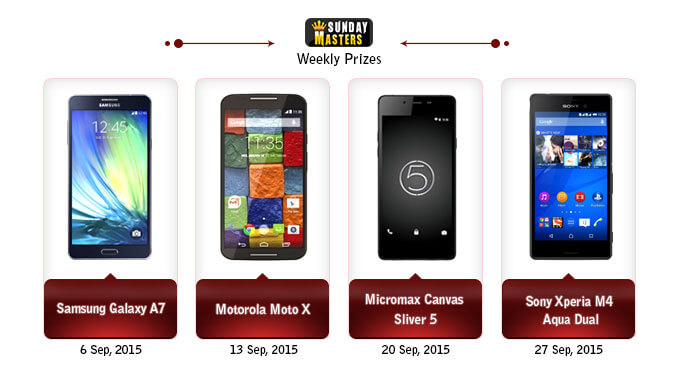 47-year-old Satyam P from Hyderabad highly recommends playing on RummyCircle. "Join and play to win real cash prizes. I have won cash prizes in Club Tournaments, Jackpot tournaments and Jumbo Tournaments. I was the happiest on winning in Sunday Masters Tournament as I won a cash prize and a Google Nexus Mobile. I feel so lucky to have found Rummycircle.com. Playing on this site is a lot of fun," he promises.
Another 25-year-old from Hyderabad won a Sony Aqua M4 mobile by playing a tournament with only Rs 10 entry fee. "I feel very happy winning a mobile phone. RummyCircle is number 1 website when compared to others," says Sravan K.
The coming Sunday is even more exciting with Rs 1 lakh in cash prizes apart from the mobile phones. Hone your Rummy skills or learn how to play rummy with these simple rummy rules. Do NOT miss this chance!
Subscribe to our blog for exciting updates