It's Now or Never with only 1 more week to go in the Diwali Rummy Tournament!
|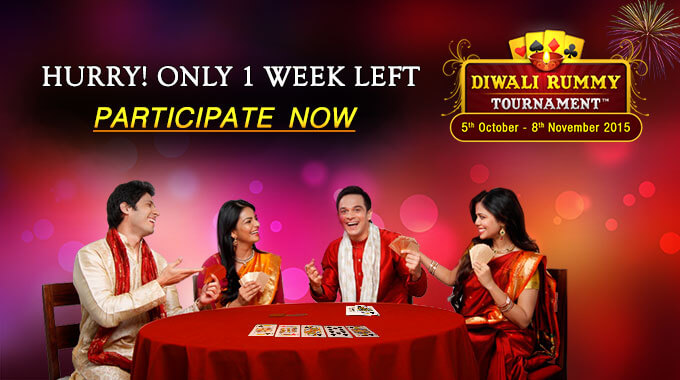 Hundreds of people have won thousands in cash prizes only in the 7th annual Diwali Rummy Tournament (DRT) by RummyCircle. This is your last chance to make the most of the tournament as this is the last week to play in the DRT before it culminates on November 8th.
28-year-old Suresh Kumar from Tamil Nadu can't believe he won such a big amount in the weekly Finale "It was unbelievable. I won Rs 26,000. Thanks a lot to RummyCircle for providing great entertainment and great earnings."
There are still lakhs is cash prizes to be won from a pool of Rs 35 lakh. With Rs 21 lakh on offer in the Finale, people are using every opportunity to play.
Riazudeen from Karnataka shares his thrilling journey in the DRT. "It's a lot of fun to play with thousands of unknown people. I just started playing a couple of weeks ago, and I have got the ticket to the Grand Finale. I trust rummycircle.com as it gives a 100℅ security when we play rummy online. Thanks to rummycircle for creating this environment," he says.
25-year-old Raj Mani from Tamil Nadu won the 3rd prize in the weekly Finale this Sunday, "I stood 3rd and won Rs 15,000 in the Diwali Rummy Tournament. I also got the ticket to the Grand Finale. This is the best card game ever."
So if you haven't got a ticket to the Grand Finale yet, log in right now to rummycircle.com and participate in the ongoing DRT – enjoy your Diwali like never before.