Predict Cricket Results, Play Rummy, Win Cash Prizes
|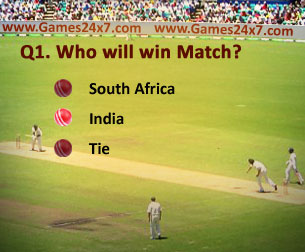 Here's your golden chance to win real cash prizes by predicting cricket match outcomes.
This Cricket season, RummyCircle.com (formerly Games24x7.com) will conduct 5 Predict-N-Win Competitions where Games24x7.com ( Now RummyCircle.com will accept predictions on select matches. At the end of each Predict-N-Win competition, there will be a 1024 player rummy tournament held for that competition. Top 128 players in each of the tournaments will win cash prizes.
PREDICT: Predict match winners, scores and more in Predict-N-Win Competitions. Accumulate points by predicting correctly.
PLAY RUMMY: TOP point scorers in each of the competitions qualify and play in the respective Rummy Tournaments.
WIN CASH: Over Rs. 2, 50,000* to be won in cash prizes.
Check out the Rummy Tournament Schedule