Rs 3 lakh to be won on the last day of September!
|
Gear up for another smashing competition! RummyCircle gives you a great way to end your month with Jumbo Everybody Wins Tournament – With Jumbo Cash prizes!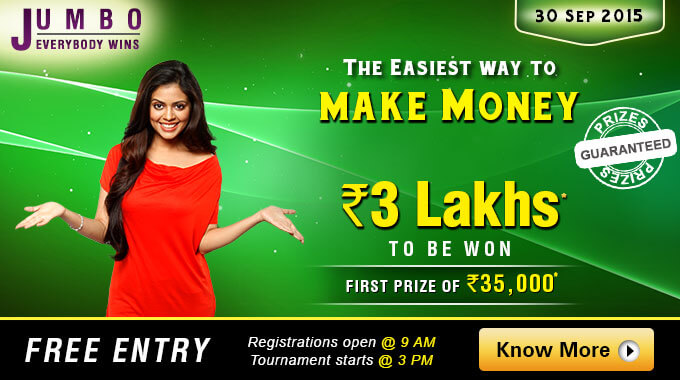 Join the game on September 30, 2015 to win from a prize pool of Rs. 300,000. What's the best part? As the name suggests, there are guaranteed prizes for one and all with first prize of Rs 35,000!
At Jumbo Everybody Wins Tournament, you can test your skills against some of the best rummy players from India. Register for the tourney and beat your opponents to be crowned as a rummy champ with real cash in rewards!
So what are you waiting for? Get your rummy skills prepared for 3 pm on September 30th, 2015. Register between 9:00 am – 2:55 pm the same day..
The entry is absolutely free for all cash players. To be a cash player, you must have made at least one cash deposit (of as little as Rs 25) and should have played at least one cash game before the tournament. So start playing on RummyCircle NOW.
Let's hear from some of the past winners of this exciting game.
52 year old A Rajendran from Tamil Nadu is a proud winner in one of the Jumbo tournaments. "Playing on RummyCircle is fun and it stimulates the mind to keep it active through the day," he says.
Apart from sharpening your mind, you can also earn a quick buck. 29 year old Gowtham Mandarada from Vishakhapatnam won one of the many prizes offered in this tournament. "I won Rs 1,000 in the tournamentnt and it feels amazing. I play on RummyCircle in my free time and its very good entertainment. With some rummy skills, anyone can earn a good amount on RummyCircle. Its 100% trustworthy website for winning cash prizes," he says.
Andhra's Upendra Tota, won his very first game in this tournament. "It was my first winning and I got Rs 500. It was unexpected and a very nice experience. I want to earn a lot more in future," he promises.
Whether you play for fun or to win cash, there is something in it for everyone. Month-end is the time where you get the chance to win Big! Just play, trust your rummy skills, and win real cash!
Subscribe to our blog for exciting updates