Rummy Marathon on 26th January 2011, Rs. 38000 to be Won
|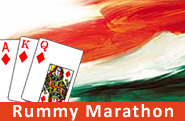 RummyCircle.com (formerly Games24x7.com) is happy to announce the Rummy Marathon on 26th January 2011.
We will be hosting 26 non-stop rummy tournaments (19 Quadruple-Up and 7 Triple-Up tournaments ) running from 12 AM, 26th Jan to 12 AM, 27th Jan 2011. Tournaments start every hour. You pay only Rs. 2.60 in entry fee and we multiply your entry fee three times (Triple-Up) or four times (Quadruple-Up).
Rs. 38,000* to be won in total cash prizes!