Unfold Surprises Every Wednesday
|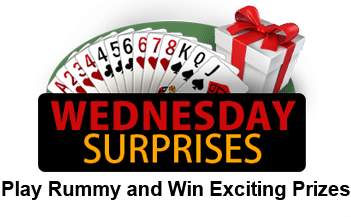 Blackberry Smartphones, Gold Coins, i-Pods, Digicams & more to be won.
We've blogged before about our rummy tournaments,offers and promotions. But this blog post is like no other. This is about Wednesday Surprises – a unique concept started for the first time in the history of online Rummy in India.
What's Special About Wednesday?
We all go through mid-week woes by the time it's wednesday. So we at RummyCircle.com (formerly Games24x7.com), took it upon oursleves to spring a new surprise upon you every Wednesday! The idea is simple, yet extremely thrilling – You login on Wednesday to check out the schedule of Wednesday Special Tournament, you take your seat when tournament registration opens and if you win, you get to take home loads of goodies and cash prizes too!
What Do You Stand To Win?
Winners on 1st Feb, won Blackberry Smartphones and a total of Rs.44,100 in Cash.
Winners on 8th Feb, won Pure Gold Coins and a total of Rs.36,024 in Cash.
i-Pods, Digicams, Watches and more are up for grabs in the remaining 3 weeks. Login every Wednesday to check out what's in store for that day! Over Rs. 2 Lakhs to be won in February.
Know more about Wednesday Surprises