The Biggest Weekend offer from RummyCircle so far!
|
It's raining special offers all around. So what are you doing this weekend? You will regret if you are anywhere but the Weekend Loot Tournament on RummyCircle. This is your big chance to make your weekend profitable like never before. Whether you know how to play Rummy or not, there is no greater incentive than the Weekend Loot.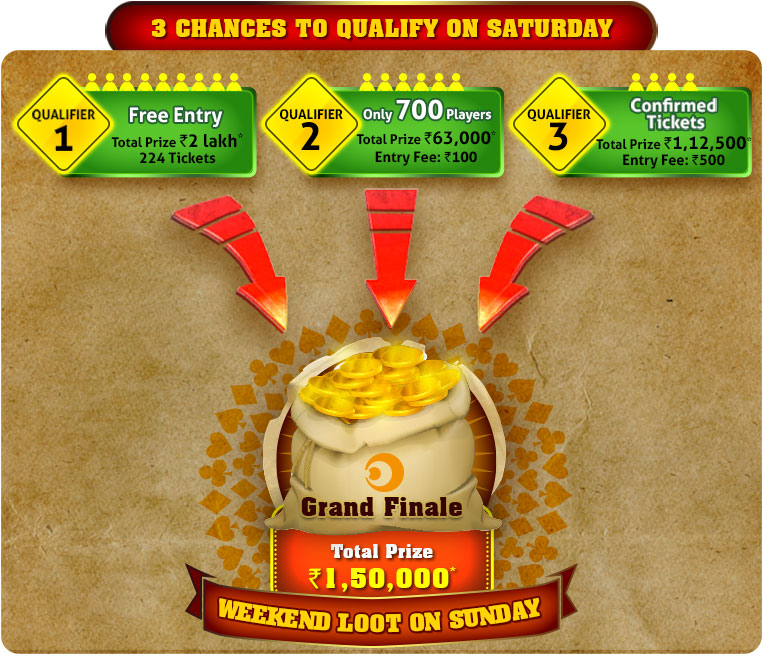 What is the Weekend Loot Tournament?
To make your weekends more exciting & rewarding, RummyCircle gives you WLT. There are 4 rounds to be played; 3 qualifiers and 1 grand finale – all give out big cash amounts. If you win in any one of the 3 qualifiers, you get cash prizes +a ticket to enter the Grand Finale on Sunday worth Rs 1.5 lakh!  The table below will make things clear
| | | | | | |
| --- | --- | --- | --- | --- | --- |
| Tournament | Day | Registration | Start Time | Entry Fee | Total Prizes |
| Qualifier 1 | Saturday | 9am – 1:55pm | 2:00 pm | FREE | Rs 2 lakh + 224 tickets |
| Qualifier 2 | Saturday | 10am – 7:55pm | 8:00 pm | Rs 100 | Rs 63,000 +117 tickets |
| Qualifier 3 | Saturday | 10am – 8:55pm | 9:00 pm | Rs 500 | Rs 1,12,500 +250 tickets |
| Grand Finale | Sunday | 7pm – 8:55pm | 9:00 pm | Ticket | Rs 1.5 Lakh! |
If you are one among-st the smart players who have qualified for the Finale, you will get a guaranteed prize of Rs 200 for your valor! Remember, the total tickets being given out in Qualifiers is 591, and the Finale has only 400 seats. So it's first come, first serve basis.
How do I participate?
As the table states, only Q1 has free entry for all cash players. To be considered a cash player, you must have made at least one cash deposit of as little as Rs 25 and should have played minimum one cash game before the tournament.
And that's all. Play the free Q1 and stand to win from the pool of Rs 2 lakh AND get a ticket play the Grand Finale worth Rs 1.5 lakh. So get practicing now.
What do Past Winners of the Weekend Loot Tournament have to say?
Haryana's Surender Gahlawat has had a wonderful experience. "I won Rs 24,500 in WLT. It's been a great experience for me. This site is very trustworthy for winning real cash and quick service for receiving money", he says.  
27-year-old Govind Raj from Tamil Nadu is a relatively new player. His experience so far keeps him coming back for more. "I feel great after winning this tournament as it was free entry, and I got real cash. It is the most popular website I have ever played on. Playing in mobile is great too", he says.
And for Andhra's Ravi Teja, there is no better entertainment than the Weekend Loot. "WLT is full entertainment on weekends. I win huge amounts. I feel lucky to be a member in RummyCircle. It's a fair and genuine website", says Ravi.  Warangal.
It's the biggest offering from RummyCircle's bouquet so far. So don't miss it. Just like Surender, Govind and Ravi, make the most of this weekend so you can shop during the others  🙂
Subscribe to our Blog for timely updates so you don't miss a single chance of winning!