Win upto Rs 3 Lakh with Jumbo Everybody Wins Tourney
|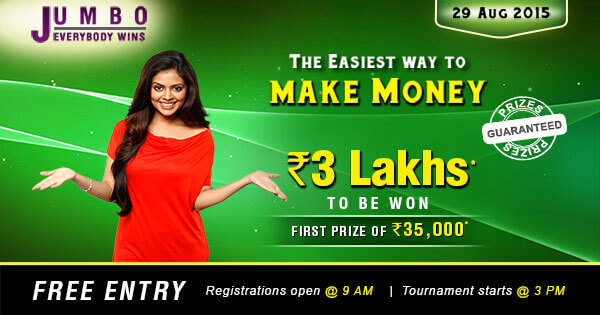 It's that time of the month again where you get the opportunity to win enormous cash prizes. It's time for Jumbo Everybody Wins Tournament with Jumbo cash prizes. Yes, all participants win assured, minimum cash prizes.
At RummyCircle, we aim to provide an awesome end to your long, hard-working month. What preferred mode to do it than with a tournament that offers Rs 3 lakh in real cash prizes!
A large number of players have played and won in this energizing tournament.
27-year-old Ananth from Tamil Nadu, a past winner of this tournament, shares his joy of winning. "It has been a pretty satisfying win after a long time in Jumbo tourney," he says.
Yes, satisfaction for fun is guaranteed! What's more is that the First prize is of Rs 35,000 cash! There are only 14,000 seats, and it's a first-come-first-serve tourney. So no point waiting. Instead, gear up with your Rummy Skills for an entertaining afternoon on August 29th, 2015 at 3 pm. Registration opens at 9 am on the same day. Try not to miss the shot.
The entry is absolutely FREE for all cash players. However, to be a cash player, you must have made at least one cash deposit and should have played at least one cash game before the tournament.
Shiva from Andhra Pradesh has had an extraordinary experience playing Jumbo Everybody Wins Tournament. "I am so excited to have won Rs 50,000 in this tournament. I have also referred my friends to the website and got Rs 1,000 for each referral. It's amazing as no other site can give this offer. The game load's very fast, and the amount reflects in the account within a day or 2. I love and trust RummyCircle", he shares his Rummycircle review
Play to experience Shiva and Ananth's joy and share your stories with us. Simply play, believe in your rummy skills, and win huge cash! Make your weekend profitable and fun with online rummy cash games.
Subscribe to our blog for cool, fun Rummy updates