Work + Play = Winning Combination
|
By Chaitanya Udare, Associate Marketing Manager, Play Games24X7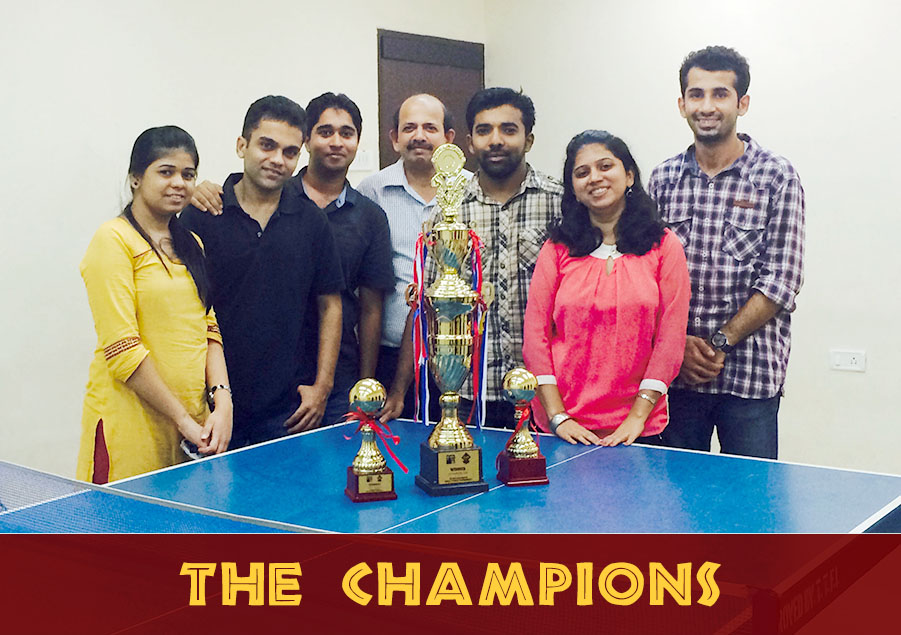 They say Work and Play should go hand in hand. We at Games24x7 believe that Work is Play and Play is Work – "We win, we lose, we enjoy, we try but whatever happens we keep on playing – 24×7." 
An excellent example of this was on display at the recent Inter-Corporate Table Tennis Tournament held in Pune. An enthusiastic team of 7 members left for the destination from Mumbai to compete with teams like Tech-Mahindra, Idea, HSBC, Fujitsu and 5 others.
The tournament began with 10 teams vying for the prestigious trophy in a 2-stage format.
Stage 1 comprised 2 groups of 5 teams each playing in a Round Robin format (where one team plays against each team in their group). We had to face the defending Champions Tech-Mahindra and a tough team like HSBC.
After winning the 1st match easily, we lost a nail-biting match against HSBC going down 2-3. Next up we faced Tech-Mahindra, the favourites for the Cup. The 3d match- which was the doubles- was going to be the most crucial.
It was one of the toughest matches played that day and after being down by 1-2 and 8-10 we fought back to clinch the doubles and the position of group toppers!
Two teams from each group (4 teams in all) qualified for the 2nd stage. Stage 2 followed a knockout format – you can call it the semi-finals. It was pretty much a one-sided affair where we beat Amdocs 3-1 to storm into the final.
In the finals, we faced Fujitsu Company, which had beaten Tech-Mahindra in the Semi-Finals. We were at par in the initial games at 1-1, and the all-important doubles match was due to happen next. Each game in that match was a tough affair with games frequently going to the 10-10 stage. But our Games24x7 team managed to hold their forte and won the doubles 3-1. We then finished off Fujitsu in the next single's game to clinch the title by winning 3-1.
Our excitement didn't end there. On returning to office, we got a rousing reception from our entire fellow Play Gamers. There was a photo session conducted for the Winners, and the trophy was kept on display for everyone to see.
It was indeed a fantastic day in the life of Play Games24x7. Some qualities are built by the place where you work, and we believe that those traits of teamwork and a deep urge to succeed came to the fore during this trip. Be a rummy star play rummy online.
As I said, "We win, we lose, we enjoy, we try but whatever happens we keep on playing – 24×7."
Want to work with us? www.games24x7.org/join-us.html