You Play, You win @ Jumbo Everybody Wins Tournament
|
It's time for the biggest tournament of the month with Rs 2.5 lakh in cash prizes. As the month of June comes to an end, and with rain gods playing hide n seek, we at RummyCircle want to give you something definitive to cheer about. What better way to give a perfect ending to the month of June than to host a tournament where everybody wins!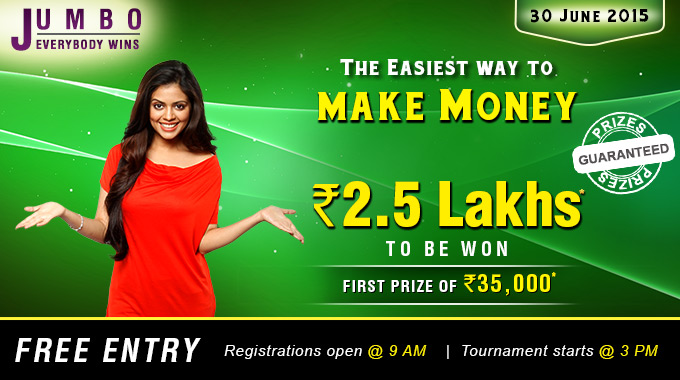 Jumbo Everybody Wins Tournament is a special game organized by RummyCircle with the biggest prizes on offer for the month. The total cash prize money for this game is a whopping Rs 2.5 lakh.
The 1st prize is Rs 35,000. But the best part is that everybody wins some amount on this tourney. All you need to do to win cash…is to play!
The entry is absolutely free for all cash players.
For non-cash players, this is the best time to start playing cash games. By adding only Rs 25, you stand the chance of winning Rs 35,000! No other platform can multiply your money that much in a single day.
On June, 30, 2015, registration for this tournament opens at 9 am. The Tournament starts at 3 pm so you have plenty of time to get any details that you may need.
Making money doesn't get easier than this so don't miss this opportunity. You can register or add cash @ rummycircle.com