Press Releases
RummyCircle.Com In Indian Express « Back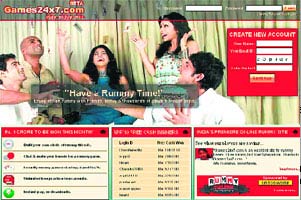 Can't gamble online? Go to a Rummy site
While online gambling of any kind is illegal in India, the handful of
Rummy
sites that allow you to play for cash are not flouting the law. This is because a Supreme Court ruling of 1967 (State of Andhra Pradesh vs K. Satyanarayan) states that Rummy cannot be called a "game of entire chance" and "is mainly and preponderantly a game of skill".
Websites like Games24x7.com and Ace2three.com allow players to play Rummy for free as well as for cash stakes. Games24x7 is basically a multi-player format with cash stakes of between r 25 and r 1,250 per match and regular tournaments where players can win larger sums. Ace2three, on the other hand, has a point-based tournament format with the website trying to "re-create the offline table online". The Games24x7 site flaunts its biggest winners on its front page, putting player "sjey7203" at the top with an overall earning of r 20,900.73.
The sites, however, take a service charge from the players. Games24x7, for instance, charges 15 per cent on cash games, which means a player winning a two-game match of r 25 takes home a maximum of r 42.50, the rest going to the company as service charge. The service charge is between 10 and 15 per cent in the case of Ace2three.
Players who want to play for money can transfer cash to their account in the websites from credit cards or through Internet banking, with all top Indian banks listed on the secured payment gateways. Players can get their winning amount sent to them as cheques.
Games24x7 has over one lakh users by some estimates, while Ace2three has nearly 40,000 players. "We are doing very well on our player volumes for a young start-up. We have a few thousand monthly players. However, most of them play for free and so we are now exploring advertising as well as a source of revenue," says Trivikraman Thampy, founder & CEO of Games24x7.
Deepak Gullapalli, founder & CEO of Hyderabad-based Ace2three, says only about 15 per cent of his total traffic is for cash games. "Our USP is that we re-create a regular Rummy table with at least six players and point-based tournaments. We also have larger tournaments with 450-500 players which are very popular," he adds.
Both companies, however, refuse to disclose their total turnover.
But what Thampy and Gullapalli do disclose through their websites is that it is legal to play Rummy for money in India. Both websites quote the 1967 Supreme Court order to prove their point.
"We have not had any legal issues. The law in most states is unequivocal in its exemption to games of skill. The clarification is simply to inform our customers about the law, which is not that well known among the public," says Thampy.
There is, however, a catch. The Games24x7 website makes it clear that players from Assam, Odisha, Andhra Pradesh, Tamil Nadu and Telangana are prohibited from playing cash tournaments "as the law in these five states is unclear on playing games of skill for cash prizes".
Thampy, who has based his company out of Mumbai, says his website 'gets players' addresses and uses that information to keep them from playing for prizes in those states where the legal issues are somewhat unclear".
Gullapalli says his website does not allow players from these states to buy cash chips, nor do they send winners cheques to anyone with addresses in these states.
Thampy thinks there is a sizable market for games of skill in India. "We plan to stay focused on Rummy for some time. We may also introduce chess and bridge at a later date," he adds.
Date:Sun May 09 2010, 09:15 hrs
Source: http://www.indianexpress.com/news/cant-gamble-online-go-to-a-rummy-site/616026/3
Games24x7.com has now become RummyCircle.com