Press Releases
RummyCircle.com in the hindu businessline« Back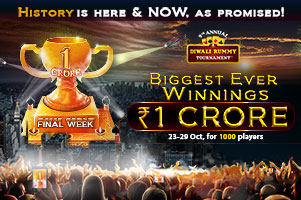 Whopping 3 Crores In Cash Prizes Get Indian Rummy Players Online This Diwali
October 18, 2017: Business Wire India
RummyCircle launched its 9th Year Diwali Rummy Tournament™ with the largest ever gathering of the best Rummy players across the country. A month long celebration with four grand Weekly Finales bring much joy and excitement for all Rummy lovers.
This year's Diwali Rummy Tournament (DRT) started with a grand Week 1 Finale won by Visweswara Reddy from Bangalore, Karnataka, bagging the first prize of Rs. 6.77 Lakhs. Sharing his excitement, he stated, "I won Rs. 6.77 lakh as the first prize in the DRT Week 1 Finale 2017. I am playing on RummyCircle from 5 years, and I believe this is the largest & user-friendly website. I also appreciate the whole RummyCircle team for providing superb customer service and tournaments."
Players need not worry if they have missed out on the first two weeks. There are still two more weeks of celebrations remaining on RummyCircle and over 1.8 Crores of cash prizes to be won.
Four Weeks of Big Cash Prizes
The 9th Diwali Rummy Tournament brings Four Weekly Finale (with entry requirements) that started from 2nd October 2017. Players win tickets and cash prizes in the 'Satellite' tournaments happening every week. What makes this Diwali Rummy Tournament unique, is the independent Weekly Finale structure that allows the participants to win cash prizes on every Sunday @6PM, all through October.
Diwali Rummy Tournament Schedule
| | | |
| --- | --- | --- |
| Tournament | Dates | Prize Money (INR) |
| DRT Week 1 Finale | October 8 | 40 Lakhs |
| DRT Week 2 Finale | October 15 | 60 Lakhs |
| DRT Week 3 Finale | October 22 | 80 Lakhs |
| DRT Finale | October 29 | 1 Crore |
Play Games24x7 Co-CEO and Cofounder Bhavin Pandya said, "The 9th Annual Diwali Rummy Tournament comes with a brand new structure never before seen in the online Rummy space. We have four independent Weekly Finale that give players the opportunity to participate and win cash prizes every week. So, rather than waiting for a grand finale at the end of the month, players can now participate multiple times throughout the entire month of Diwali. If a player misses out on one Finale, he has others coming up."
With over 1.8 Crores still to be won, this is the best time to start playing rummy and winning cash. Just create your account with RummyCircle and join India's biggest 9th Annual Diwali Rummy Tournament.
About Play Games24x7 Pvt. Ltd.
Launched in 2006, Play Games24x7 is an online desktop and mobile gaming platform that has leveraged technology to bring people an awesome experience by playing games that they have always loved and enjoyed. The very affable Indian card games, Teen Patti and Rummy that were restricted to the living room during the festivities, are now played every day at a competitive level in the limitless digital world. During the annual tournaments, winners have even walked away with sponsored trips abroad!
Backed by a strong technical support team, seamless payment gateways, and engaging user interface, Play Games24x7 launched RummyCircle on mobile and the desktop and has seen millions of registrations, clearly indicating the role that technology has played in transforming the experience of playing card games. In the past, the company has also seen investment from the Tiger Global Management, a leading hedge fund manager. Play Games24x7 launched Rummy on RummyCircle and Teen Patti, Rummy, Poker and Bet Cricket under Ultimate Games banner, and has recorded cumulative thirteen million registrations and downloads for all the games put together.
Date: October 18, 2017
Source: http://www.thehindubusinessline.com/business-wire/whopping-3-crores-in-cash-prizes-get-indian-rummy-players-online-this-diwali/article9914735.ece
Games24x7.com has now become RummyCircle.com