Press Releases
RummyCircle.com in Cxotoday.com « Back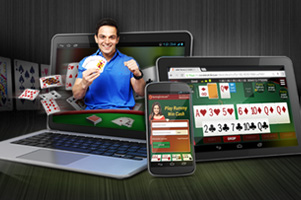 AR, VR To Catapult India's Gaming Market Growth
Play Games24×7, an online and mobile gaming platform is leveraging on technology to make playing Indian card games, like Teen Patti and
Rummy
, a better, immersive experience. Backed by a strong technical support team, seamless payment gateways and engaging user interface, Play Games24×7 launched RummyCircle on mobile and web, which has seen over 3.2+million registrations, clearly indicating the role technology has played in transforming the experience of playing card games. In a candid conversation with CXO Today,
Bhavin Pandya, Founder and CEO - Play Games24×7 Pvt. Ltd
shared the future prospect of the gaming industry along with security concerns in the gaming industry. Excerpts.
Please tell us about the current online gaming market in India and what are its future prospects?
As per industry experts, India will continue to be one of the fastest growing gaming markets in the world, due to various factors such as the easy access to budget smartphones, increased mobile internet usage, increase in usage of tablets, and of course, growing number of traditional gaming apps.
FICCI-KPMG report predicts a 27 per cent growth in gaming industry revenues. In fact, we at Play Games24×7, have been seeing a 100 per cent growth year on year for past 5 years, and we see that in 2016 too, our player adoption and growth is on a fantastic growth path.
Our approach is embedded in our belief that people like playing games they grew up playing. Localization is the key to success in India and user trends have confirmed the same. We are focusing heavily on the localization of games and technologies with a user-friendly interface. It, therefore, becomes easy to relate to the game and as a result, makes it easier for players to at least try the game once. If the game quality and experience is good, they continue to play more. In fact, Indian gaming players are dominating the gaming segment with their local offerings.
What are the upcoming trends in the gaming industry? There are three key trends that I foresee in the coming years:
1) Indian Game Studios Competing with International Giants - As more and more funds are flowing into game studios in India, studios are all set to innovate and disrupt the mobile games market. Tiger Global and Sequoia have invested in a number of Indian game companies. Tiger Global funded Play Games24×7, which is the market leader in Mobile games in India.
Play Games24×7 launched their first social game under the banner of Ultimate Games and their first indigenously developed Ultimate Teen Patti, India's top 5 grossing game. Ultimate Teen Patti game was able to beat MoonFrog and Octro's Teen Patti games on Android Play store with 1/20th the install volumes i.e. Octro has over 20 Million installs Vs Ultimate Teen Patti has less than a million installs, and it still is higher grossing than other Teen patti games.
Ultimate Teen Patti in-fact was able to beat the International studios and makers of Candy Crush for a week in November 2015 and is giving tough competition to other International game studios that made Clash of Clans and Clash of Kings in India.
We believe that in the near future, the mobile games space is going to heat up even more. However, the companies that focus on monetization well will survive the long run.
2) Newer Indian Flavour Mobile Games - India is a market where brands localize their content whether it is food from McDonalds or shoes from Bata. Same is the case for games. The games that become really popular in India have a local flavour. For example, if you see Rummy on RummyCircle, it performs substantially better than the top 5 grossing games on the Google Play Store in India. You would see more such mobile games entering and excelling in 2016. To give you an example, we have our own indigenous, home-grown India studio based in Bangalore called Ultimate Games. We launched our first game called Ultimate Teen Patti and after seeing a massive up-take, we launched Ultimate Rummy and Ultimate Poker. And we are committed to bringing more local flavour to the Indian market in 2016. Such local flavour Indian games built in India keeping in mind the tastes of Indian audiences will take over other games.
3)Augmented Reality - While this is a virgin territory, proliferation of smart-phones has become a significant motivator for mobile game developers to start building games that bridge the gap between real life and virtual world through augmented reality games. Such games can be used for driving real change in consumer behaviour. And we expect some early stage action to happen in this space in 2016.
Please share the rise of VR and how is the gaming scene transforming?
The advent of AR and VR could lead us down very different paths in entertainment, gaming and communication industry. With new advances in gaming technology, gaming companies will make full use of virtual reality. This will hopefully lead to new types of games which will push the boundaries as well as generate new experiences. We believe both AR and VR will succeed in the future.
Tell us about RummyCircle.com and how have mindsets changed when it comes to the Card games?
Indian games industry has come of age. Earlier, most game developers developed games for the US and European markets and later brought them to India. It no longer works that way! Traditional Indian games are now redefining the digital games industry in India.
With Rummycircle, we have developed a strong connect with Indian players as people like playing games that grew up playing.
RummyCircle offers the simplest online multiplayer rummy game in popular formats for free, and cash. From being restricted to the living room, Rummycircle.com is played at a competitive level (tournaments), improving the skill-set of gamers. It is currently the India's No. 1 real money game.
What innovative technologies are being used to develop such games?
Technology is at the heart of everything we do to provide safe, simple and hassle free consumer experience supported with offline assistance. For all our games, we provide high-end technology interface, robust payment gateway, and user-friendly mobile app. To give players the smoothest experience, we spend the bulk of our time on core infrastructure components. We track an enormous amount of data to determine what players enjoy and what they don't. Standard tools of the trade like A/B testing and statistical analysis are rigorously applied.
From the security point of view, how are cyber criminals accomplishing in the gaming industry?
This industry is still very nascent. While we at Play Games24×7 have taken various initiatives, including a quarterly audit of all our systems to ensure that there aren't any loopholes, we have not faced any security issues. We believe in prevention is better than cure and hence will continue ensuring our systems are extremely secure and that we are able to fend off any misuse.
What is your Business model?
We run two different business models - one for RummyCircle, our skill games business, and another for Ultimate Games, our freemium mobile games business. On Rummycircle.com, players can choose to play for real money, and we collect a small percentage of the amount that is played for as our service charge so as to enable us to provide our players with the Best Rummy Experience. In our freemium mobile games, business players start out with some free virtual currency which is required to play games, and we top up their accounts with more free virtual currency every few hours. But if players want to play more than what they can with the free virtual currency we give them; they can purchase additional virtual currency from us. This is the only way we monetize our freemium games right now though in the future we will also consider monetizing through advertisements.
Please share your business roadmap for this year and beyond? With the smartphone user base in India crossing 300 million and headed to 500 million in the next 2-3 years, we are tremendously excited about the Indian market, both for RummyCircle and Ultimate Games. We see the rummy industry growing 10x in the next five years, and we see the freemium mobile games segment growing 40-50x in the next 5-10 years depending on how rapidly payment options through the app stores evolve.
Date: Jul 14, 2016
Source: http://www.cxotoday.com/story/ar-and-vr-to-catapult-indias-gaming-market-growth/
Games24x7.com has now become RummyCircle.com