Press Releases
GOSF Exclusive Bonus Offer @ RummyCircle.com « Back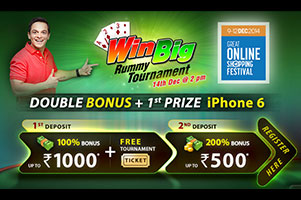 RummyCircle partners with Google to offer Rummy at GOSF 2014
- WinBig Tournament announced for players registering through GOSF 2014
- Winner of the 'WinBig Tournament' takes home an iPhone 6
- RummyCircle to offer special deals to players on GOSF website
Mumbai, December 2014: RummyCircle, India's largest Rummy portal announced it's association with Google's Great Online Shopping Festival (GOSF) 2014 to offer Rummy as a game for the second consecutive year. The GOSF 2014 is an online platform organized by Google from December 10 to December 12, 2014. A special 'WinBig Tournament' has been organized by RummyCircle, the winner of which takes home the new iPhone 6. Fresh deals and bonuses will be offered during the course of GOSF.
Google's Great Online Shopping Festival brings together several online retailers across India to offer discounts on their products. The initiative was launched by Google in 2012 to boost the adoption of online shopping in India.
Rummy is being offered as a part of the GOSF extravaganza for the second year in a row, and RummyCircle has come up with a tournament that is for players who register and start playing during the GOSF. The 'WinBig Tournament' promises special prizes and high cash rewards for the winners. RummyCircle has also come up with a special joining bonus for new players. Bonuses of up to r1500* are up for grabs to players who make their deposits during the GOSF. The winner of the WinBig Tournament will take a home an iPhone 6 and there are several other cash prizes which can be claimed.
"We are delighted to partner Google's Great Online Shopping Festival 2014 and make the online marketplace even more attractive. It is a joyous moment for us to be a part of this great initiative again and reach out to several million more people who would like to play Rummy online and make some money too. It is a great platform to showcase your product and let people come and experience the joy of playing Rummy outside their families and clubs. We are positive about delivering the same superlative gaming experience to our new players during GOSF." says Sachin Uppal, Marketing Director at RummyCircle.com.
All those players who register during the GOSF will be given a free ticket to participate in the 'WinBig Tournament' as soon as they make their first cash deposit to their RummyCircle account. The Finale of the 'WinBig Tournament' will be hosted on December 14 at 2 pm.
Date: Mon Dec 8 2014, Mumbai
Source: http://www.prnewswire.co.in/news-releases/rummycircle-partners-with-google-to-offer-rummy-at-gosf-2014-285061861.html
Games24x7.com has now become RummyCircle.com