Press Releases
RummyCircle Launches The Grand Rummy Championship« Back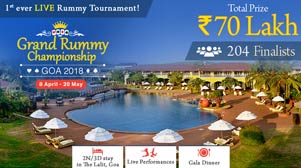 RummyCircle Launches The Grand Rummy Championship 1st Ever Live Rummy Tournament At Goa With Prizes Worth 70 Lakhs
Bangalore, April 17, 2018: RummyCircle, India's largest rummy website presents, The Grand Rummy Championship (GRC) with 204 rummy finalists battling it out at the Offline Tournament to be held at The Lalit Resort & Spa, Goa. The mega rummy finale kicks off on Saturday, May 19th, with prizes worth 70 Lakhs to be won. This fun-filled, and exciting championship will provide an unforgettable evening for participants with an all-expense paid trip to Goa that will include live Rummy games, cocktail parties, gala dinners and live performances.
The Road to the Final
The Grand Rummy Championship got underway from April 8th, consisting of a series of daily tournaments. The winners of these daily tournaments get an entry to the Sunday Finale, held at the end of each week. Players winning these Sunday Finales, get Golden Tickets to participate in the GRC Finale in Goa on 19th May 2018.
The live tournament is the first of its kind in India, with players from across the country participating in weekly tournaments online on RummyCircle and then joining us for the Grand Finale in Goa. We attempt to bring the old charm of rummy with a blend of online charisma. We welcome our players to an exclusive night of rummy games and other fun activities all through the event," shared Co-CEO and Co-Founder Bhavin Pandya.

This is the ultimate evening for rummy lovers in one of the most renowned venues in the country; Goa. With the adrenaline pumping, players experience a whole new way of playing Rummy games on real tables. The live location, real cards, dealers and the prize pool are sure to double the fun and intensity of this Grand Rummy Championship.
The Finale is divided into four rounds. The winners of each round will move to the next level. What adds to the excitement is that the rounds will be played offline in the presence of a trained dealer. The winner will be announced at the event itself.
Check out the full schedule here
So, get ready to visit the land of thrill, challenge, and excitement, all complete with style, luxury and entertainment at the Lalit Resort & Spa, Goa on May 19th and 20th, 2018.
If you are still thinking about joining the Grand Rummy Championship, now would be a great time. Start playing the weekly qualifiers and win the Golden Ticket to the mega GRC Finale. Create your account with RummyCircle and join India's first ever and biggest Grand Rummy Championship at the Lalit, Goa, 2018.
Date: April 17, 2018
Source: http://www.siliconcitynews.com/?p=27156
Games24x7.com has now become RummyCircle.com