Press Releases
RummyCircle.com in Deccanherald.com « Back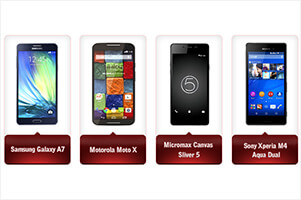 With more smartphones, it's playtime in India
In the 1980s, there was Tetris, the 1990s welcomed Snake, the 2000s were Bejeweled, and the industry has only become richer since. Mobile games today claim a share almost twice as large as other forms of entertainment,including theatre and cinema. Pre-installed or downloaded, games have become integral to any hand-held device. The category claims an equitable share in the app portfolio of an average Indian smartphone user, alongside cricket, music, news and video.
Why mobile?
Games that have elaborate themes and extensive story lines, require players' undivided time and attention, and are mostly accessed via desktops or laptops. Massively multiplayer online role playing games (MMORPG),like World of Warcraft and League of Legends are more popular in this space.
Mobile phone games, on the other hand, are accessed for quick recreation during free time, more so during transit. Casual games that are simple, straight-forward and quickstyle are popular in this category. An average mobile game session per user is recorded at five-eight minutes, and mass market casual games like Candy Crush, Temple Run, Fruit Ninja and Angry Birds that fit right in are among favourites, globally.
While at least 70 per cent of the smartphone users play games on their phones, it must be noted that the user base is dominated by youngsters (under the age of 25 years), seniors and housewives, in that order. "Youngsters could go either way, but, casual games like Candy Crush and Criminal Case are especially popular with seniors and housewives," said, Ankur Bhasin, CEO, Bhasinsoft and Vice President, ABAI.
As an extension of the momentum that internet and smartphone penetration have taken in India, the user base for mobile games is also expanding. Up until now, mobile game developers have largely focused on the Western market. While the market in the West is far more evolved in the kind of time and money gamers invest, India is still struggling with content quality.
Games for India
Although the US is ahead of the mobile gaming curve, a report by Newzoo, a games market research and intelligence company, places Asia in the lead position in terms of growth, as Western markets turn to mature. The mobile gaming market in China is growing at a rate of 46.5 per cent y-o-y, with $6.5 billion in revenues in 2015, and the rest of APAC is growing at 69 per cent, with $1.8 billion in revenues in 2015. At variance, North America and the EU, are growing at 15 per cent and 10-12 per cent, respectively, the report says.
Several indigenous companies, including Moonfrog Labs, Dumadu Games, Red Monster Games and Tiny Mogul, are starting to shift focus towards the domestic market. Games that are set in the Indian cultural context like Chhota Bheem, card games like Teen Patti, and cricket games are being seen as promising categories across the industry.
"Till now, we were targetting the western audience, however, now, over the last couple of years, we have found that the Indian market is evolving. We are actively developing apps to cater to the Indian audience," said Narasimha Reddy, founder of Dumadu Games, a Bengaluru-based game development company. Dumadu games is set to launch its India-first portfolio, which includes a multiplayer quiz game, a cricket game and a combat game with Indian characters, in the next couple of months.
"Local content is what people in India really care about. When people choose to play a game on their mobile phone, we believe it is because they like the game and connect with it," reiterates Bhavin Pandya, Founder and CEO, Play Games24x7. Play Games 24X7 launched Teen Patti, Rummy and Poker under its Ultimate series in the last year, and has recorded a cumulative one million downloads for the three games. "Our approach is embedded in our belief that people like playing games they grew up playing. User trends for us have confirmed the same. Hence, we strive to fill that void," he said. Ultimate Teen Patti has emerged as the top grossing card game app on Google Play, and finds most of its users in North and West India.
'Bharat of India' wants more
Zynga India Vice President Games and Country Manager Shailesh Daxini augments the idea with a reality check. "The urban Indian smartphone user is already exposed to high-class production value. It is the 'Bharat of India', which is the larger piece of the user pie, that really craves for relevant experiences. However, in providing local and contextual experience, the quality somehow seems to be compromised when it comes to Indian or India-focused developers," he explains.
Card games, he believes, will remain niche. "Card games have a dedicated audience, unlike mass market games, which have a pan-audience appeal," he opined. While sport-based games are extremely popular in the US, he bares, contrary to popular belief, India's blanket religion cricket has not been able to evoke great response in the mobile gaming space.
"It is still to hard to say what the country is going to align with, and as for Zynga, we are watching the market closely. In fact, I have even seen a taxi driver play Clash of Clans, which is mostly a western game," he ponders.
Where's the money?
Further enumerating the challenges for India, starting with the poor penetration of credit cards and inconsistent internet connectivity, Daxini said, "Monetising is far-fetched. It is too early to be talking about revenues. What we really should be focusing on now is DAU (daily active users)." Average DAUs for even the top apps in India is probably a couple hundreds as compared with millions in the US. "It is only when there are active users for the app, does it propose scope for monetisation," he said.
As far as India-based games are concerned, Teen Patti, which drew inspiration from the success of Poker, is probably the only mobile game that has been profitable, said Daxini.
For mobile games, major revenue streams include advertisements and in-app purchases, and both are strapped in India. "Advertisement-based revenue continues to dominate revenue streams trailed by the freemium model (in-app purchase)," said Bhasin, adding, "The per click rates for advertisements in India are at 1-2 cents, as compared with 5-10 cents in the US." The average revenue per user (ARPU), in India, at $0.68, is far below global average.
"For the same number of downloads, in-app purchases in India are less than 10 per cent of that in the US," said Reddy. "Only 15-16 per cent of the mobile gamers in India pay for the gaming content," adds Bhasin.
Despite these odds, the Indian mobile games development scene remains untethered. "I'm sure, within the next decade, as externalities and inefficiencies in the system are resolved, we will have great games developed from India, for India," said Daxini.
Date: January 18, 2016
Source: http://www.deccanherald.com/content/523613/with-more-smartphones-its-playtime.html
Games24x7.com has now become RummyCircle.com