Press Releases
RummyCircle.com in PR Newswire « Back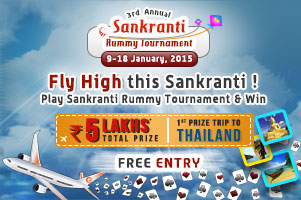 RummyCircle Announces the 3rd Edition of Sankranti Rummy Tournament
After successfully concluding the 'Xmas Xtended' tournament in December, RummyCircle announces the 3
rd
edition of its Sankranti Rummy Tournament. Over 5 lac rupees to be won and the winner will also fly to Thailand for 3 nights and 4 days for an all-expense paidtrip with a loved one. The tournament will last for 10 days with qualifiers from January 9 to January 17. Almost 50% more entry tickets are being given away during the qualifying rounds for the Grand Finale which will be hosted on January 18, 2015. The 3rd Sankranti Rummy Tournament is an 'Open for All' tournament where players who do not play for real cash will also stand a chance to win cash prizes and the foreign trip.
In a run-up to the festival of harvests, 'Makar Sankranti', RummyCircle announces its first tournament of 2015. There will be no registration fees to participate in the 3rd Sankranti Rummy Tournament. Separate qualifiers have been created for players who play through their desktops and mobile. There is a different qualifier designed for players who do not play Online Rummy for real cash.
While announcing RummyCircle's first tournament of 2015, Sachin Uppal, Marketing Director at RummyCircle.com said, "At RummyCircle, we are committed to delivering the Best Rummy Experience to the Online Rummy Community. The 3rd edition of the Sankranti Rummy Tournament will be shorter, but by no means a smaller tournament in terms of the rewards that we are offering to our players. This year, players will be allowed multiple attempts to qualify for the Grand Finale by re-registering themselves during the course of 9 days of qualifying from January 9 to January 17. We are also giving away more tickets to the finals as compared to the previous edition, allowing several more players an opportunity to win the Grand Prize."
The registration for the tournament will be open from 9 am to 2.55 pm on each day of the tournament, and any player can come back every day, register and play the game again. The tournament will start at 3 pm daily.
For more details, you can log on to https://www.rummycircle.com/promotions/sankrantirummytournament.html
Date: Tue Jan 6 2015, Mumbai
Source: http://www.prnewswire.co.in/news-releases/rummycircle-announces-the-3rd-edition-of-sankranti-rummy-tournament-287608901.html
Games24x7.com has now become RummyCircle.com