Press Releases
RummyCircle.com in PR Newswire « Back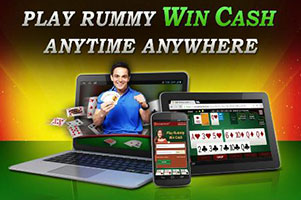 RummyCircle Videos - Play Rummy, Win Cash Anytime and Anywhere
RummyCircle.com, India's first and only site offering Rummy for cash on mobile, today announced the launched a series of entertaining videos about how players can play Rummy and win cash anytime of the day from wherever they choose to play.
"We see massive growth of Rummy game on mobiles and tablets. We have clocked over 3 million rummy game plays on mobile within a couple of months of our mobile game launch," saidSachin Uppal, Marketing Director at RummyCircle.com.
"With these entertaining videos we intend to expand our brand presence. We have seen nearly half a million views in just one week of launch on YouTube and Facebook," he continued.
Watch Video Here: https://www.youtube.com/watch?v=D7ee5FR5uD8&list=PLkU-K9lZuKpI21Rsc175-eCMEh4BygW_k&index=1
'Play Rummy and Win - Anytime Anywhere' is now a reality, thanks to the one and only multi-player platform launched by RummyCircle.com. Cash rummy games and massively multi-player tournaments are running live on the site for free and for a small entry fee, players can win real cash prizes.
"We chose HTML5 as our technology choice and we are very happy to see that the players have shared good feedback about their experiences on mobile. While presently our game works only on Androidoperating systems, we are working doubly hard to enable iOS support. So by the time Apple's iPhone 6 and iPhone 6 Plus hits Indian markets, we will have the iOS support ready," saidSrikanth Donthi, Head of Product Design at RummyCircle.com.
It's time to play and make money on your mobile. Join for free rummy or login right now to RummyCircle.com!
Date: Fri Sep 12 2014, Mumbai
Source: http://www.prnewswire.co.in/news-releases/rummycircle-videos---play-rummy-win-cash-anytime-and-anywhere-274852281.html
Games24x7.com has now become RummyCircle.com