Press Releases
RummyCircle.com in PR Newswire « Back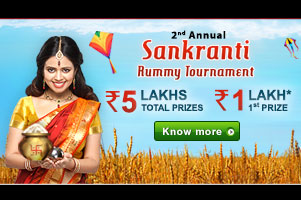 Win

r

5 Lakhs - RummyCircle.com's 2nd Annual Sankranti Rummy Tournament Starts 26th Dec'13
r
5 Lakhs* in Total Cash Prizes and 1st Prize
r
1 Lakh to be Won. Qualifier Tournaments Run From 26th Dec 2013 to 17th Jan 2014 and Finals Will be on 18th Jan 2014
Card players across India are starting the New Year - 2014 - on a prosperous note with the launch of the 2nd annual Sankranti Rummy Tournament. Through this tournament, we are celebrating the auspicious harvest season which holds special significance in the south of India. Qualifiers are running 24x7 from 26th December 2013 to 17th January 2014 for the finals on 18th January 2014.
"It was an awesome feeling of winning. I am very happy to be a winner in Sankranti Rummy Tournament finals," an ecstatic Mr. Abdul from Hyderabad, 2012's Sankranti Rummy Tournament Winner, who won r 41,485, re-collects. The top winner this year will walk away with a whopping r 1,00,000 lakh.
Sankranti is celebrated all over India and the auspicious days are known with names like: Pongal, Uttarayan, Khichdi, Maghi, Boghi, Kanuvu etc. "We have pioneered the concept of annual tournaments through our flagship offerings like: the Diwali Rummy Tournament, the Mega Rummy Tournament (running successfully for 4+ years) and now the 2nd annual Sankranti Rummy Tournament. Playing cards with friends and family is an important part of the tradition and Sankranti season is a perfect time for us to celebrate together," saidSachin Uppal, RummyCircle's Marketing Director.
"This gives us an opportunity to wish our players a lot of prosperity and what better way to do that than through kick starting the New Year with the Sankranti Rummy Tournament," added Venkat Veluvolu, Head of Loyalty and Rewards. "The carefully designed tournament schedule ensures players across the country have a fantastic three weeks of rummy this Sankranti. Qualifier tournaments are running from 26th Dec. - 17th Jan 2014," Venkat concludes.
To play rummy and win cash, you can get started by visiting RummyCircle.com/Sankranti.
Date: Tue Dec 24 2013, Mumbai
Source: http://www.prnewswire.co.in/news-releases/win-rs-5-lakhs--rummycirclecoms-2nd-annual-sankranti-rummy-tournament-starts-26th-dec13-237113771.html
Games24x7.com has now become RummyCircle.com