Press Releases
RummyCircle.com in business-standard.com« Back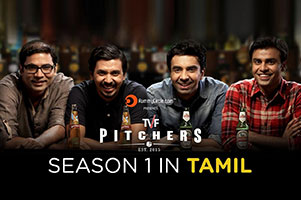 TVF, RummyCircle Partner to Launch Regional Web Series
RummyCircle announced its partnership with The Viral Fever (TVF) for the regional content under TVF Machi, introducing a web series in regional language for the first time, with the launch of 'TVF Pitchers,' in Tamil.
Within one week of its release, the web series registered three lakh views across multiple social platforms. It showcases four friends who pitch their idea in the day and sit over a pitcher of beer by night. The story talks about skills, entrepreneurship and moving forward, in spite of challenges. The partnership between TVF and RummyCircle approaches the simple concept of bringing experiences in localized content that gives a direct connection with the audience.
Continuing the partnership, RummyCircle with TVF will further launch 'Permanent Roommates,' in Tamil. It is one of the classic hits of TVF based on the concept of long-distance relationship and commitment challenges that are faced today and how with the right decisions, things fall in place. It will be a five-episode series to be launched soon after 'The Pitchers.'
"We are excited to extend our partnership with TVF and remain the exclusive digital partner for this web series. The best approach to connect with the Indian audience is through local content. The partnership gives us the opportunity to connect with our audiences by offering actionable information on important aspects of life with a fun twist. The show is about entrepreneurship and the belief in your skills. The same applies for Rummy as well. A great Rummy player sticks to his skills and fights his way to the top", said Sachin Uppal, CMO, Play Games24x7.
"Good content shouldn't have the barrier of language, and that's what we're trying to do with the launch of TVF Regionals and TVF Machi to start with," added Vijay Koshy, Head - Brand Partnerships TVF.
(This story has not been edited by Business Standard staff and is auto-generated from a syndicated feed.)
Date: October 16, 2017, NEW DELHI
Source: http://www.business-standard.com/article/news-ani/tvf-rummycircle-partner-to-launch-regional-web-series-117101600658_1.html
Games24x7.com has now become RummyCircle.com