Press Releases
RummyCircle.com in Mumbai News Network« Back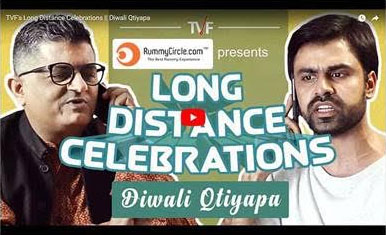 [Viral video] RummyCircle + TVF - Break your Long Distance Relationship with Parents this Diwali
Mumbai 18 October 2017: Societies grow and people move due to work opportunities away from their near and dear ones. And it's the responsibility of both working people to help their parents connect and keep abreast with latest in technology as well as parents' willingness to learn.
TVF's 'Tech Conversations with Dad' captures this amazing spirit of partnership between a dad trying to cope up with technology and his son Jeetu struggling to explain how things work to his dad. This conversation becomes hilarious when two generations come together.
1 Million Views and Counting
The video was launched on October 16 and already has over 1 million views in less than 48 hours and is trending on YouTube 4th position. The idea was to take a realistic take on the contemporary relationships during festivals like Diwali. With the feeling of families connecting over distances, the video beautifully captures the traditions and weaves in the modern digital platforms.
The video revolves around a humorous conversation between a father son duo about celebrating Diwali together in spite of being at two different locations. The conversation reaches an interesting moment when they talk about playing cards this Diwali over a video call. Ultimately RummyCircle.com comes out as a solution in which son convinces his father to play Rummy with thousands of online rummy players on RummyCircle. The video then goes through a deep emotional exchange of words which ultimately compels the son to come home and celebrate Diwali with his father. The subtle yet deeply comical treatment to the script makes the video really enjoyable to watch.
Sachin Uppal, CMO, Play Games24x7 further stated, "At RummyCircle we took this opportunity to partner with TVF to showcase how the dad and son bond over a card game during Diwali through a really fun conversation. We saw the love people have for both Jeetu and his dad. Within 1 day of launch of the video it has garnered over 1 million views on Facebook and Youtube. It has become the number 4 trending Video on YouTube in India. This just goes on to show that during festivals how we really come together as a single family unit to celebrate together."
RummyCircle has revolutionized the tradition of playing cards on Diwali with its Annual Diwali Rummy Tournament running for over 3 Crores this year. It not only gives players the opportunity from anywhere but also win big cash prizes all through October. Watch this Diwali special video and bring your families closer with a game of Rummy
Play Video Now: facebook.com/RummyCircle/posts/10160011454810354
About Play Games24x7 Pvt. Ltd.
Launched in 2006, Play Games24x7 is an online desktop and mobile gaming platform that has leveraged technology to bring people an awesome experience by playing games that they have always loved and enjoyed. The very affable Indian card games, Teen Patti and Rummy that were restricted to the living room during the festivities, are now played every day at a competitive level in the limitless digital world. During the annual tournaments, winners have even walked away with sponsored trips abroad! Backed by a strong technical support team, seamless payment gateways and engaging user interface, Play Games24x7 launched RummyCircle on mobile and the desktop and has seen millions of registrations, clearly indicating the role that technology has played in transforming the experience of playing card games. In the past, the company has also seen investment from the Tiger Global Management, a leading hedge fund manager. Play Games24x7 launched Rummy on RummyCircle and Teen Patti, Rummy, Poker and Bet Cricket under Ultimate Games banner, and has recorded cumulative thirteen million registrations and downloads for all the games put together.
Date: October 23, 2017
Source: http://mumbainewsnetwork.blogspot.in/2017/10/viral-video-rummycircle-tvf-break-your.html
Games24x7.com has now become RummyCircle.com