Essentials For A Popping Winter Rummy Party
|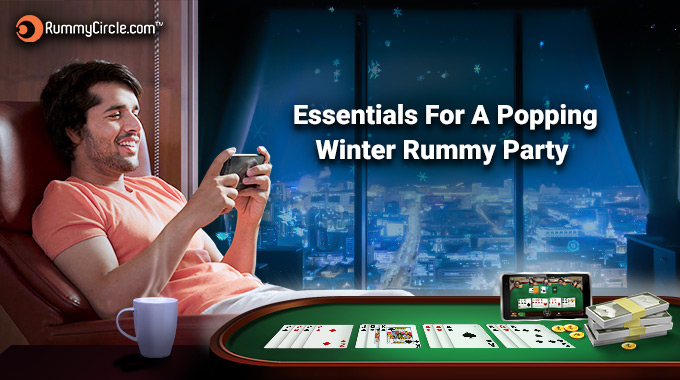 When it is cold, we do the usual things – snuggle under a blanket, sip warm tea, read a book, or binge watch TV shows and movies. This is pretty boring! Heat things up with something different like a rummy party. After all rummy is one of the most loved card games in India. To make it a spectacular event, change things up and play online rummy to fight the winter cold at home. It is a unique gaming experience that changes the way you play rummy. In order to do it right, you need few essential things to have a cozy, fun, and exciting rummy party for one in the comfort of your home.
The best suggestion for the game
There are a couple of rummy apps floating around, but you want the best rummy experience for your rummy party. So, do a rummy game download of the best rummy app – RummyCircle. It has amazing tournaments that suits your varied requirements. You can enter free contests and walk away with unbelievable rewards. These contests and tournaments will shake things. These tournaments are great if you want to compete with other skilled rummy players. You will be riding on thrill and enjoyment.
There is also an element of unknown when you play the game on your mobile. You are playing against people who have the same love for rummy as you. All you know is their username. It adds mystery to the game, which gives the game an additional spark.
Playing rummy has its own charm, but when you play it online, the feeling of joy multiples. Spirit will be up, and the cold weather will be a distant thing. You can choose to play the different variants – pool rummy, points rummy, and deals rummy. If you want to play a longer duration game, then play deals rummy. This will keep you occupied, plus you will forget about the chill weather outside. For a snappy game, go with pool rummy – it is quick and exhilarating at the same time.
You can stir things up by entering multiple tables too. Yes, this online rummy game allows players to join more than one rummy table at a time. This makes sense if you are good at playing rummy and want to challenge your skills. These moments of exhilaration can only be experienced with this online game. So, when you play rummy, get the most enjoyable rummy app.
Quenching the thirst with delicious beverages
It is cold outside, but you can sizzle the party with delicious beverages as you jostle to create a winning hand. So, step away from the regular soft drinks and lay out a spread of different hot drinks. When you are immersed in an exhilarating game of rummy, prepare yummy hot chocolate to pump up the warmth and surge the energy levels. The other options can include hot fruit punch, where you add a dash of cinnamon, nutmeg, ginger and jaggery to your favourite juice. It will tingle the senses and make you alert too. Did you know, like tea, you can spice up coffee too? Coffee is widely consumed but turn around things with a twist of ginger or sprinkle of cinnamon. These beverages are just what you need to charge through the online rummy game.
Food for rummy thoughts
A party is incomplete without food. The best food to have is finger food, especially for a rummy party. Think of dishes where you can just pick food without getting your hands dirty. Also, during winter certain dishes are prepared in India. These delicious dishes build up heat in the body, which is perfect for a winter party. Also, you can dish out pakodas, aloo tikki, samosas, kebabs, and other such dishes. The food is not dripping with sauce or loaded with masala. The finger food should keep you warm and fill you up so that you can power through the rummy game.
Comfort plus warmth equals winter rummy party
The best way to enjoy an online rummy game is to be comfortable. You have to feel relaxed and snug to think quickly and act smartly. When you play the game on your mobile, you are thrown into an electrifying space of happiness, frenzy, and loads of entertainment. Hence, sit back and hit play. Another factor that supplements comfort is right lighting. Poorly lit room makes your eyes work harder. So, bump up the lighting where you are snuggling in your blanket. Plus, there are a lot of beautiful lighting options in the market these days. Comfortable seating and good lighting are essential to play rummy effortlessly. It is annoying if you are hunching or squinting to play the game.
Do you feel that every winter is the same? It is cold, the air is dense, and fingers feel frozen. So, a rummy party in winter is an ideal way to break away from the routine winter experience. You are upbeat, entertained, and thrilled by the end of it. In addition, you have created a number of memories with your friends.