Download Rummy Game App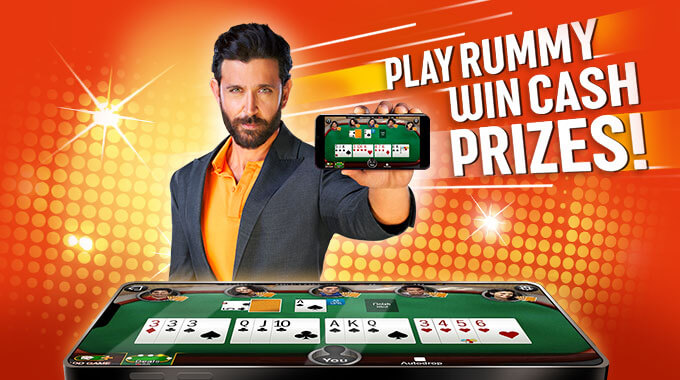 Loved playing rummy on your desktop? Well, now experience the same rummy excitement on your mobile.
Download the rummy game app for FREE on your Android & IOS device for fast, secure & seamless app experience of rummy games on your mobile and enjoy favourite points, pool & deals rummy variant on the go.
So, how to download the rummy game on your Android device? Just follow these 4 easy steps:
Step 1 – Go on Google Play Store
Step 2 – In Play Store search: Type RummyCircle & search
Step 3 – Click on the Install button to install the app on your phone.
Step 4 – Click on "Open" & enjoy an awesome gameplay experience of playing with real rummy players.
RummyCircle is committed to provide The Best Rummy Experience to all its players. With our sleek and fast Android & IOS App, you can now play online rummy for cash from anywhere and anytime.
QR Code is registered trademark of DENSO WAVE INCORPORATED.
Other Ways To Download Rummy App
Option 1 & 2- Give a missed call on 08080894422 OR Enter your number.
You'll receive a SMS from RummyCircle, containing the "Download link". Just Tap on it and you will get an instructions page with a pop-up for Rummy download to start. Click 'Okay' and the RummyCircle App will get downloaded on your phone.
Option 3 – Scan the QR code


Option 4 - Direct Rummy App Download
You just need to click on the direct app download button and the rummy App will start downloading.
Rummy App Download & Installation for IOS
Step 1 – Go on IOS App Store
Step 2 – In App Store search: Type RummyCircle & search
Step 3 – Install RummyCircle App
Step 4 – Click on "Open" & enjoy The Best Rummy ExperienceTM
If you are still unable to download the RummyCircle app or facing any difficulty, just drop us a mail at support@rummycircle.com and share your concern along with the device details. Our customer support team will help you all the way to complete the RummyCircle app download & install.
Now that you have this super cool rummy app installed, it's time to try it out.

New Player
Playing with RummyCircle for the first time? Well, you just made a great start! To play rummy, you need to be very focused and use your skill at the same time. Now, open your recently downloaded Android or IOS App to register with us and start playing real money/cash games/tournaments or simply start playing practice rummy sessions right away. If you are still getting the hang of the game, then simply experience how to play rummy in practice games before trying the real money or the cash games. Click here "
how to play rummy
" section to understand the rummy rules and play better.

Existing Player
If you are already registered with us, just open your recently downloaded Android or IOS App and log in with your username and password and enjoy playing
rummy games
on your mobile.
What are the benefits of downloading Indian rummy app on your mobile?
Why to download the RummyCircle app, when you can play the same game on your mobile browser and even on desktop? Well, there are more than one reason to it.
FASTER & SMOOTHER EXPERIENCE
RummyCircle app is sleek, smooth and fast. The user interface is clean and loads the game quickly. What you experience when you play rummy is the clean game table, dashboard to pick games and manage your account.
YOUR FAVORITE RUMMY GAME FORMAT ON THE GO!
With multiple variants of rummy, it is always fun to try multiple games and at any time you want. With the rummy app, the game is now in your palm. It's easy to use, and it's very convenient. After all, what can be handier than a cool game in your pocket! If you've ever played card games, this will be a breeze for you!
PLAY WITH REAL PLAYERS
The thrill to be playing with the best of rummy players from India and at your own convenience, is truly unmatched.
SPECIAL PROMOTIONS
There are special offers and promotions running all the time on one of the most popular rummy sites, RummyCircle. If you want to make the most of it, then just enjoy the game on the Android or IOS app and never miss a deal.
REAL TIME UPDATES
And, just so you don't miss out on any special offers or the opportunity to win real money or cash prizes, we give you real-time alerts on the app.
NO DISTRACTIONS
There are no distractions here. It's a clutter-free, clean interface with no banners, ads, pop-ups to distract you from the game. Just focused gaming. Feels like an actual card game. This is where the best Rummy experience gets better. Bonus: win real cash in tournaments happening almost every day!
BEST USER INTERFACE
Packed with rich colours, seamless user interface and the option to play multi-table games at the same time, makes it the best rummy app along with being one of the most popular rummy sites.
PRACTICE OR PLAY FOR REAL CASH
Hone your skills with practice games, or play for real money or real cash - the choice is in your hands -literally. You can make your journey from a beginner to a pro with one of the best rummy apps, our RummyCircle mobile app. Or, you can start with real money games and make full use of your free time.
So, download the Indian rummy app for free on Android & IOS phones and witness the best rummy experience get even better-also, win real cash in tournaments!

"
I played the Firstlane Friday Finale Championship and it made me so happy! RummyCircle is the best app to play Rummy! "
Sobhan Khatua, Parganas
Won ₹ 119525.83
Fast Lane Friday

"
It was a nice experience playing Rummy on RummyCircle. It is one of the most popular apps – I believe everyone can win here. I am so happy for winning the tournament and ranking first, twice in a row. In the Friday Satellite tournament, I won INR 2.5 lakhs - It is so amazing & unbelievable. Thank you, RummyCircle! "
Tushar Thorat, Pune
Won ₹ 117424.59
Wheelz Wednesday

"
RummyCircle is one of the best online rummy apps and I thoroughly enjoy playing games on it! Good Luck! "
Prakash E, Kanchipuram, Tamil Nadu
Won ₹ 3 Lakh
Turbo Tuesday

"
I am so glad and excited to have won the 2nd prize in "Mid Day Blockbuster Finale". I will recommend this app to everyone as it is a genuine online rummy app compared to the other Rummy apps. Thank you RummyCircle "
Muthu Kamatchi, Tiruvallur, Tamil Nadu
Won ₹ 64153.36
Mid-Day Blockbuster Finale

"
I've been playing Rummy at RummyCircle for the last 4 years and it's the online app that I trust for online gaming. I won INR 34544.11 in the Mid Day Blockbuster tournament. I like tournaments and cash games. I have won twice in Mid Day Blockbuster. RummyCircle is genuine and accurate in all senses. "
Sri Krishna, East Godavari, Andhra Pradesh
Won ₹ 34544.11
Mid-Day Blockbuster Finale

"
I am really very happy. Thank you so much RummyCircle. I am using this app for the past 2 years. It is a very nice rummy app.Thanks to the RummyCircle team for the wonderful support. "
Robinson Amalorpavan Bappu, Mumbai, Maharashtra
Won ₹ 1 Lakh
Mid-Day Blockbuster Finale

"
RummyCircle is one of the best rummy apps I have ever seen in my life. It is a good pass time. Thanks to the RummyCircle team for their excellent support. "
Kantha Reddy Vangala, Kurnool, Andhra Pradesh
Won ₹ 33500
Mid-Day Blockbuster Finale

"
I am really happy today because I won the Sunday Millionaire tournament. I have been playing on RummyCircle since 2016. After playing numerous tournaments, this is the first time I have ever won such a big amount. People always say that these tournaments are fake and you will never win anything. However, the fact that I have won is proof that these tournaments and games are genuine. I am thankful to RummyCircle. I have enjoyed playing the tournament and I will tell others about this genuine rummy app. "
Thothadi Yerri Naidu, Vizianagaram, Andhra Pradesh
Won ₹ 88,000
Sunday Million

"
It was a great experience to play rummy on RummyCircle. I am happy that I won the 1st prize in Mid Day Blockbuster Finale Tournament. It was a thrilling game indeed. I absolutely enjoyed playing it on the app. "
Ellangkarthick Jeyadurai, Nilgiris, Tamil Nadu
Won ₹ 89,000
Mid Day Blockbuster Finale

"
Thank you to RummyCircle for developing a wonderful gaming app that has one of the biggest online rummy tournaments. I am a Platinum Elite winner for the Elite Sunday tournament. There were 2,000 players participating in this rummy tournament. I cannot believe that I reached the first position in the tournament. I am super happy and bubbling with excitement. I hope you will organise several tournaments with such a level of thrill. "
Saragadam Adeswararao, Visakhapatnam, Andhra Pradesh
Won ₹ 1,00,000
Elite Sunday

"
I am excited that I won Rs. 60000 playing rummy. I want to thank the RummyCircle team. It is an amazing app to play rummy. "
Ravikumar Bandaru, Krishna, Andhra Pradesh
Won ₹ 60,000
Milestone Monday

"
Thank you RummyCircle. I played the tournament and won the first rank. This is the best experience of my life. I won the first prize of Rs. 2,00,000. RummyCircle is the best app. "
Ravi Dinde, Hingoli, Maharashtra
Won ₹ 2,00,000
Wheelz Wednesday

"
Rummycircle is a very entertaining game. This game can change a life. You can win or lose in this real game. I love Rummycircle "
Anil Shah, Thane, Maharashtra
Won ₹ 10 Lakh
4th Prize Winner
Diwali Rummy Tournament (DRT 2019)

"
RummyCircle is a super app to play rummy games. They conduct a lot of tournaments and the technical team support is excellent. It will be good if they have prizes for first rounds in big tournaments. That will encourage more people to participate. This is my humble suggestion. Overall, RummyCircle is very good. Thank you. "
Selva Ganapathy, Salem, Tamil Nadu
Won ₹ 8.45 lakh
Sunday Millionaire & Fast Lane Friday Tournament

"
I feel very nice to participate and win the Thrilling Thursday tournament. I always try my best to play well and also enjoy the achievement. "
Senthil Kumar Balaru, Karur, Tamil Nadu
Won ₹ 400080.41
Thrilling Thursday
"
I can definitely say that RummyCircle is the best app that provides excellent rummy experience to its players. The tournaments are very interesting and exciting at the same time. I recently played in SRT Finale tournament and won around 2 lakhs as prize money. I was extremely happy. Rummycircle is the most user-friendly platform to play online rummy."
Suresh Pitta, Visakhapatnam
Won ₹ 206026.26
Sankranti Rummy Tournament (SRT Grand Finale)
General FAQs
There are some common concerns that customers have when it comes to rummy game download and real money rummy games. Let us help you understand these better.
Why I get a warning sign stating that the installation is blocked from sources other than Play Store?
This is a default setting of your phone. It acts like a filter paper to avoid any unknown downloads happening. However, with authentic and 100% secure RNG certified games on rummy sites platforms like RummyCircle, there's nothing to worry. All you have to do is allow other sources and the rummy app will be downloaded and installed on your smartphone. Download, play practice games, win real cash, repeat!
Can I play free rummy game on RummyCircle App?
It is called the best rummy app for a reason - Yes, you can play free rummy game on our app. Just register with us and enjoy free games running round the clock. There are practice games and real money games available and you can select as per your preference.
Can I download RummyCircle App offline?
Just like any other application, RummyCircle app also needs a stable and active internet connection to download. The app is lightweight and downloads quickly on your smartphone.
Is the RummyCircle App free or paid?
RummyCircle App offering both free and cash games is absolutely free! Android users can download & install the app from our website and Google play store and IOS users can do the same from IOS App Store for free.
Must Read Article -