Download Rummy Mobile App on Micromax Devices
We at RummyCircle are sure that you are having a gala time playing your favorite game of Rummy on desktop. With the internet penetration growing at a very massive pace, we want our users to enjoy Rummy when they are on the Go.
And with telecommunication companies rolling out 4G, speeds are expected to get better & faster!!
The Rummy App
If you have enjoyed the game of Rummy on your desktop, than we have exciting news for you - Now you can play Rummy on your Micromax or Yu device.
RummyCircle is now available for Android phones & users can download the Android App to enjoy a seamless Rummy experience.
You can also check rummy rules in our how to play rummy section.
RummyCircle App - Experience Rummy On-The-Go
Delightful User Experience
Whether you own a single/dual core Micromax Android device or own an Octa Core device, playing rummy on the RummyCircle app would be seamless on both. The UX of the RummyCircle has been customized so that users get an awesome gaming experience. The game runs in Landscape mode which ensures that there is a "Single-Row" layout of the cards.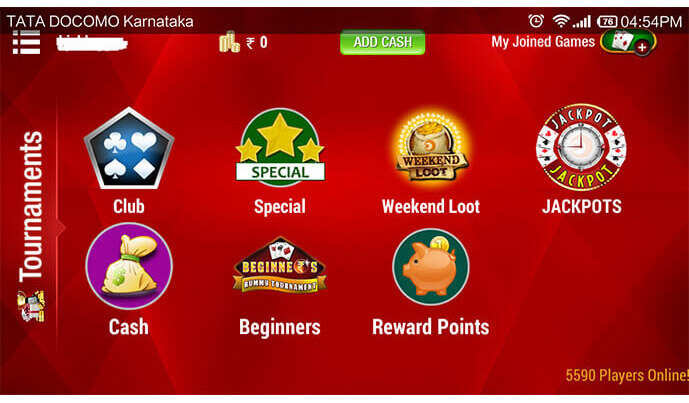 Win real cash
It is always fun to play against real players rather than playing against a machine. Also, the pride of achievement is more when we defeat a real player. Now, with RummyCircle on Android, smart phone users stand a chance to compete against other players from all over the country. You have the privilege to play Practice games, attain perfection and then switch to playing rummy with real cash.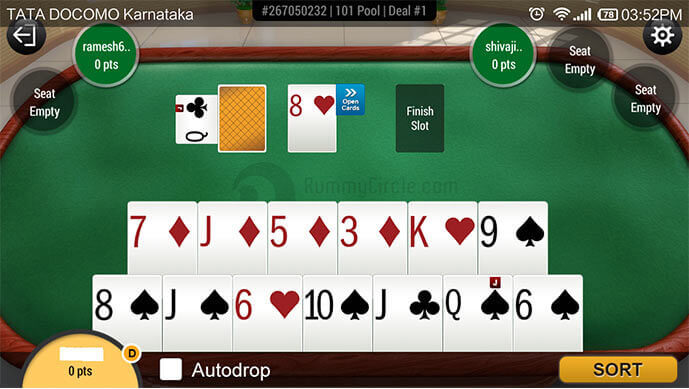 Whether you are on 4G, 3G or even on 2G, you can enjoy your favorite game of Rummy games on your Android phone.
We are listening to our users & if you have any feedback about the app, please share it with us at feedback@rummycircle.com
Mobile - The new console
Earlier, games were played only on PC's but now PC is not a primary device. The small screen i.e. Mobile phone has been upgraded from being a complimentary device to a one that is with us all the time. In fact, gamers have also shifted from gaming consoles or PC's to mobile phones; one of the preliminary reason being that Mobile phones are now becoming powerful both in terms of memory and processing speed.
It will be fair to say that Mobile is a device that can no longer be ignored & it has achieved the position of being the "New Console".
Mobile - One size does not fit all
With the meteoric rise of mobile technology, consumers are always on look-out to personalize their mobile phone. Some consumers prefer mobile phones with larger screen size while some want better Selfie Camera.
In fact, the very first decision to "Buy a mobile" phone itself is very personal. Requirements are different & Use Cases also vary across different spectrum of users.
With new entrants in India like Xiaomi, One Plus already making waves in crowded & fiercely competitive mobile market, there is a threat to players like Micromax, Lava & other Indian mobile manufacturers.
Micromax, a close 2nd in terms of Market Share, is a company that has understood the Indian consumer mindset well & is trying hard to acquire the Coveted Spot.
Micromax has a spectrum of devices; right from Single Core, Dual Core & Octa Core. It has ensured that consumers across all segments are covered irrespective of their Use Case. Some of their popular Android models are below:
Micromax Canvas Xpress 2 - Android KitKat OS, 13 MP Primary Camera, 2 MP Secondary Camera, Dual Sim
Micromax Canvas Nitro A311 - Android KitKat OS, 13 MP Primary Camera, 16 GB ROM, Dual Sim
Micromax Android One - Android KitKat OS, 5 MP Primary Camera, 2 MP Secondary Camera, Dual Sim
Micromax Canvas Nitro 2 - Android KitKat OS, 13 MP Primary Camera, 5 MP Secondary Camera, Dual Sim
Micromax has also partnered with Cyanogen to form YU Televentures, a joint venture where YU holds official CyanogenOS rights in India. The popular models from YU are below:
Yureka Plus - 13.97 cm 5.5 inch IPS Capacitive Touch Screen, 1920x1080 pixels Full HD resolution, Cyanogen OS 12, 13 MP Primary camera, 5 MP Secondary camera
Yuphoria - 64 Bit architecture, Cyanogen OS 12, 13 MP Primary Camera, 32 GB expandable memory, 5 MP Secondary camera, 2230 mAh battery
Contact Our Support
RummyCircle support team is available round the clock 24x7 to give you the Best Rummy ExperienceTM. Connect with our customer support team from your registered email ID at support@rummycircle.com and share your concern or issue. Our representative will get back to you with a solution shortly.