Play Rummy Card Game on Macintosh Computer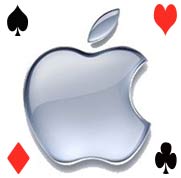 Rummy is one of the most popular card games in India and there is no reason why you should not be able to play rummy online on your Mac or Macintosh computer.
Playing online rummy on your Macbook or Mac computer is not at all an issue at RummyCircle.com as you don't have to download rummy software. Simply visit RummyCircle.com, create a free rummy account and you can play free rummy online on a Mac computer seamlessly.
Very few card games have been developed for Macintosh which makes really difficult for Mac owners to play and enjoy card games online.
Before buying a Mac or Macintosh computer, people research if the software that they use regularly has a Mac version available or not. Such questions are validand important to address as it is evident that not every software application is compatible with Apple's Mac computer or notebook.
To eradicate such issues, RummyCircle.com's online rummy enables you to enjoy Indian rummy on your Macbook, Mac OS X or Macintosh desktop computer.
Apart from playing rummy card game on Macintosh computer, rummy card games offered by RummyCircle.com can be very well played and enjoyed on a Windows PC with Windows XP, Windows Vista or Windows 7 operating systems.
For learning the detailed system requirements of playing rummy card game seamlessly, please see: http://www.rummycircle.com/how-to-play-rummy/system-requirements.html
You can also check our how to play rummy section to know more about rummy rules.
Contact Our Support
RummyCircle support team is available round the clock 24x7 to give you the Best Rummy ExperienceTM. Connect with our customer support team from your registered email ID at support@rummycircle.com and share your concern or issue. Our representative will get back to you with a solution shortly.