Multiplayer Rummy on RummyCircle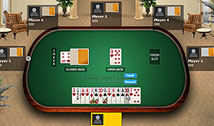 A Multiplayer Rummy game always has it's pluses over a 2 player one-on-one game. RummyCircle's newly launched multiplayer Rummy game called POINTS RUMMY promises an unmatched Rummy experience with More Cash to be won, more thrill and ofcourse more players. The larger the number of players in a multiplayer Rummy game, the more opportunity it gives you to hone your Rummy skills and make use of clever tips and tricks.
How is Multiplayer Rummy played on RummyCircle?
The rummy rules of Multiplayer Indian Rummy don't differ much from the One-on-One Rummy (Tournaments) format except for some. Multiplayer Rummy at RummyCircle is played typically with 2 or more packs of 53 cards each (including one printed joker per pack). The objective of Multiplayer Rummy is to arrange all 13 cards in sequences and/or sets. 3 or more running cards of the same suit (eg 3, 4, 5, 6 of spade) form a sequence and 3 or more cards of the same face value (eg 3 of spade, 3 of heart, 3 of diamond) form a set. One or more jokers can be used to complete the set / sequence. To finish the game, you must have at least two sequences, at least one of which must be pure (pure sequence is made without a joker).
How is scoring done in RummyCircle's Multiplayer Rummy?
In Multiplayer Rummy on RummyCircle, players play for points which have a pre-decided value in Rupees. At the end of this multiplayer Rummy game, the winner takes all the Cash by calculating the sum of points accumulated by opponents and multiplying that by the currency value of those points. The winnings are calculated as Winnings =(Sum of points of all opponents) X (Rupee-value of the point) - RummyCircle Fees.
Highlights of Multi-Player Rummy at RummyCircle
More Thrill: The engaging game format of POINTS RUMMY keeps all glued to their screens as till the end of the game, no one knows how much they'd win or lose!
More Players: In this Multiplayer game, a single Rummy table can host upto 6 players at the same time!
More Cash: One winner wins all the Cash at the end of the game. So amp up your game, play rummy online for real money and gear up to be the next big Cash winner!
More Speed: Points Rummy at RummyCircle is the fastest Multiplayer Rummy game ever created!
You can download rummycircle app and enjoy playing rummy online.
Contact Our Support
RummyCircle support team is available round the clock 24x7 to give you the Best Rummy ExperienceTM. Connect with our customer support team from your registered email ID at support@rummycircle.com and share your concern or issue. Our representative will get back to you with a solution shortly.
Must Read Article -
Multiplayer Games Online An Exciting World That You Need to Experience