Multiplayer Games Online An Exciting World That You Need to Experience
« Back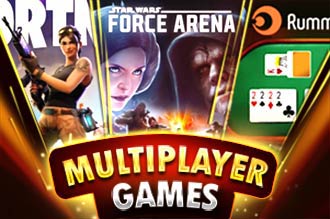 We all love games, but sometimes it is not the game that shines, but the players. Smart moves, intricate gameplay and high-quality visuals only get players started. But it is the player who makes the game grow with surprises, schemes and strategies that he adds as he plays on. That's the secret of the best multiplayer games online.
The games are fast, frantic and full of tense moments, but how the game develops on is open. It is in the hands of the player and how he moves along with the game. The player vs player games comes in all kinds and sizes. The success of these games lies on a simple point and that's the pleasure of interacting with other players out there. Whether it is an action-packed head on battle tackling terrorists or it is a game finding treasures around you, the players love the challenge of thinking faster than the other players and winning the game.
So, when we talk about the new age of games, then we can leave behind the bots, do away with playing only with our friends and get all set to embrace the best players from across the globe. But what makes it stand out except the player experience? Here's a quick look at that.
The Emphasis on Teamwork
This is one kind of multiplayer game that requires several players to be on the same team and not just playing one to one player game or even a two player game online. Even though there are many multiplayer games, they don't necessarily emphasize on teamwork. But these games bring complete strangers together and tells them to perform as a team, making them win the game. One game that is a great example of this is the Last Us. Undoubtedly the game is exciting, however what makes the things furthermore fun is how they bring all the players together, fulfilling the role of the team. In this game, you have one player who is completely dedicated to healing others, the other investing their peak points into better explosives and yet another focusing on close range weapons, with the final one sticking with a hunting rifle. Together they make a fantastic team, fighting it out.
Different Modes and Challenges
Even though some games have a solid mode and the players don't mind sticking to it, but it is always a good idea to have different, though familiar experiences in the game. For example, most games will have the Team A vs Team B mode, where one team must kill the other team. But then there are games that have levels and different modes like capture the flag, objective based modes and different other ways to compete.
There are things that multiplayer games bring into its gameplay. There can be fun modes, glory modes all interwoven in different stage types and modes. It keeps the interest of the players high and gives them something to look forward to rather than simple competing one team against the other.
Easy to Learn AND Fun to Master
Games that keep on motivating you to try harder, think sharper and yet are simple to understand and learn are always the best online multiplayer games. One of the top games to turn to is online rummy. It is a strategy-based game that has been around for years. We all have tried it with our friends, and now with it on the website, it is fun, cool and captivating all at the same time. Pretty much just anyone can pick it up and get started in no time. The challenge is to make the right move at the right time. There is a satisfaction in continuing your skills and working on complicated strategies to improve your gameplay.
Check how to play rummy
The game is not daunting but attracts players of all ages. Further, this is one multiplayer game that is extremely rewarding. You are playing with live players and winning real cash for each win of yours. Rummy is easy to learn, and the design has enough depth that focused players can progress their skills and improve as they play regularly.
REGISTER to play online rummy at RummyCircle.com
Or
DOWNLOAD OUR APK to get RummyCircle Android App
Progressing Levels with Unlockable Modes
Generally multiplayer games don't operate in a fashion where one game affects the other. So, you jump into the game, defeat your opponent and move on to the next fight. The winning doesn't have a correlation with any new combos or attacks or you don't become stronger or grander in any way, after winning a fight.
Yes, these games are equally fun and engaging, but who doesn't want a little bit more. Playing multiplayer game and earning points as you go higher in rank adds to the thrill of the game. There are games that unlock new weapons, and other perks as you go high in rank with each win.
Although a game like that can still be fun, today most gamers want every match to serve as one step closer to a greater overall goal. Call of Duty is, of course, a good example, since every multiplayer match earns you XP to go higher up in rank. With certain ranks you unlock new weapons, killstreaks, and other perks that help you progress in the game. Even online card game Hearthstone has a system like this, where playing matches will allow you to earn currency that can be used to purchase card packs.
Downloadable Content
One of the things that we see constantly happening in multiplayer games is the release of new content. This helps keep the attention of gamers for a longer period of time. So, as players look for something new, especially in the zone they are used to, they get it. Right from new maps, weapons, modes, and also skins, players are open to investing money if they are able to experience something new. To get the maximum engagement from the player, the first thing to do is deliver a solid multiplayer gaming experience and then work on how to give the dedicated fans something more to enjoy.
There are many games that are continuously giving this experience to the Indian players. The game should be unpredictable and yet equally challenging for the players. Popular card games like rummy, teen patti and others have each game different from the previous. Even though the rules remain the same, no two games are ever the same. This keeps the players coming back for more and improve their gaming skills as well. Undoubtedly, this is one of the reasons that is making the card games one of the leading multiplayer genre of India.
Offline Options
Even though it is quite hard to believe this, offline multiplayer games are as important as the online version. Sometimes, it is a challenge to have an offline mode when we talk about the multiplayer zone. But if there is a possibility, then games should definitely have both the offline and the online mode available. There are games like Bombsquad, Glow Hockey2 and others that can keep players glued for hours and can be enjoyed in the offline version. Not only are these games popular but highly preferred as well, especially with limited internet connectivity.
Role Playing Games
Role playing games are among the most played multiplayer games out there. In this type of game, the gamer controls a fictional character that carries out the gameplay in an imaginary world. There are many different types of role playing games available and each one of them brings a rich use of graphics, gameplay techniques and layered levels, making the players come back for more. The player not only gets pick the representative character but also challenge the other players in the fictional world. These games mostly work on a menu-based combat system. There is a central quest that runs all through the game as a storyline and the complete moves around it.
What makes these games so immensely popular is the defined structure with clear rules. The games are played in real time, that deploy strategy and action all at the same time. So, the game makes you someone else, somewhere else and assures that there are many more variations on the theme that keep coming forward as you move ahead in the game.
Conclusion
Multiplayer games are among the most popular online games out there. These games are packed with action, strategy, thrill and challenge all at the same time. The games clearly show that you are playing live with millions of players out there. The game moves on as per the concepts played out by the players. When players any multiplayer game, he knows that he is going live with many other live players and it is the best who can come out as a winner. So, even when physical distances have increased, these games are successfully bringing the best of gamers from across the world together.