Latest New & Upcoming Games Online
Updated: Oct 10, 2019, 19:28 IST << Back
---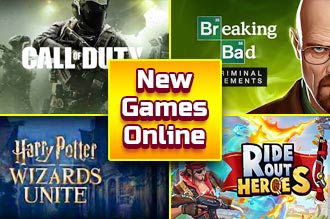 Are you a true gamer? Then, you would definitely like to know the latest new and upcoming games online. The gaming world is not only thrilling but also filled with challenges that acts like the secret sauce for any game lover. What new game levels have come up and what new excitement is all set to unfold? Rather than going through multiple sources to pick the best online games, here is a list that you can refer to readily. The list is updated regularly and is hand picked with the best games to entertain, challenge and excite you. Let's get started, right away!
Call of Duty: Mobile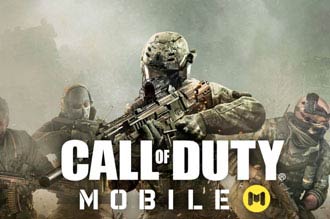 Publisher: Activision
Cost: Freemium
Platform: Android / iOS
Series: Call of Duty
Want to enjoy a PUBG style royale battle with the completely new game experience? Try out the Call of Duty: Mobile. Players can play across multiple modes as they engage in a head to head battle via fan-favorite maps in the game. The game comes with familiar characters and signature weapons that the players are familiar from the earlier games including Call of Duty®: Black Ops and Call of Duty®: Modern Warfare, into one epic experience.
The app comes packed with all social features that allows one to connect and play with friends. There are also updates and push notifications that informs about the exciting events or any new content added to the game.
Call of Duty: Mobile is completely free to play and have been optimized for mobile gameplay.
Borderlands 3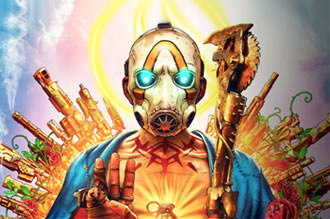 Publisher: 2K Games
Cost: Rs. 4000
Platform: Windows / PlayStation / Xbox
Series: Borderlands
Travel to the edge of the galaxy, to a planet called Borderlands. A beautiful place that was ravaged by militants. Go on a shoot and loot rampage to recover a map to ancient Vaults – a place that holds advance alien technology. Be the first to get your hands on it and prevent it from falling into the wrong hands.
In Borderlands 3, the gameplay is the same, but there are new weapons like radiation, which combines fire, shock, and explosion. In this version, the Tediore gun has many upgrades and better effects of this gun. The game is filled with ammo that has funny effects.
Borderlands 3 is best played with friends, even though you can go solo in the wilderness. An interesting feature of the game is Loot Instancing. If you are level 15 and your friend in at level 20, you will get loot based on your experience.
The game may seem the same, but there are elements that are new or improved. If you are new to the game, then you will have a blast.
Mario Kart Tour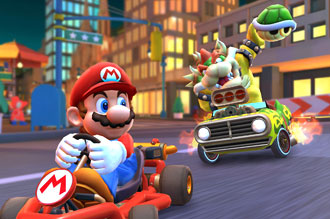 Publisher: Nintendo
Cost: Freemium
Platform: Android / iOS
Series: Mario Kart
It is one of the most-awaited games for millennials. It taps into memories, and now it can be recalled with the launch of the latest version of the game for smartphones. Go on a world tour and see some of the most prominent cities as you collect drivers, badges, and karts to name a few.
In your bid to increase your ranking, delve into the bonus challenges for an edgier race. These races take you away from the traditional kind of races. Also, feel the power of the Frenzy Mode, but first you need to activate it. Without giving away too much about it, you have endless supply of it, but it spans for a short time.
Mario Kart Tour is a free-to-play game, but there are in-app purchases and now Nintendo is welcoming subscriptions too, to unearth unique features.
The best way to rise up the ranks is to keep at it and try out different variations of drivers, kart, and gliders. Relive old memories and recreate new ones with this version of the game. Are up to taking the global race with Mario?
FIFA 20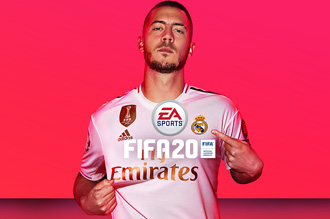 Publisher: Electronic Arts
Cost: Rs. 3999
Platform: Windows / PlayStation / Xbox / Nintendo
Series: FIFA
This is one of the games that has hooked people from its very first release. FIFA 20 brings to you new additions even though the gameplay remains the same. We need to talk about the Manage Mode and Volta Game Mode.
The Manager Mode has few add-ons. There are female managers too to choose from and you can negotiate the deal of transfer by yourself. You converse the clauses, transfer fee, etc. via a dialogue option.
The Volta Game Mode may seem like it is taking you to the streets, but it is not so. This mode allows you to play on a smaller ground, like a rink and you play with fewer people. It is definitely fast paced and exciting at the same time.
The Volta Mode is one of the best reasons to play FIFA 20. It is an innovative idea and unleashes unbelievable thrill for football.
The Legend of Zelda: Link's Awakening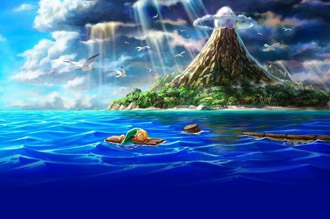 Publisher: Nintendo
Cost: Approximately Rs. 4200
Platform: Nintendo
Series: Legend of Zelda
In this game, Link, the main charater is caught in a storm and is washed ashore on the island of Koholint. He has to pass through challenging dungeons and accomplish tasks as well as fight monsters. All the Link has to do to get home is collect eight unique instruments, which will wake up the Wind Fish. The game has interesting elements and there are characters that are from outside the Legend of Zelda universe.
The moment you start playing it, you are hit with nostalgia. The gameboy feels come alive with its graphics and quests, but it still holds true to delivering oodles of fun.
The 26-year-old game is making users happy, but will the old gameplay sustain them in the long run? So far it is thumbs up for The Legend of Zelda: Link's Awakening.
Apex Legends – Season 3 - Meltdown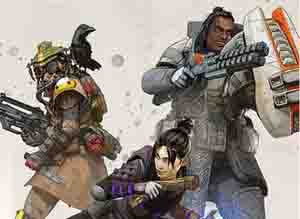 Publisher: Electronic Arts
Cost: Free
Platform: Windows / PlayStation / Xbox
Series: Apex Legends
Set in a sci-fi universe, Titanfall, is an island that is the playing field for this battle royale game, Apex Legends. 20 squads made up of three people scour the island for weapons to defeat each other and reign supreme. The season 2 of Apex Legends blew up the gaming scene, will the latest season make a similar impact? After a series of leaks, the gaming community was buzzing. The new game looks promising. Gear up for new map—World's Edge and new hero, Crypto—the hacker.
These new elements have garnered interest with players. The World's Edge is a new planet and offers you a different gameplay. Maneuver through icy hills and lava-filled terrain. As for Crypto, he uses a drone to locate the enemies and what is amazing about him is that he can see what the drone is seeing.
There is some interesting ammunition too like the Charge Rifle, which promises massive destruction, but it takes time to warm up. The guns are revamped with additional charms that add an edge to it.
Even though the game is free, there are purchases in the game. However, you can proceed playing for free too.
Harry Potter: Wizards Unite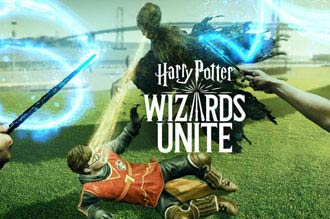 Publisher:Niantic, Inc.
Cost: Freemium
Platform: Android / iOS
For any Harry Potter fan out there, no matter what the age, this game is a must have. The game for now is open for pre-registration at the Google Play Store, however Apple iOS isn't accepting pre-registrations for now. If you are wondering what the game is all about, then it's about Augmented Reality (AR). The game is inspired by the Wizarding World, putting magic in the hands of the players. The game is co-developed and co-published by Niantic, Inc. and WB Games San Francisco and is a part of Portkey Games.
The game relies on the phone GPS. So, a player moves around the real world and interacts with beasts, objects and other things of interest from the magical world. A player will be able to meet wizards and witches with the game's map.
The game will take you right into the wizarding world, no matter where you are in reality. Watch magical beasts from the wizarding world, along with duels of the dark wizards and even overpowering of the magical beasts. The player role is to keep the Muggle world safe from any unexpected calamity. All of this is happening right on your phone. The game builds on the Harry Potter books and movies along with the two Fantastic Beasts films, creating quite a similar wizarding world that we are used to see in the Harry Potter series.
Harry Potter: Wizards Unite is now available for Android and iOS devices.
Color Bump 3D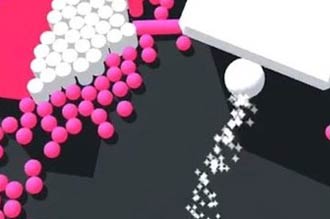 Publisher: Good Job Games
Cost: Freemium
Platform: Android / iOS
This is one game that is very simple to play and extremely difficult to master. As for concept, the player just has to bump objects in 3D. Where is the twist in this? Well, you are only supposed to touch the white objects. If you touch anything else, you just shatter into a million small pieces. If that happens, you just have to start from scratch from there.
As a concept this looks like such a simple concept, however, don't be surprised if you find yourself failing repeatedly at some or the other level. Sounds similar right? Well, you might have got the same feeling when playing Candy Crush. This is one of the new online games that you must try out.
Fury Survivor: Pixel Z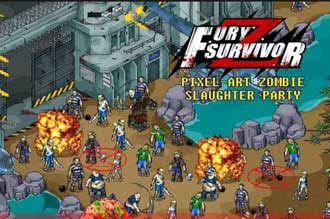 Publisher: Leiting Games
Cost: Freemium
Platform: Android / iOS
This is a game from LEITING GAMES and is available at both Apple Store and Google Play Store for pre-registration. The game is about zombie hack and slash game along with RPG elements. Yes, there are many zombie games available but this new game offers something that you wouldn't see in the others. The game comes with a retro like environment that gives you the point and click adventure games out there.
What makes this game different than others is players will not only be fighting against a group of zombies but will also be on a quest to find their families. It comes with gory animations that will keep you hooked up till the very end.
If you are someone who loves quest games, then this is a new game that you should definitely look out for.
Sid Meier's Civilization VI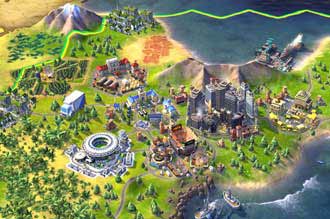 Publisher: 2K Games
Cost: Paid (Starts INR 4600)
Platform: iOS
One of the top grossing games of the iOS, Sid Meier's Civilization VI will take you back to civilizations that you have seen in movies. The game was previously restricted only to iPads; however the latest version works on the latest iPhones; anything from iPhone 7 and later.
The game is about a world building sim that has you exploring an area and developing your cultural and scientific achievements. The player also needs to keep an eye out on rival civilizations and respond to them with a mix of diplomacy or even military engagement. The game was previously available on the PC mode, however, can now be played on iPhones with big screens.
The great way to start with the game is to play the first 60 turns free that are available for each player.
Breaking Bad: Criminal Elements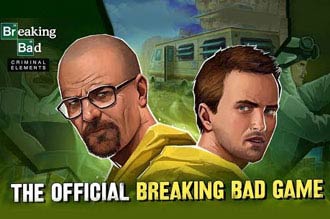 Publisher: FTX Games Ltd
Cost: Freemium
Platform: Android
The Breaking Bad mobile game has just been announced by Sony and FTX Games. The game is based on the popular TV series, Breaking Bad: Criminal Elements and brings the similar thrilling experience for both Android and iOS user. The game is available for pre-registration for now.
The main objective of the game is to develop and maintain criminal operation with the help of specific items like meth recipes. It will be a strategy focused game, allowing players to navigate through moral dilemmas, while keeping a check on their criminal activities.
Ride out Heroes
Publisher: NetEase
Cost: Free
Platform: Android
This was a multi-class royale game by NetEase Games' and is available for pre-registration at the Google Play Store. The game features, 100 players per match and allows to battle both solo and team based matches. Characters can be selected from a roster of heroes, each having their unique character traits, weapons and also abilities. At the launch of the game, there will be 5 heroes that will be available.
The game allows you to form your own strategy by combining two unique skills. The game feature further includes the Mount System and Random Sanctuary System. A mount can be summoned that will appear as a dinosaur, bird or sled dog to travel around the map.
Ride Out Heroes will be a fun game, especially for battle royale or 3D RPG fan.
Dancevil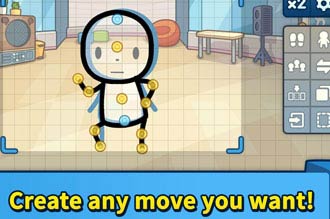 Publisher: Com2uS
Cost: Free
Platform: Android
This is a completely different type of game from the one we have explored so far. The game is available for pre-registration at the app stores for the users. The app allows one to produce your own music video and share dance, music, character and background that the user creates. The game is thrilling and loaded with fun.
The game allows you to create any move you want, along with own music supported by loads of instruments. The player can share the music videos that the player produces with its own dance, music and background. The music video created, can not only be shared on Dancevil but on any other social network service as well. There are other fun things to do as well, right from getting dancing lessons to selecting best music videos on the new game. So, if you want to groove to the beat, this is the best app for it.
Sweet Escapes: Design a Bakery with Puzzle Games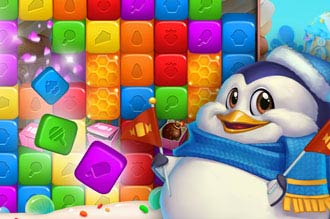 Publisher: Redemption Games, Inc.
Cost: Freemium
Platform: Android / iOS
Tease your sweet tooth with this best new game in town. Players build your own bakery and bake mouthwatering pastries with this brand-new game available for pre-registration. The player will bake baking games, along with village of shops each specialized in a different dessert category. One can play match 3 games to bake a range of delicious indulgences to friends and customers in the shops you create.
Anyone who has an inclination towards baking and enjoys delicious bakery items will simply love this game. The player also gets cooking and baking help from the animals in town, each having a unique talent. There are many varieties available and can keep one entertained for hours.
Sweet Escapes is a free to play game. However, there are few in-game items that can be purchased to boost gameplay.
NBA NOW Mobile Basketball Game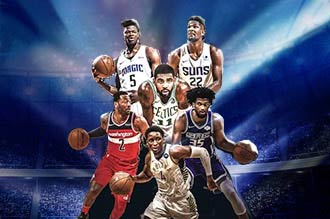 Publisher: GAMEVIL
Cost: Freemium
Platform: Android
A skill-based game that will really challenge your basketball skills. Pre-registration for the game is live now and can be played on Android. The players build their championship team and become the greatest player, GM and coach of all time. If basketball is a game you are passionate about, then this is a game you will appreciate.
The game will keep you updated on the latest NBA news along with stats for each in game. The new mobile game also lets you test your NBA knowledge, letting you predict NBA teams and winning reward points. The game play is pretty simple with easy one touch controls that are designed to give uninterrupted gaming experience. Not only this, the game comes loaded with over 400 cards on the top NBA players along with console quality graphics. The game offers multiple modes and events to test your skills and lets you build the ultimate team with both past and present players. To be part of this exciting world, register yourself today.
Conclusion
These are some of the most exciting and upcoming games that you can look for this year. Yes, there are some game that are almost evergreen, and we love them anyway. Some popular games that fit in this criterion are LudoKing, RummyCircle and perhaps even games like PUBG and CandyCrush. Whether, you like strategy games, social games or skill-based games like rummy, there are games listed for you. If you are looking for strategy-based games and want to win cash, then RummyCircle is still the best option.
However, there are games that offer skill and challenge and keep you entertained for hours. So, pre-register, download and start playing!