Ultimate Brain Games That Challenge The Mind
Updated: Jan 16, 2020, 12:00 IST << Back
---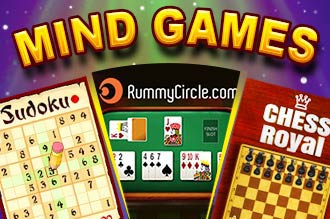 Looking for a meaningful break from your stressful day? Well, there is nothing better than some brain challenging games, that make you think, but not really stress you out. The simpler way of doing this is of course going through puzzles that you just sit and solve. However, there are different games out there that challenge you and are far more exciting. From simple number games to making mythical matches, there is a puzzle style to match any taste and preference. So, put on your thinking cap and check out these fun and challenging mind games for adults.
Chess: Play and Learn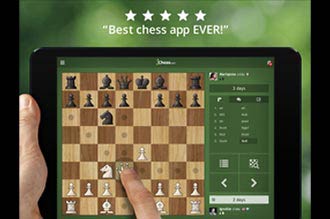 Publisher:
Chess.com is the brainchild of two college friends who want to create an online space to play chess in a safe and friendly environment. So, they developed Chess: Play and Learn – a platform where chess-lovers can interact, save their games, share chess stories, exchange ideas, and learn from each other.
Cost:
It is a free-to-play game, but there are in-app purchases.
Platform:
Andriod/ iOS/ Windows
Gameplay:
It is an ancient board game that is based on strategy. There are two players in the game. Chess is played on a checkerboard that has 64 light and dark squares arranged in an 8×8 grid. Each player has 16 pieces that include one king, one queen, two rooks, two knights, two bishops, and eight pawns. Each of these pieces have a unique move on the board. The most powerful piece is the queen and the weakest piece is the pawn. The goal of the game is to checkmate the opponent's king. In order to do that you have to place your pieces in such a way that the king cannot escape, or he is under threat.
A player uses the 16 pieces to attack and eliminate the opponent's pieces from the game. You have to think and figure out ways to move your pieces to gain position on the board. Besides checkmate, a game of chess can end if the opponent gives up or the time runs out or it can end in a draw. There are various ways to each of these options. Chess is an exciting mind game that makes you think and widen your horizon.
Editorial Review:
Chess may seem like a nerdy game, but it sparks the neurons in the brain. You are forced to think differently when you are faced with situations. In the online version of the game, chess reaches new heights. Chess.com has redefined chess with their online game.
In a traditional chess game, there are only two players, but you can play with four people on this platform. You can participate in live games or play against a computer. There are daily games, or you can enter tournaments and test your skills and strategies. Play chess regularly and climb up the leaderboard.
This platform also gives you a place to learn and master your skills. You can learn from other chess experts on the portal. Chess: Play and Learn also serves as a community for chess players from all over the globe. You can connect with chess lovers here and join forums and clubs. It is a great way to create a thriving ecosystem for chess aficionados.
The fun does not end here. There are championships that are held, and events are organised throughout the year. You can catch up on chess news and stream various chess-related programmes on the platform. Don't miss the shop section, where you can purchase chess-based merchandise – eat, live, and play chess.
Going off on a tangent, the platform offers its players puzzles that can reach 50,000. This will aid you to think differently and give your mind a break from chess. If you want to master your chess skills and improve your mind, then download Chess: Play and Learn on your phone. It will boost your mental capabilities and sharpen your memory and help you think out of the box.
Challenge:
One of the biggest challenges in chess is to watch your back. In chess, it is important to study and understand your opponent's moves. What is he trying to achieve? How is he surrounding your pieces? When you figure that out, you will be able to protect and think ahead. You will be able to save your pieces from the opponent's moves. However, it is not possible to save all your pieces in chess. If it is inevitable, then let the pieces with the lowest points get eliminated. For instance, the queen holds 9 points and the pawn holds 1 point. So, choose your pieces wisely.
Quick Tips:
The basis of winning at chess is to know the rules of the game and ingrain the moves for each of the pieces. This will help you decide which pieces to move and when. The queen can move in any direction, while the king moves at a stately pace.
The bishop and queen are the most powerful pieces in chess. So, move the pawn in front of either the king or queen forward. This will open pathways for your bishops and queen to enter the game. They can clear the field pawns are in the way.
RummyCircle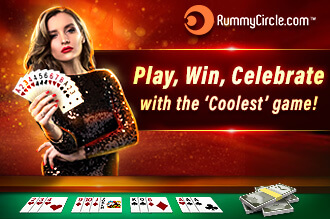 Play Rummy Now
Publisher:
Play Games24x7 is the brains behind RummyCircle and the publisher too. This gaming company in India has more than 40 million players and it is growing rapidly. They have taken a traditional game and transformed it into a digital form. Over the years, the game has evolved. It has introduced a better interface, no distractions, and the tournaments are bigger.
Cost:
The game is free to download. You can participate in free games and there are paid tournaments too.
Platform:
Android/ iOS/ Windows
Gameplay:
There are various types of rummy like Gin Rummy and Rummy 500, but on RummyCircle you play
Indian rummy
. In this version of the game, you play with two decks of cards that includes the printed joker and wildcard jokers. There can be two to six players in the game. 13 cards are dealt to each of the players. They have to group the cards to form combinations of valid sequences and sets.
The game begins when 13 cards are dealt to each player. Sort out the cards to form probable sequences and sets. In each round, the player has to pick a card from the open or close decks and get rid of unwanted cards. Rummy is about quick decision-making skills, so form a winning hand before anyone else declares.
You need to have these combinations to classify it a winning hand:
Pure sequence: It is a combination of cards from the same suit that is lined in consecutive order. For instance, the perfect example would be 6♥ 7♥ 8♥. In this sequence, you cannot include any type of joker to complete the sequence. An incorrect pure sequence would be 2♥ 7♥ 8♥.
Impure sequence: It is a combination of three or more cards of the same suit. The only difference between pure and impure sequences is that you can use the wildcard joker or printed joker to complete the sequence. The ideal example is 5♠ Q♥ 7♠ 8♠ PJ.
Sets: It is a combination of three or more cards of the same value that are from different suits. The best way to sum it up is with an example, 5♦ 5♣ 5♠ PJ. In sets, you can use a wild card and printed jokers to complete your combination. It is not obligatory to form sets to declare.
Now that you know what makes up a hand in rummy, arrange your 13 cards in valid sequences that include a pure and impure sequence and sets.
Editorial Review:
RummyCircle is a fabulous game to test the mind and its capabilities. It sparks the mind to think quickly and find solutions to form various sequences and sets. What is amazing about this platform is that there are more than 40 million subscribers. With so many people on the platform there is no waiting time. You can quickly play the game once you login. The online rummy version offers you a new rummy-playing experience. Hence, it is the leading rummy platform in India.
When you play rummy online, it is a great way for people to have an exciting time that is filled with suspense, thrill, and sheer joy. Every hand that is dealt is different and it is impossible to get the same hand. So, the moment you have the cards, quickly sort them out into probable combinations. This is where the excitement builds. Your mind is churning with ideas. This process pushes your mind to make quick and right decisions. The game reaches its climax when it is close to declaring the hand and you just need one card.
In addition, players can win real cash prizes. You can enter certain contests for free and stand the opportunity to take home rewards. Playing rummy is super entertaining and if you are confident, enter paid tournaments for a minimal fee. Here you can win bigger prizes.
Play the card game with other rummy lovers, who share the same excitement for the online game. Put your rummy skills and talent to the test in this free online game. Even though it is a free game, your personal information is protected. The company has embedded end-to-end encryption to safeguard the players' data. It is a reliable platform, where you can add and withdraw your rewards without any worry.
Challenge:
You cannot declare your hand without a pure sequence. You need it to make a valid declaration. Hence, it is advisable to form this sequence at the start of the game. However, it is the biggest challenge for rummy players. It is difficult to chase it as you cannot use a joker in it, and it is a mandatory combination. But put all your attention in forming a pure sequence.
There are times when you are dealt a hand with bad cards. You may believe there is no scope of winning. If you continue playing and your opponent declares, then your score will be high. In such a scenario, drop from the game in the initial stages. The first drop will cost you 20 points. It will bring down your score.
Quick Tips:
In order to outsmart your opponent, you need to guess his hand. It helps you predict his or her cards and which ones they want. Keep an eye out for the cards they are discarding in the discard pile and picking from the open deck. It will give you an idea what sequence and set they are forming. If you possess those cards, then you can hold them back. This is a difficult skill to develop and it is built over time and with practice.
In order to win, you have to follow the rules. So, it is advisable to remember and understand the rules. This will help you play diligently and wisely. Plus, if your fellow player is using a trick, you will be able to spot it and outsmart him.
Sudoku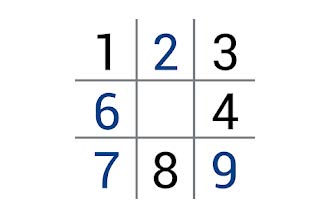 Publisher:
Easy Brain is the brains behind this Sudoku online game. They are using predictive analytics, breakthrough data science approach, proprietary in-house modelling tools as well as in-depth product and marketing intelligence, creativity and excellence to develop classic puzzle games.
Cost:
It is a free to play game that has in-app purchases.
Platform:
Android/ iOS
Gameplay:
From children to seniors, everyone loves playing sudoku. It is a brainy game, yet it seems casual. In Sudoku, you have to use logic to make numeric combinations and place the right number in the right place. The goal of the game is to fill a 9×9 grid with numbers so that each column, each row, and each of the nine 3×3 sub grids have all the digits from 1 to 9. The game provides a partially completed grid. You have to fill it up with the right numbers.
Once upon a time Sudoku was only available in the newspaper. If crossword wasn't your thing, then sudoku made up for it. It appealed to people of all age groups. What really worked for sudoku is that it relaxes you, yet your mind is pumping with activity. Even though it has moved from paper to digital, it is still a viable option to take a break and be productive.
With this Sudoku app, you can take your favorite game with you wherever you go. Playing sudoku on mobile is as good as with a real pencil and paper.
Editorial Review:
One of the best things about online gaming is that you can choose a level of difficulty to suit your performance level. In Sudoku too, there are different levels – easy, medium, hard, and expert. There are over 5000+ sudoku puzzles that will keep you occupied whenever you want to take a break or boost your brain capabilities. Sudoku exercises the brain, improves logical thinking, and gives a boost to your memory. If you really want to give your mind a workout, then try the medium and hard sudoku levels.
There are times when it gets tough, so the game offers you certain aspects such as hints, auto-check, and highlight duplicates. Also, every classic sudoku puzzle game has one solution. You will find all you need whether you are solving your first sudoku, or you've progressed to expert difficulty. In the game you can win unique trophies in the daily challenges and unique medals in seasonal events.
If you have hit a wall, then enable Auto-check. It will help you identify your weaknesses. You can learn from your mistakes. However, there are unlimited undos. You can also make notes on the paper. Go to notes so that each time you fill in a cell, notes are automatically updated. You can also highlight duplicates to avoid repeating numbers in a row, column and block. Also, turn to hints to guide you through the points when you are stuck.
The best way to learn is to track your progress. Analyze your best time and other achievements. It will help you improve your mental abilities. An interesting feature is auto save, so you can continue to play anytime. If you leave the sudoku game unfinished, it will be saved.
The game is compatible on various devices and is playable in portrait and landscape mode for tablets. The interface is as simple as the design, but it is intuitive.
Challenge:
When the grid gets bigger, the challenges increase. You have to formulate ways to fill the block with few mistakes. It is not easy to do it especially when there are several possibilities. However, there is only one solution. It is important to weed out the solution in a few moves to win big.
Quick Tips:
In sudoku, ease into one section or row of the grid. It is overwhelming when your focus is scattered. Close in a single row, column or square and spend five minutes working on it. You will be able to solve more blocks in this manner and quickly.
When you first attack a fresh game, you want to plan extensively. Instead of over thinking and slowly your progress in the game, get cracking immediately. Use the 5-minute limit, give yourself permission to "go for broke" and get as fast of a start as possible on the Sudoku puzzle.
Lumosity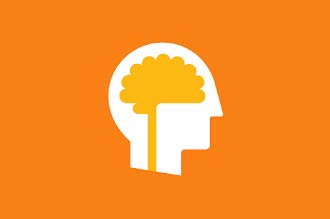 Publisher:
Lumos Labs is literally the brains behind one of the most engaging and mind-provoking gaming apps. The game is a favourite with more than 100 million people across the world.
Cost:
It is a free to play game, but there are microtransactions.
Platform:
Android/ iOS
Gameplay:
Lumosity is a gaming as well as educational app that is filled with cognitive training programmes. It is an interactive app that forces your brain to learn and develop. The game trains your brain to work effectively and grow its cognitive abilities. Lumosity programme is science-based games designed to exercise memory, attention, speed, flexibility and problem-solving. The games also include word and mathematics.
The beauty of the app is that it is moulded to suit your level. At the start of the game you have to take a 10-minute free fit test. This will set the baseline for the games and help you improve the score. You can also compare your score with others in your age group. This is actually a great app to identify your strengths, weaknesses, and cognitive patterns. It will give you an insight into your cognitive functions. You are provided with an analysis of your gameplay to make connections to daily life.
Editorial Review:
In the 21st century, we are so attached to our phones. We are dependent on them for everything – from making notes to paying our bills. Everything is saved on our phones that we do not have to use our memory. Also, everything is conveniently available. We hardly have to move to get things done. So, our brain is in relaxed mode and hardly has the opportunity to excel. Hence, Lumosity is the perfect way to spark the cognitive functions of the brain.
There are over 50 activities on the app, and it is increasing regularly. So, watch out for new aspects and features in the game. These games are designed to target key cognitive functions. It challenges the memory, speed, logic, problem-solving, math, language, and more. The games are tailored to suit your level of expertise. The app also monitors your training habits and preferences to find different ways to challenge your brain.
One of the impressive things about Lumosity is that it is designed by a team of scientists and designers. They have different academic backgrounds, and this is what fires up the ingenuity of the app. The team discovers new methods to push the brain and challenge the cognitive functions. They use common cognitive and neuropsychological tasks, or create entirely new, experimental challenges. Working with experienced designers, they have changed these tasks into games and puzzles that challenge core cognitive skills.
If you are looking for a game to power your mind and develop the lapsed functions, then this is the game for you.
Challenge:
There are seven types of gaming categories on the platform – memory, problem solving, math, word, attention, flexibility, and speed. You may be acing a particular genre, but the challenge is to be at the top of your game in all these fields. The games are designed by intellectual minds from various scientific streams. So, it will be difficult to outwit the games laid out before you. However, that is the challenge of the game.
Quick Tips:
These are cognitive games, so it will push you to think differently. Hence, play the games in an alternative mindset. Attack the games by thinking outside the box to excel. Look at the peripheral components in the game to decide on the move.
2048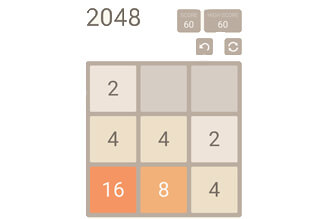 Publisher:
There is a beautiful story behind the game. On one weekend, 19-year old Gabriele Cirulli, a web developer came up with the game. He wanted to see if a game can be developed from the computer programme called scratch. To his surprise, he had more than 4 million visitors in less than a week. Solebon LLC acquired the game and now 2048 is published under it.
Cost:
It is an absolutely free game to play.
Platform:
Android/ iOS
Gameplay:
It is a tile-sliding game unlike Candy Crush. In this game, you have a grid with numbered tiles. The main aim in this game is to slide the numbered tiles and combine them till it reaches 2048. For instance, you start off with values 2 on different tiles. Slide to combine them; then the value of the tile will be four. On every turn, new numbers will feature on the tiles and in a similar manner you combine matching numbered tiles to increase the count. Only two matching tiles that are not blocked by other tiles can merge. You will also notice the colours keep changing as you reach higher-number tiles. The purpose of the game is to reach 2048, but you can continue playing to reach a mega number.
Editorial Review:
2048 is a simple game, but it gets challenging as the numbers increase on the tiles. It is an unusual game that has been downloaded millions of times. This number game improves your mathematical and decision-making skills. The gameplay is easy to understand, and the controls are easier to handle.
If there are three similar-numbered tiles, then only two of them will combine, which is furthest along the direction of motion. At the upper-right corner of the game is the scoreboard. At the start of the game, the player's score is zero and increases with tiles combined. The player's best score is features alongside the current score. This keeps you pushing towards beating the best score. In case you make a wrong move, you can now use the undo option. This is the latest addition that was much needed.
You win the game when the value of the tile reaches 2048. However, the game ends when there are no more moves left. It can be that there are no empty spaces or lack of tiles with the same value. This game is a lot of fun and it is a great way to kill boredom.
Challenge:
This is a number game. If you fall back on combining the tiles you are faced with lots of lost opportunities. The board will fill up with tiles and soon there will be no space. Not a good way to end the game. Also, as the number builds up on the board, it gets harder to form higher valued tiles.
Quick Tips:
It is important to understand how the tiles move when you swipe. When you slide up, down, left, right, the tile will move furthest in that direction. Learn the motion so that you will not end up where you thought the tiles would.
As mentioned earlier, it is difficult to combine higher-value cards. What you can do is build up tiles with smaller numbers and then combine it. Plan ahead and place the merged tiles at the corner and the new ones in the middle. It is easier to combine these tiles with the outer ones.
If you can merge multiple tiles, do it. This will give you more space for new numbers and flexibility to slide tiles.
Sand Balls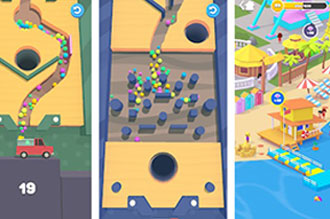 Publisher:
SayGames is the company behind the superb free game – Sand Balls. Based in Minsk, Belarus, the game has engaged the minds of children, youth, and adults. It is a fun, easy, and simple game that has you playing it in the bus, train, or taxi. SayGames has other entertaining games such as Turbo Stars, Drifty Race, Idle Painter, Popcorn Burst, and much more.
Platform:
Android/ iOS
Gameplay:
In Sand Balls, the layout of the puzzle is in a vertical sand pit. At the top of the pit are colourful balls that have to be guided through the sand and obstacles to the vehicle waiting at the base of the sand pit. You just have to use a finger to clear the sand and direct them to the vehicle below. You have to get all the balls in the truck to win higher amount of diamonds.
When you complete a level, you receive diamonds that you accumulate to buy different types of balls and effects in the game. Besides, Sand Balls has an alternate universe where you can use the diamonds. It is called Sand City – a place where you can buy property, upgrade it and make them flourishing and lucrative places to win more diamonds.
Sand Balls is a two-dimensional game that mixes puzzle and city building into one game. Also, the game is absolutely free to play. These factors could be the reason why Sand Balls is one of the best free online games to play.
Editorial Review:
It is a super fun game to play anytime and anywhere. It is a great stress buster. The burst of colours is a sight for sore eyes. It is a completely relaxing game that is free to download and play at length. However, the most annoying thing about the game is the advertisements. After every level you have to go through at least two advertisements. Even while playing you have them on the screen. There are advertisements at almost every point in the game. You can turn them off, but it will cost you.
Overall, Sand Balls is an amazing game. You have to use strategy to move all the balls from the top to the truck to gain more diamonds. There are bombs, planks, tunnels, fans, and other obstacles in the sand that deter you from moving the balls from top to bottom. You quickly get the hang of the game and how to navigate around these obstacles or use it to your advantage.
As you finish each level, your performance level is collated at intervals to unlock new vehicles. You use the latest one in the upcoming levels. Also, there are keys in the sand that you have to collect. When you collect three keys, you are shown nine chests. You can open any three chests with the three keys, and you win diamonds of varying amounts. And the diamonds can be used in Sand City to purchase new properties or decorations for the existing ones. Get in on one of the simplest games that spikes excitement and creativity.
Challenge:
There are different obstacles in the game. Some of them destroy the balls and defeats the purpose of the game. So, understand which obstacles are helpful and how to use them to your advantage. As for the dangerous obstacles, you have to figure out how to navigate the balls around it.
Quick Tips:
In order to move all the balls, you have to clear the sand in a slanting and straight way. Basically, the balls have to gravitate to the bottom. So, clear the sand in such a way that all the balls move to the waiting vehicle.
In Sand City, monetize the properties well. The returns in the form of diamonds will help you build a flourishing city that generates more revenue.
The House of Da Vinci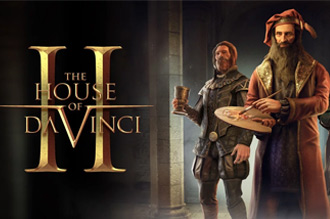 Publisher:
Blue Brain Games s.r.o. is a novice in the gaming industry. They are using advanced technology to design this game. Data analysis is another feature that is fueling this game and making it better. They are in tune with what players want and devise ways to keep them engaged.
Cost:
In India, the cost of the game is Rs. 80.
Platform:
Android/ iOS/ Windows
Gameplay:
You guessed it right, this game is associated with the legendary mind and artist, Leonardo Da Vinci. The game is set in the 16th century and you are the prodigy and apprentice of the legend. However, Leonardo is missing – he has disappeared. You have absolutely no idea what has happened to him. This is where your journey begins. The game is a quest to find your master and unravel the truth. So, scavenge through Da Vinci's lair that is filled with puzzles, inventions, escape mechanisms and objects hidden in all corners of beautifully decorated rooms. You are forced to apply your noggin to solve all the possibilities to lead you to the artist.
The storyline is completely made up and it is not directly linked to Leonardo Da Vinci's life. You are abled to have special skill sets in the game. You are immersed in the early days of your apprentice. You get to explore the charming and interesting world that dates back to the 16th century. You also get to lay your hands on some of Da Vinci's fabulous contraptions. It includes mechanisms, puzzles and devices. As the game progresses, you grow in caliber and turn into a powerful player that can control time itself and learn the secrets hidden in the past.
Editorial Review:
The House of Da Vinci is an incredible game to tune the brain and develop it. Besides the gameplay, there is an absolute attention to detail. The game takes you through a mystical world that is based on original artworks and the wonderful Florence, Italy of 1506.
Many challenging puzzles are inspired by Leonardo Da Vinci's real inventions and ideas. Based on them you are presented with brain teasers and perplexing riddles.
These gadgets take you back to the Renaissance, where ideas were free flowing, and creativity was blooming. You are faced with war machines, complex lockboxes, mechanical puzzles, and escape rooms that will test your cognitive skills. Using a unique mechanism, you have to detect hidden objects by seeing through the surfaces around you. One of the best features in the game is the unusual gauntlet that allows you to look into the past. Witness events that happened earlier, and learn more of the story.
As you go around Leonardo Da Vinci's workshop and test out the different mechanisms, you realise how easy it is to navigate through the game. It is absolutely smooth and glitch free as you move through the game.
The game will remind you of another popular puzzle game, The Room. It is a tad bit easier to play this game, however, there are tricky stages. These are tough to achieve, but you can depend on the hints to help you through these parts. The House of Da Vinci is one of the most interactive puzzle games that is filled with mystery and intrigue.
Challenge:
There are a couple of the puzzles that are difficult, but where is the fun without the challenges. If you are stuck, tune your mind to solve the problem differently. There are unusual items that you have to interact with to process in the game. So, keep your eyes peeled and be thorough.
Most of the points of interest in The House of Da Vinci are subtly highlighted, some spots essential for solving puzzles are very easy to miss. Normally these are parts of larger objects, so you should get into the habit of double tapping on the less obvious bits of scenery as well as the obvious ones, just in case.
Quick Tips:
When you begin the game, you are introduced to the tutorial. Get immersed in it and learn the ropes of the game. Zooming in or moving forward is done by double clicking with the left mouse button. Zoom out or back out by clicking with the right mouse button.
Picking up an item often isn't enough. Work on how to open that hidden compartment and retrieve the weird key may feel like the conclusion of a problem, but quite often it isn't. Get into the habit of tapping on your newly acquired item in your inventory to see whether it still needs to be pulled, pushed, or screwed before it will actually work.
Fishdom
Publisher:
Playrix is a popular gaming company based in Europe, but they have several offices across the continent. Their games are unique, yet they have a similar vibe across. Besides Fishdom, they have developed and published other engaging commercial games such as Township, Call of Atlantis, Gardenscapes, Homescapes, Wildscapes, and Royal Envoy are some of the games.
Cost:
Fishdom is a free to play game, but there are microtransactions.
Platform:
Android/ iOS/ Windows
Gameplay:
There are several tile-matching games available for mobile devices, but with Fishdom you will be engrossed in the game quickly. In Fishdom, you take a deep dive into the ocean. You come across an ecosystem like never before. You will see a variety of fishes and flora unlike never before. Go underwater in the three-tile matching game that is free. There are endless levels that have their own share of difficulties and challenges that you have to overcome. From breaking the shackles of the tiles to attaining your goal within the limitations set. As you progress through the game, you win rewards and unlock items. Use the rewards to decorate the seabed with homely things to make it a cozy place for the fishes. In Fishdom, you can feed the fish as well as play with them. Also, watch them interact with each other.
Editorial Review:
If you are looking for a brain game that is challenging at the same time has a casual vibe then you need to play Fishdom. It is a great game that takes you on a fishy journey – from matching tiles to decorating the space. You can never run out of challenges to accomplish in this game. It is fun and a great time filler, but you know your brain is getting a workout at the same time.
In Fishdom, you can also engage with other players and build your space faster. An interesting feature of the game is the 3D fish that talks funny. You can explore the fish world with them. Each fish has a unique personality. So, grab a scuba mask and delve into a world of unusual animal life. Enjoy the amazing aquarium graphics, but also go all out to brighten up the sea world with décor. Share the crazy life under the water with your friends and win rewards. You can also play the game without Wi-Fi or internet connection.
Challenge:
Every puzzle game has its share of challenges. In Fishdom, the best way to knock off tiles is to use a firecracker or even better a bomb. However, to create these opportunities is not easy. You have to foresee your moves. How you decide to club and match the tiles will create these bombs. You need more than five matching pieces to create a bomb. To create a firecracker, you have to match four tiles.
Quick Tips:
Besides the bomb and firecracker, you also have the power ups. Take advantage of it. There are various types of power ups in the game, for instance, matching six tiles gives you dynamite. This power up can clean out a major part of the board.
Want to get extra points? All you have to do is tidy up the space. The more you decorate the place; you will also get points. Once these points increase, then your star points will increase.
Matchington Mansion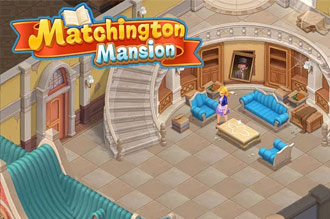 Publisher:
Firecraft Studios is the developer and publisher for Matchington Mansion. This passionate team has built a beautiful game that allows you to décor a home. The company is a novice, but they have developed one of the most popular games.
Cost:
It is a free to play game, however there are microtransactions.
Platform:
Android/ iOS
Gameplay:
It is a tile-matching game with a twist. It is also a makeover puzzle game. All you have to do is match candy, create power ups, win rewards and items, and renovate the house. You have to get items to decorate every room that includes the kitchen and garden too. It is a makeover game that is laced with mind boggling puzzles.
The game allows you an opportunity to hone your interior design skills. Also, you have to protect your house from a mischievous cousin, unlock new rooms, renovate your kitchen or garden and discover secrets hidden among the furniture – all with a cast of quirky characters in tow. You can even spy on the neighbors and check out their room design choices. Get ready to get into a world filled with intrigue and brainy solutions.
Editorial Review:
Enter a world where you have to do more than match tiles. This game brings out your designing skills and gives you the liberty to create a beautiful place according to your likes. In Matchington Mansion, you have to use your noggin to break the tiles, create powerful power up and clean out the board full of tiles. This has to be done wisely and requires some planning. There are power-up combos, incredible boosters and tons of levels in a fun game of matching.
Besides this activity, you also have to piece together all the hidden objects & learn new secrets. So, immerse yourself in secrets, rewards and an intriguing narrative. You can also meet in-game characters. Interact with them and follow their interesting stories while you play.
The game takes you through tons of levels and introduces you to a ton of room design options. There are thousands of DIY Decorations too, but you have to unlock hidden areas for rewards. So,unlock hidden areas for rewards, makeover each room with new furniture and interesting home decor. Puzzle out Matchington Mansion adventure stories with innovative matching gameplay, along by your friend Tiffany, quirky characters and a house cat or pet dog along for the ride. Matchington Mansion is a free game, but it has in-game items for purchase. However, you can turn off the payment feature by disabling in-app purchases in your device's settings.
Challenge:
You cannot quit or pause a game mid-way to check your coin collection. You have to play each level without the possibility of checking the coin total or returning to the main screen. Also, there are moments where you will be stuck at a particular level. So, build up on the power up. Another big challenge is gathering coins. You run out of it quickly, but you need coins to retry into the game and purchase a variety of furniture.
Quick Tips:
At the start of the game, you are given free coins, but you can get more by completing each stage. You can also win coins from the messages and packages Antonio occasionally brings to you. Collect them meticulously and spend it only when you have a total of more than a thousand coins.
You will win boosters ss your progress through the game. These are rare and free, but tough to get. So, be smart with the use of them. Look for the right moment to use them such as when you're down to five moves during a stage, whip out a Silver Spoon to clear out any obstacles that are preventing you from clearing it.
Brain Dots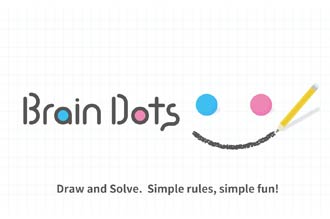 Publisher:
Translimit Inc. is a Japanese company that is based in Tokyo. Their forte lies in developing brainy games such as Brain Dots. The other games other the banner are Puzzrama and Brain Wars.
Cost:
Brain Dots is free to play with in-app purchases
Platform:
Android/ iOS
Gameplay:
Brain Dots has a very simple gameplay. There are two dots on the screen, and you have to figure out a way to bring them together. So, bump the two balls – red and blue and you will clear the stage. What is amazing about the game is that the possibilities are limitless you bring the balls together. However, it is not that simple. There are various hurdles in each level. You have to figure out how to move to the next level. You can draw lines or shapes and then move freely to the next game. Brain Dots encourages flexible thinking that is the key to achieving the goal.
Editorial Review:
Brain Dots is a puzzle game that will force you to think out of the box. It will test your brain's abilities. This game will test your logical thinking and the flexibility of your mind. You will notice that game has elements of riddles and "Escape the Room" type of games. Brain Dots is a great game for people who enjoy brain-type puzzles, cards and strategy games. It is ideal for individuals from all age groups – from children to seniors. It is great for developing children's minds and also for preventing deterioration of the brain.
To keep the excitement up, you can collect pens that will help you in the game. Initially, you have a simple pencil, you will then get your hands on colour pencils, crayon, paint brush, and many more. There are more than 25 varieties of pens of different colors and sizes. So, collect the various pens and walk through the stages.
There is one unique aspect in the game. You can create your own levels and see if users all over the world can solve them. So far, there are over 3 million stages already created. Besides you can share the victorious moment via picture of video with your friends.
Challenge:
Since Brain Dots is a mind game, you will be challenged at every stage. However, the biggest issue you will face is the advertisements that pop up. You are forced to watch it to win items or pens. Sometimes the advertisement fails or breaks halfway, and you lose the opportunity to win the items. This could be a tech problem, but you can avoid the advertisements by paying a fee.
Quick Tips:
There are many obstacles that can keep the two dot friends apart. Some areas are chained off and can't be drawn in, or there might be a laser to turn off, or a conveyor belt to traverse. So, open your mind and try out different possibilities.