Indian Rummy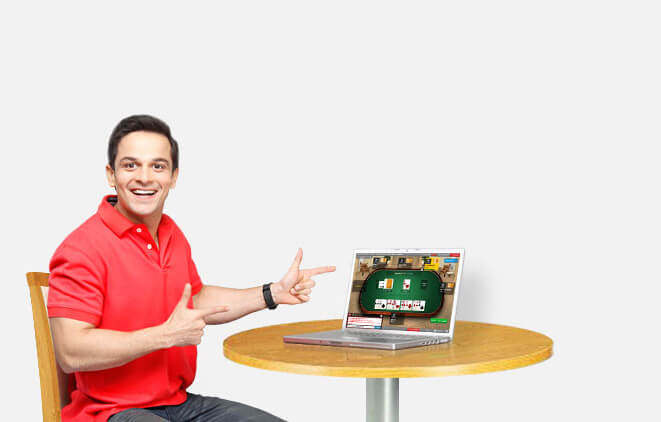 Of all the popular Indian games, Indian Rummy card game would certainly top the list. It is played like classical Rummy and is commonly known as 'Paplu' in India. Though its origin and history is vaguely known, Indian Rummy has been played for many decades now. It is widely believed to be a combination of popular US-based games called Gin Rummy and Rummy 500 and is just as much fun if not more! This game is also a favorite at kitty parties, marriage functions, fiestas and even in local trains.
Formats of Indian Rummy
There are 2 formats of the game as of now
Since 13 card game is more popular due to its fast pace, we elaborate on this format here.
Indian Rummy Vocabulary
Like most games, Indian Rummy too has some terms that you might encounter while a game is in progress. A few important ones are:
Shuffle - It is shuffling that provides the edge of chance to each of the players. That there are no manipulations is taken care of by subsequent cutting.
Discard - Picking up one card means discarding another. Discarded cards form a separate pile.
Deadwood - Cards that haven't formed sets or sequences are classified as deadwood.
Count - This is the total number of points of a player's deadwood.
Drop - This is something you wouldn't want to do - drop the game even before your turn comes.
Indian Rummy Rules
The game is played with 2 deck of cards between 2 to 6 players with the objective of arranging all cards in proper sequences and sets with minimum 2 sequences, out of which one needs to be pure sequence and rest can be any valid sequence or sets. Each deck has 52 cards + 2 printed jokers.
What is a sequence?
Running numbers of the same suit is a sequence. Ace can be used as the highest or the lowest card
What is a pure sequence?
A sequence made without using a joker is a pure sequence. The only exception to this rule is when the joker is not being used as a substitute card but as the card itself. For e.g if 8 of clubs is the chosen joker then 6, 7, 8 of hearts or 7, 8, 9 of spades is a pure sequence.
What is a set?
A Set is three cards of different suits but of same face value. Example of Valid Set: 8 of spades, 8 of hearts, 8 of clubs OR Jack of diamonds, Jack of clubs, Jack of hearts. Example of Invalid set: 8 of spades, 8 of hearts, 8 of spades OR Jack of diamonds, Jack of clubs, 8 of hearts
What's a joker?
There are 2 jokers in the card game Indian Rummy.
The printed joker or the wild card
A random card chosen from the deck after the cards are dealt and before the game begins. For eg if the random card selected is 8 (of any suit) then all 8's will be jokers
How does a joker work?
A joker is very useful in the game of Indian Rummy as it can be used as a substitute for any other card. For e.g., if you have already made your 2 mandatory sequences and need only one more card to finish your game, you don't have to wait for a specific card. You can simply use the joker instead of the card to complete your set or sequence and declare your game. If you have 2, 3 and 5 of spades, and 8 is the joker, then you can use the joker as 4 of spades to make your sequence. That will be an impure sequence, which is valid only once you have a pure sequence in hand.
Joker's no Joke in Indian Rummy
That the joker has 0 points is in no way a measure of its significance in a game of Indian Rummy. Out of the two sequences that can win you a game, a joker can help form one. Unlike its traditional brother, The 13 Cards Rummy, 21 cards Indian Rummy has two jokers and not one.
These are
The Printed Joker - It is the 53rd card of the deck
The Randomly Chosen Joker - This is a card chosen randomly before a game begins, becoming the joker for this particular game
How To Play Indian Rummy
Now that you have got a hang of the basic rummy rules, let's get into how to play rummy exactly. It's a simple, systematic process
A dealer is selected at random. Subsequently each player takes turns to deal the cards
Shuffle and Deal: The deck is shuffled and each player is dealt 13 cards, one at a time.
Open card: Once the cards are dealt, the top card is opened for the game to begin. The open card may or may not be used by the person who starts the play
Joker: The dealer then selects a random card from the deck, which is the joker for that game. Now the game begins
Drawing and discarding: Each player in his/her turn draws a card either from the deck or the open card on top. The player must then discard a card, any card, which he/she is holding. There should only be 13 cards with each player at the end of every turn
Declaring the game: All cards must be arranged in valid sets and sequences (with at least one pure sequence). The 14th card should be discarded in the finish slot. This concludes one round of the game
Indian Rummy Tips and Tricks
Rummy is a game of skill, so one needs to work on sharpening that skill. This only happens with practice. However, below are some pointers that will help you stay on top of your game.
The most basic tip is to get your pure sequence as soon as possible. Once that is out of the way, you can focus on rearranging your cards, using jokers optimally and focus on minimizing your points.
A pure sequence can have more than 3 cards: It can have 4 or 5 cards as well. With six cards, you have two sequences, so half your job is done! This is an obvious but a very helpful tip. While you focus on your game play, it is also important to observe your opponents game. Keeping track of the discarded cards and cards being picked up from the open pile are a good indicator of your opponents' hand. This gives you a fair idea of how to proceed with your own game
Discarding cards close to the joker is a good strategy as the chances of it being used by your opponent are less. And you certainly don't want to assist anyone's game but your own! A smart player knows that Rummy is not only about winning but also managing your losses.
Discarding high cards is always a good idea unless they are already forming a set or sequence When you keep playing, you will develop your personal tips and tricks as well. Write now, this information is available to you and your opponent. So don't lose time. Start playing rummy games now.
Glossary
Some words you will encounter while playing Indian Rummy
Count: This is the total number of points of a player's deadwood.
Deadwood: Cards that have not formed sequences or sets are called deadwood.
Discard: When you pick up a card, you have to let go of another. This is called discarding the card. Discarded cards are placed on the open pile.
Drop: If you feel your cards aren't good enough, you can drop your hand any time to minimize your loss
Meld: Combination of cards is called a meld. When a player arranges the cards as sequences or sets, it is called melding.
Indian Rummy Tournaments
We at RummyCircle conduct many tournaments that happen on a daily, weekly and monthly basis. Match your wits against people from across the country! You can play cash rummy or practice games to hone your skills.
Setting and Playing the Indian Rummy Game
Before the start of a game of Indian Rummy, a dealer is chosen through a system of draws. The process requires every player to draw one card from the shuffled pack of cards. The person who draws the lowest card first would be the one dealing first. This lottery that decides the dealer also stipulates what seats all players get before gameplay commences.
Now, after the dealer is decided, the selected person shuffles the cards well and shows the pack to the player to the immediate left. This player takes out a card from the shuffled pack and places it, face up. This card is fixed as the joker for that game of Indian Rummy.
For instance, if the card set as the joker is 7 of hearts, all cards numbered 7 (in other suits as well) will be treated as jokers for the game. In the event that the drawn card is a printed joker, the other printed card, if available, is decided to be the joker.
A game of Indian Rummy ends when a player declares at least two sequences, one of which has to be a pure sequence.
Scoring:
The lesser points you have, the better! When a player makes a valid declaration, he/she gets 0 points. The remaining players get points based on the cards in their hands that are not grouped in valid sequences and sets. A, K, Q, J have 10 points each, and remaining cards have points based on their face value. Jokers have 0 points.
If a player makes an invalid declaration (declares without meeting the objective of the game) then the player gets 80 points
Rummy Game Download:
Now you can play your favourite online rummy app anytime, anywhere. Some advantages of playing the game on RummyCircle app are, user-friendly interface, enhanced features and better game play experience with instant bonus offer. Just don't miss the app which let you play on the go. Click here to know how to Download rummy game app and never get bored again!
You can also play the game on mobile website Rummycircle.com. We strive to offer a great experience for all our players.

"
I've been playing Rummy for the last six months. I won INR 35,000 in Diamond Club in October followed by INR 40,000 on the main day of Blockbuster. Thank you, RummyCircle!"
Devendra Sankapale, City, Maharashtra
Won ₹ 40,000
Mid Day Blockbuster Finale

"
I recently won in the Mid-Day Blockbuster Finale tournament. It was such a nice experience. I am eager to play more such contests. Thanks, RummyCircle team."
Raju Sriramula, Kurnool, Andhra Pradesh
Won ₹ 50,000
Mid Day Blockbuster Finale

"
When I play online rummy, I think it is important be patient, trust your skills, and believe in the cards. I do not believe in luck. Also, I learn from the mistakes of my game. I attribute this win to my mistakes of the past."
Rajapandiyan M, Thenkarimbalur, Tamil Nadu
Won ₹ 65,000
Mid Day Blockbuster Finale

"
I am very happy that I won Rs. 3 lakhs. The Sankranti Rummy Tournament was one of the most exciting and entertaining tournaments. I love to play rummy, but this moment was extra special. I enjoyed every moment while playing rummy. Thank you very much"
Chandrasekaran S, Tiruvallur, Tamil Nadu
Won ₹ 3,00,000
Sankranti Finale

"
RummyCircle has a beautiful gameplay. In this month, on RummyCircle, I won Rs. 65,000 in one tournament and Rs. 85, 000 in another tournament. There is complete transparency on RummyCircle and you can enter free tournaments daily. Also, the money I win is directly transferred to my account. If you face any difficulty, you are supported by their 24x7 customer care. I love this RummyCircle."
Rajkumar Sour, Sagar, Madhya Pradesh
Won ₹ 86000
Mid Day Blockbuster Finale

"
I am Sowkath. I have been playing at RummyCircle for the past 8 months. I recently won Rs. 5 lakhs in the Diwali Rummy Tournament. I was extremely happy about it. This rummy app is very easy to understand and play unlike other rummy apps.That is why I chose this. My dear friends, if you wish to win cash like me then play with a calm and focused mind."
Sowkath Ali, Theni, Tamil Nadu
Won ₹ 5 lakhs
Diwali Rummy Tournament (DRT 2019)

"
It gives me immense pleasure to play at RummyCircle. I played with a calm mind as per the advice given by the Customer care. Though it was not my motive to win the prize money, I achieved it by playing Fast Lane Friday. it gives me great joy. Thanks to the customer care for supporting me."
Radha Shanmuganantham, Chennai, Tamil Nadu
Won ₹ 5,60,268.33
Fast Lane Friday

"
I have a great experience with RummyCircle. This is the most trustworthy game ever. Thank you so much RummyCircle "
Kalpesh Patel, Surat, Gujarat
Won ₹ 46689
Fast Lane Friday
Contact Our Support
RummyCircle support team is available round the clock 24x7 to give you the Best Rummy ExperienceTM. Connect with our customer support team from your registered email ID at support@rummycircle.com and share your concern or issue. Our representative will get back to you with a solution shortly.