Download Rummy App on Samsung Mobile Phone
Mobile phones have become an integral part of our lives. In fact, you may forget to pick up your wallet/keys when stepping out but mobile is the gadget that will always be with you.
Mobile is Personal
All of us have specific demands from our mobile phones. Some want bigger display whereas some prefer phones with better selfie camera and so on. Our choice motivates our decision to buy a particular brand of mobile phone. Off late, slew of Chinese companies like Xiaomi, OnePlus etc. have entered into the growing & hyper-competitive Indian mobile market. Samsung, however, has managed to retain its dominant spot in India.
One size does not fit all
Samsung has phones with different screen sizes that cater to different market segments e.g. Samsung GT-I8262 Galaxy Duos, Samsung GT-I9080 Galaxy Grand etc. that cater to the Mid-Tier segment and super-fast awesome phones like the Samsung Galaxy S4, S5, Galaxy Note & Edge series phones. Screen size is one evident differentiator in all these devices.
Samsung has a spectrum of devices & it has ensured that it addresses the needs of customers in the "Premium Segment" & customers in the "Mid Range Segment", some of their popular models are below:
Galaxy S6 - CPU Type: Octa-Core, Resolution: CMOS, 16MP, Memory: 32 GB
Galaxy S6 Edge - CPU Type: Octa-Core, Technology(Main Display): Dual Edge Super AMOLED, Resolution(Main Display): 2560 x 1440 (Quad HD)
Galaxy S4 - CPU Type: 1.6GHz Quad Core+1.2GHz Quad Core Processor, Resolution: 1920 x 1080
Galaxy S5 - CPU: Octa-Core, Quad 1.9GHz + Quad 1.3GHz, Display: Super AMOLED, 1920 x 1080 (FHD), Resolution: CMOS, 16.0MP
Samsung introduced the famous "Note" series in 2011 where it revived the "Stylus" & now it is one of the promising features in those phones.
Galaxy Note Edge - CPU: Quad-Core, 2.7GHz, Display: Super AMOLED, 2560 x [1440+160] (Quad HD+), Resolution: CMOS 16.0 MP
Galaxy Note 4 - CPU: Quad-Core, 2.7GHz, Display: Super AMOLED, 2560 x 1440 (Quad HD), Resolution: CMOS 16.0 MP
Galaxy Note 3 - CPU: OCTA, 1.9GHz Quad + 1.3GHz Quad, Display: FHD sAMOLED, 1920 x 1080, Resolution: CMOS, 13MP
Galaxy Note 3 Neo - CPU: Hexa-Core, Dual A15 1.7GHz + Quad A7 1.3Ghz, Display: Super AMOLED, 1280 x 720 (HD), Resolution: 8MP
[Source - http://www.samsung.com/in/]
Download the Rummy App
If you enjoy playing Rummy on your desktop, then the experience of playing Rummy on Samsung mobile would be even better!! RummyCircle has introduced India's fastest Indian Rummy app exclusively for Android Phones to ensure a seamless & smoother experience for our players.
To download RummyCircle App on your smartphone, please visit the rummy game download link
You can also check rummy rules in our how to play rummy section.
Benefits of RummyCircle App
Awesome UX - Caters to different screen sizes
Whether you have a Samsung Duos or Galaxy S6 or Galaxy Note 3, we have customized the user-interface to look awesome on devices with different screen sizes. The game runs in Landscape mode which ensures that there is a "Single-Row" layout of the cards.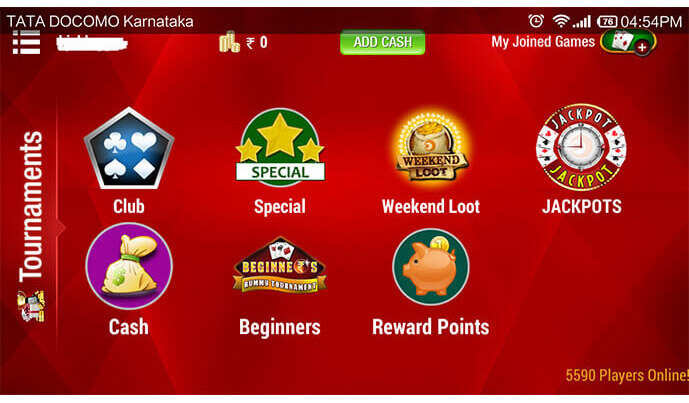 Play against real people & win cash
It is always fun to play against real players rather than playing against a machine. Now, smartphone users can play against other players [it is you against players from whole country] & win REAL cash. You can even play Practice games & sharpen your Rummy skills.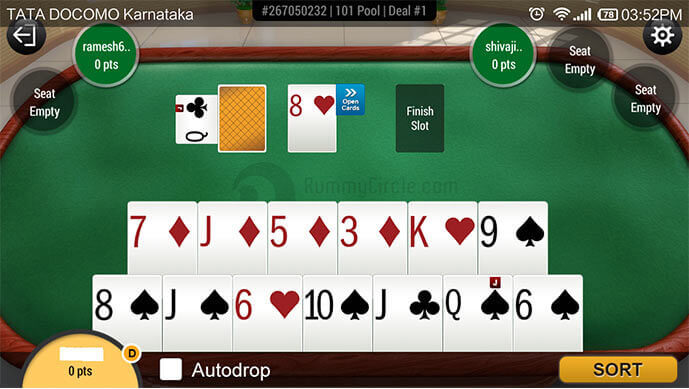 Whether you are on 3G or WiFi, enjoy Rummy on your smartphones & make the most out of your valuable time when you are on the GO. Liked what your read? Want more info? Please share your feedback and we will do our best.
Contact Our Support
RummyCircle support team is available round the clock 24x7 to give you the Best Rummy ExperienceTM. Connect with our customer support team from your registered email ID at support@rummycircle.com and share your concern or issue. Our representative will get back to you with a solution shortly.