13 Card Rummy Game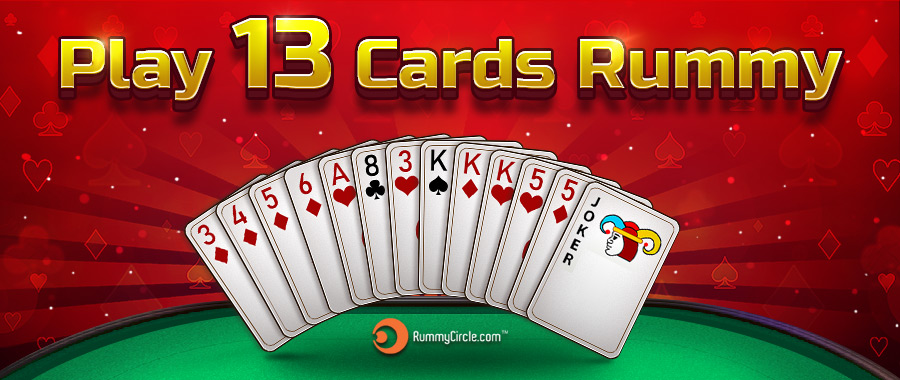 13 Card Rummy Game - Most Popular Rummy Game In India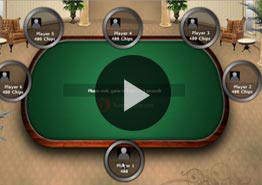 13 Cards Rummy is amongst the most popular types of card games played in India. The game is quick, fun and easy to learn. This 13 card game is played with the help of a standard deck of cards along with Jokers and requires at least 2 players to play. Do you know what is this card game known commonly? Well, it is commonly known by the name Paplu and is loved by people across the country. No doubt, it is one of the most played 13 card game online.
It is a game of skill and that means, the more you play, the better you get at it. The way to play 13 cards rummy is pretty simple. Each player has 13 cards that has to be arranged in sets and sequences. If you are thinking, from where did the game start, then it surely did start from Asia. Some say, the 13 card game came from China, however we are not sure about it. To win this game, the player needs to strike the balance between strategy and skill of course with the right timing. So, even though the rules are simple, one needs to play with focus, concentration and dedication. Now let's take a closer look at the 13 card rummy game and help master it in no time.
What Makes 13 Cards Rummy So Popular?
The popularity of anything comes from ease, fun and availability. Well, this 13 card game offers this and lots more. This rummy game is one of the simplest forms of rummy and can be played easily online. The player needs to focus on making valid sets and sequences to make a declaration.
The ease of playing: You can play this game at any time and from anywhere. Yes, once the account is created, you can pick it up from any device and play rummy. No matter, what's your skill level, there are different types of games available to pick from. Just starting off, head for the practice games to polish your skills. Want to compete with ace players, head for the cash games and tournaments and win big cash rewards.
The fun in the game: Even though 13 cards rummy requires to put the right strategy at the right time, it is all the way fun. You are never going to find a dull moment with this game. You play with real players and with no two games ever being the same. There is anticipation, excitement and real time strategies, making this card game not only popular but also among the fastest growing games in the industry.
Availability: There are many games that are available online, almost all today. But when you are playing with real players, the challenge is to pick the game up at any time you want, no matter what's the day. So, yes you need to find players online to connect with and enjoy your rummy game. With 13 cards rummy this is never a challenge. With over 10 million players, a person can pick any game at any time and start playing. There are thousands of players available all through the day to pick any cash or practice game and enjoy a round of online rummy.
Objectives and Rules of 13 Card Rummy Game
If you are just getting started with 13 cards rummy, then you must clearly know how to win it and what are the rules of this rummy game. To win this rummy card game, you need to make sequences and sets. With a valid declaration it is simple to win this game. Let's see how to make valid sets and sequences to play this game.
Pure Sequence
Impure Sequence
A

♥

K

♥

Q

♥

A

♥

K

♥

Q

♥

Joker
Set 1
Set 2
2

♠

2

♠

2

♠

2

♠

5♦5♦5♦
Important points to remember:
Each group of card needs to have at least 3 cards
It's compulsory to make 2 sequences at least out of which one must be a pure sequence. You can make 1 or 2 sets as per the card grouping
How Can You Play 13 Cards Rummy on RummyCircle.com
Rummy rules for this game remain the same, however we at RummyCircle are committed to give you the Best Rummy ExperienceTM. All you have to do is register with us and start playing 13 cards rummy. The games are running round the clock, all through the year and the player can pick from free or cash games. The games are quick, fun and are absolutely easy to start with.
Steps to get start with online rummy
Register with us on RummyCircle.com
Download our 13 card rummy app on your mobile device
Complete the installation process and login with your registered User ID
Give a try with some practice games to get comfortable with the interface
Now it is time to play cash games on RummyCircle

Add cash and enjoy the exclusive Joining Bonus
Play your first cash game and see the winnings added to your account
Pick tournaments of your choice and win big cash rewards
13 Card Game Terminology
Cards: The pack of 52 cards used to play rummy. In 13 cards rummy, two packs of 52 cards each is used.
Players: Typically, this game is played between 2 people and maximum 6 people on one table.
Joker: This game has only 1 joker unlike the Indian rummy game which has 2. Before every 13 cards game begins, a card is randomly selected, and this card is called the joker for that particular game. For instance, if a 4 of hearts is chosen at random then the 4 of the other 3 suits also become the Jokers.
The Dealer: In a 13 cards rummy the dealer is decided through lottery system. Both the players have to choose one card each from a well shuffled pack of cards and the player with the lowest card becomes the dealer. The shuffled pack of cards is divided in half and the dealer then distributes the cards to himself and to the opponent. In online rummy, the dealer is not required as random shuffling is done certified by iTech Labs.
What is the difference between 13 Cards Rummy and 21 Cards Rummy
13 cards rummy is among the most popular card games today. If you are thinking which form of rummy you should pick, here are some simple points to help you draw your conclusion.
The objective of both rummy games are same, to form valid sets and sequences. However, since 21 cards rummy has 8 cards more, it becomes a bit more tedious to arrange them in groups and the games are long.
There are 2 decks of cards used in 13 cards rummy, while the other one has 3 decks in use.
In 13 cards rummy, you need to make 1 compulsory pure sequence. However, in 21 cards rummy, you need to make 3 pure sequences.
The Joker plays the same role for both types of rummy. However, in 21 cards rummy, there are also value cards along with Joker cards and they also function as Joker cards and carry extra points. Along with it, a combination of all value cards makes the game more competitive.
13 Cards Rummy Variations
The 13 cards rummy is a form of card game and can be played through the different variants of rummy. Some of the popular rummy variations that you can pick from are:
Points Rummy:This is among the most popular variant of rummy. In this, the player plays for points for a pre-defined value. The winner doesn't get any points in this variant and it's the sum of points who lost, that add to the total. The point calculation is based on cards that have not been formed in valid sets and sequences.
Deals Rummy: This kind of rummy is played with chips, with equal number of chips given to each player. Each chip has one-point value. The winner of this game receives the chip that matches the number of points of the losing players. The winner is who has the maximum chips at the end of all deals.
Pool Rummy: This is another variant of rummy and can be played for 201 pool rummy or 101 pool rummy. The player who reaches (201/101) point is eliminated from the game. Similar to deals rummy, the winner of this game, gets zero points.
Rummy Tournaments: RummyCircle hosts the biggest online rummy tournaments in India. To win the 13 card game strategy and skill has to be blended together. These games are played multi-table with each table having 6 players. The number of players participating in the tournament will depend on the tournament size. The winner receives all the chips from the other players.
13 Cards Rummy for Cash
Playing 13 cards rummy for cash rewards is one of the best motivational factors to improve your gameplay. With every game you play, you improve your rummy skills and get the confidence to participate in big tournaments and win cash. With online rummy, you can pick this game at any time and from any place and start off. So, why wait for your friends to come along and play a round of rummy when you can play with the best of rummy players from the country. The cash prizes awarded in 13 cards rummy run into lakhs. All you have to do is register and master your rummy skills to win it.
Contact Our Support
RummyCircle support team is available round the clock 24x7 to give you the Best Rummy ExperienceTM. Connect with our customer support team from your registered email ID at support@rummycircle.com and share your concern or issue. Our representative will get back to you with a solution shortly.