Best Online Games to Play Now
« Back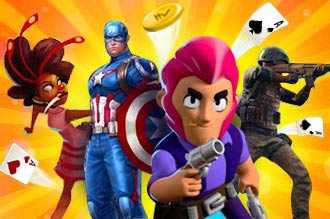 Looking at the big and wide world of games can sometimes get a bit overwhelming. What are the games that deserve your time, attention and a bit of cash? How to pick the best online games to play, when you have those few precious moments of solitude. Well, we promise to make this simple for you.
No matter what kind of game you prefer or what's your style, here is a game that you are sure to love. So pick from the best online games here and get started right away.
1.
Bahubali: The Game: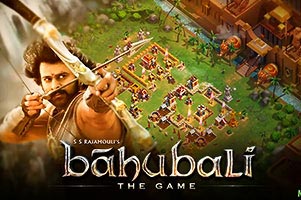 The mind-blowing success of the movie Bahubali at the box office prompted the game developers to launch an adventurous game app in its name.
Editorial Review:
Although the game is based on this blockbuster movie, the game developers, Mark Skaggs and Tanay Tayal, the Director-Board member and Co-founder at Moon frog respectively made sure that it does not turn out to be a mere reveller of what we had seen on the big screen. That is how this gaming app has made a huge mark in the gaming world in the recent times. This is one of the best games that tests the skills of a player, who as a general of Mahishmati needs to find right strategies to outsmart Kalakeya tribes. Anyone who loves the Bahubali grand set up and the way the story moved, is sure to love this game.
Game Play:
The objective of the game is to devise a strategy to protect the Mahishmati kingdom against the enemy forces by employing powerful warriors like Bahubali, Bhallaladeva and Kattappa whenever their presence seems inevitable. As a commander of the vast army of Mahishmati, you need to assemble ten different types of troops of soldiers and train them to use the resources like barracks, traps, weapons and armoury which you would have earlier created with the help of builders.
Tips and Tricks:
Create fear in the hearts of your enemies by unlocking powerful heroes with super powers.
Use weapons like arrow machine to destroy your enemy's army.
App info:
Current version: 1.0.105
Available on: Android and iOS
2.
WWE Champions Free Puzzle RPG: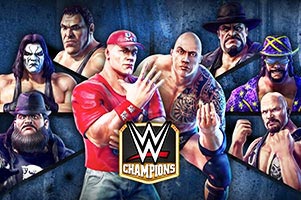 This is one of the best online games in the world where you can watch your favourite WWE heroes indulging in an intense battle with one another.
Editorial Review:
It is very easy to understand the game completely as it is supported by a great tutorial having all the intricacies of the game clearly explained. This game has many positives to start with like background music, umpteen tournaments, detailed graphics, well figured out incentive formula for the upgrade. You can either play the game for free till the end, but then you must be prepared to grind yourself for hours and weeks together or you can choose to speed up the process by investing money whenever you find it appropriate to do so.
Game Play:
The players must build their fantasy rooster by collecting 100s of superstars and need to connect gems to perform signature moves to pin their opponents. The power of the attack increases as you connect more gems and dissolve them. The gems can be connected either in a horizontal or vertical order which helps your wrestler to land some deadly blows on your opponents.
Tips and Tricks:
Break the gems that scroll down so that you can line up combinations to activate multiple moves.
Choose the colours that can match the attacking abilities of your superstars so that they will be adequately powered.
App info:
Latest version: 0.272
Supported version: iOS and Android
3.
Super Mario Run: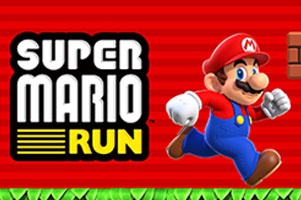 It is one of the best free online games which is about accumulation of high scores by chasing the hidden coins vigorously.
Editorial Review:
One good thing is you need not worry about the change in quality of games due to Nitendo's move into mobile gaming as Super Mario Run always gets star treatment. This is an auto running mobile game which gives the same basic feel as a standard Super Mario bros. Super Mario is a combination of three collected games viz. World Tour, Toad Rally and Kingdom builder which come together to form a game.
Game Play:
The game is played by tapping the screen which can make the Mario jump and run automatically through numerous worlds. If you want to help Mario jump over larger obstacles you must keep touching the screen longer. The objective of the game is to safely get Mario pass a level in the fastest time possible. By collecting normal coins and special coins in each level, you get a chance to replay also.
Tips and Tricks:
Always know that even when Mario can jump automatically, a well-timed manual jump by you can get you rewards.
Keep paying attention to little transparent arrows as they provide you hint as to where you should jump next or run.
App info:
Latest version: 3.0.10
Platform: Android/iOS
4.
Dr. Driving 2:
This is one of the best online games where you use different cars to drive inside a city.
Editorial Review:
This game has a very addictive interface in addition to carrying an attractive design and layout. It is about driving different cars in a city undertaking various tasks like parking, fuel, time, truck, highway, etc. It is not just your car which gives a beautiful look. In fact, the other cars in the city and the buildings and roads also are very well designed graphically, giving you an enjoyment to the fullest to drive your car.
Game Play:
There are some missions given by the game which as a driver you need to complete carefully. Sometimes you need to drive on a highway, sometimes you need to park the car on a parking lot and at times you need to drift your car and so on. On completing each of such missions, you gather some amount of coins which will enhance your driving skills. Once you earn coins, you will get an opportunity to get another car and likewise the game goes.
Tips and Tricks:
Earn bonus points by turning with your indicators on.
To unlock the cars to buy them, try to win free gold.
5.
Pokemon Duel: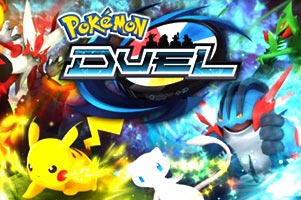 Pokemon duel is nothing but a figure board game where you are required to place one of the six figures available on the flag of your opponent.
Editorial Review:
The setup of this free-to-play game resembles that of another game called Clash Royale. Although you are permitted by duel to play the game as much as you want, still timers decide your rewards which depends on the potential value of the objects inside each booster pack. The starters need to purchase gems which are used to buy booster packs.
Game Play:
As described above, your success depends on reaching your opponent's flag to place one of the six figures on his flag and stopping your opponent to reach your flag. For this to happen, you need to use the spinning wheel which will have four segments. The blue helps in blocking or dodging a manoeuvre, the white and yellow are for initiating the attacks and anything landed on the red can knock you out. The purple is for activating a special move.
Tips and Tricks:
If you are not for waiting and continuing to play for a little reward, you can go for AI battles to win the ownership of a giant jewel tower in Carmonte island.
Strategize well to plan ahead and pounce on your opponent's mistakes.
6.
RummyCircle: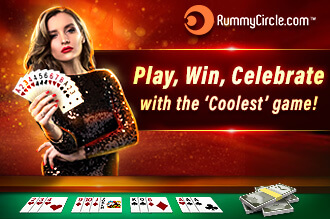 RummyCircle is one of the leading sites of online Rummy in India thronged by 8 million registered users all over the country.
Editorial Review:
RummyCircle app and website are designed in such a way that even a beginner can easily learn how to play Rummy. There are video tutorials available for one to learn the game thoroughly and to play it online. The registration process is very simple. This is one of the best online games for PC and it can also be played by downloading the app. The user can play cash games or play practise games for free. The winning amount is transferred to the user's account at the earlier possible time and the transactions are done through net banking, debit and credit cards. Overall, it offers a user-friendly experience for all the players.
Game Play:
The toss decides who should start the game once the cards are dispensed with. Each player will be holding 13 cards and the only way to win a deal is to form two sequences (consecutive cards of the same suit) one of which must be a pure one (without joker) and the balance cards can be used to form other sequences and sets. This is done by picking up a card from the open deck or a closed deck and discard a card of your own on each turn. Once the cards are grouped as per the objective of the game, the player can show the cards for validation by pressing the declaration button. The person who has zero points is said to be the winner of the game. The four major cards (Ace, King, Queen and Jack) carry 10 points and the rest of the cards carry points equivalent to their face value.
Tips and Tricks:
Drop the game when you feel you are not having proper cards to finish the game.
Be alert and observant on the opponent's move (More Tips & Tricks)
App info:
Platform: Android, Windows, Mac
REGISTER to play online rummy at RummyCircle.com
Or
DOWNLOAD OUR APK to get RummyCircle Android App
7.
Subway Surfer:
It is an endless runner mobile game,
Editorial Review:
Subway Surfer is more or less the same as that of Temple Run. It is an infinite runner game that has some neat elements and familiar gameplay mechanics.
Game Play:
Playing this game is very simple as all you need to do is swipe your screen to move the characters. It is about you being chased by a police officer for spray painting a train. You need to avoid obstacles and be careful not getting hit by a train or crashed in the wall. So how do you do that? You will jump as you swipe up and roll as you swipe down. For changing lanes, you need to swipe left or right.
Tips and Tricks:
A jet pack helps you to fly up and so ensure you are able to get to it.
You should try to land on the top of the train by jumping while you are in the air.
8.
Asphalt 8: Airborne: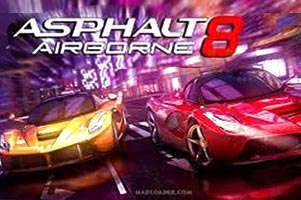 This is a very high-speed intense racing game that provides an exciting racing experience.
Editorial Review:
Asphalt 8 is a game series developed by Gameloft. This game has air stunts too which offer nitro boosts as rewards. The interesting thing here is to decide whether to take the car or stick to the street as in the former case it will be a touch slower. It is your ability to purchase better vehicles and not the skills that wins the game for you. This game is quite lengthy conducting 180 races over all, having a large variety of race models.
Game Play:
Finishing first, second and third in the race gets you three, two and one stars respectively. If you had come first without fulfilling the objective of getting additional stars, you can instead choose to replay the race to get a five-star rating. The control options are the same as that of the previous series like tilt to steer, tilt and icons for manual acceleration via on screen, tap to steer which helps in auto-acceleration, etc.
Tips and Tricks:
Focus on buying a car with good handling and acceleration.
Know that there are multiple routes to get to the finish line and hence know the shortest route possible.
9.
Ball Pool: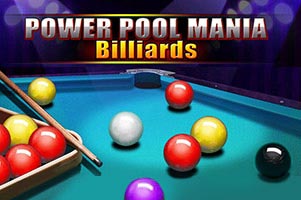 It is all about a pool game played on a board with six pockets like a snooker or a billiards.
Editorial Review:
This game you can play in multiple ways. You can either play one on one against another human player or you can play a special game, the access to which is possible once you get to the minimum player level or may be as a 9-ball game or perhaps as mini games and so on. Before the start, you will be asked to bet some money which will induce you to play with vigour against your opponents.
Game Play:
You need to use your finger to aim at the cue and hit the ball by swiping it forward. A win fetches you coins and the ones earned by the opponents also will be added to yours, which can be used to buy different grades for your cue including new items which can be unlocked and bonuses which can make the game easier to play. In 8 ball pool game, the first one to pocket all the seven balls along with the neutral ball wins.
Tips and Tricks:
First browse for tables with less entry fees and strengthen your skills before moving to high stake tables.
Since cues are essential to target the balls and pocketing them, use the coins to upgrade your cues.
10.
Jetpack Joy Ride: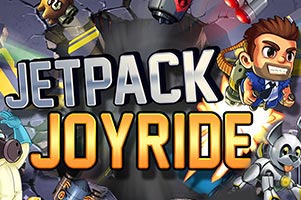 The jetpack joy ride is a full-fledged side scrolling action game which is a brain child of the same developers who invented the game Fruit Ninja.
Editorial Review:
This game is about the stealing of jet pack loaded with a machine gun by the hero of this game from a laboratory, Barry Steakfires who will eventually has to go as far as he can before dying eventually. So, although there is a touch of violence available in this game, it will look totally cartoonish. The coins you win help in upgrading the jet pack, its appearance and in buying advantages through in-app purchase.
Game Play:
The game is played by manoeuvring the jet pack by taps and holds. The guns are fired by touching or holding on to the touch screens and it also helps to lift the game's hero in the air and the releasing of the touch drops him down. If you are a skilled player, you are bound to score more because the controls are very much responsive in this game. Since the players are unaware where the next attack will come from, that makes the game more thrilling.
Tips and Tricks:
For going past the mission to break through the wall, dying and restarting the stage 5 times is the best option.
Don't use rapid fire guns with jetpacks as the firing will be disoriented.