Free Online Games To Play Now
Updated: Aug 8, 2019, 18:00 IST << Back
---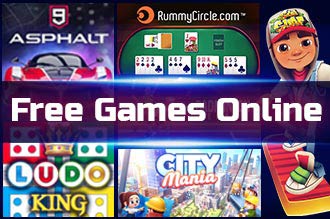 Not everything that is offered for free may look interesting. Same is not the case, however, with online games. Many of the free games that you find in Android and iOS are extremely interesting and exciting to play. When you have so many options of all free games to get entertained, why don't you give it a try? Let us see the top ten such games that are the most happening ones in the gaming world right now.
Subway Surfers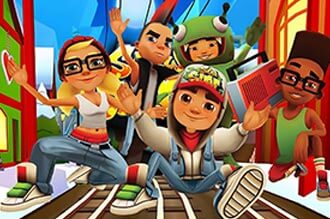 Publisher: Kiloo
Cost: Freemium
Platform: Android / iOS / Windows / Kindle
Genre: Runner Game
Editorial Review:
This game will not appear new to you if you have played Temple Run before. Your job is to help Jake, Tricky and fresh escape from the grumpy inspector and his dog. So brace yourself for a relentless chase. This is one of the free games for all ages as no blood or gore will be shown even if you get injured during collisions. You can run at a better pace compared to temple run as Subway Surfer is a simpler version of the former, taking out the turns.
Game Play:
As a gamer, you must make your character run endlessly not getting caught by the inspector and his dog. This is what the objective of the game is. Make Jake, the protagonist run without getting hit or crashed on any upcoming obstacles like trains, polls, tunnel walls, etc., by swiping up, down, left or right. You need to be totally focused on the game failing which you will not be able to save him. Game will be over if your player meets with a crash, but he can still continue to run using the keys and collect various items. The game keeps you busy forever if you are able to keep your player free from accidents.
PUBG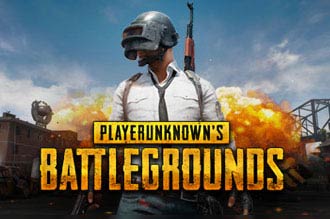 Publisher: Tencent games, PUBG Corporation
Cost: Freemium
Platform: Android / iOS
Genre: Battle Royale
Editorial Review:
PUBG is an acronym of the term PlayerUnknown's Battlegrounds which clearly suggests that you are in for a huge battle-royale as you download the game. This game comes up with excellently created graphics and 3D sound. You will never cease to get impressed by this game as the developers are constantly coming up with new game play features and daily events which are very challenging. The maps are quite bigger and are available to be played in four different styles. Since the game comes up with customized controls, you can keep them in the way you want it to be. Play free online games like this and enjoy the challenge.
Game Play:
The game play is so absorbing and intense. You need to survive 100-player battles and then there are death match and zombies which you have to overcome. Land in your enemy area with parachutes and then a huge gun battle begins. Protect yourself with appropriate gears that can repel the bullets and find weapons which can help you attack your enemies. The challenge is to survive for the longest time without getting hit by any bullet. Manage the inventory items that you are able to obtain on your quest for survival.
Ludo King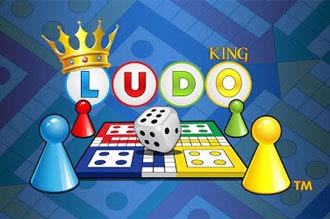 Publisher: Gametion Technologies Pvt Ltd
Cost: Freemium
Platform: Android / iOS / Windows / Mac
Genre: Board
Editorial Review:
This is one game you have been familiar with since childhood having played the same many a time with your family and friends. So, it will not take long for you acquaint with the game online. Even offline mode is supported by this app where you can play with computer or local multiplayer. There are options to challenge your Facebook friends too. As it is developed now with Auto move system, there is no room for cheating. The user friendly nature of the game attracts thousands of users. This game can be called as a modern version of the royal game called Pachisi that used to be played between Kings and Queens in the past. There may not be Kings or Queens nowadays, but you can certainly become one by mastering the game.
Game Play:
This game, the origin of which is believed to be from India, can be played with a maximum of six players. The roll of the dice instigates the game and it is to be decided by you as to which of the tokens to be moved first. Rest of the game is by and large automatic. Each player will have four tokens that are kept in their home base of a specific colour. Your goal is to get each of the tokens to move around and brought back to the center area before any other player does it first. Beware of the fact that if any of the players gets his piece in the same place where yours is placed, then you have to move the piece back to the center place again. Out of all the free games to play on Ludo, this one is probably the best of the lots.
RummyCircle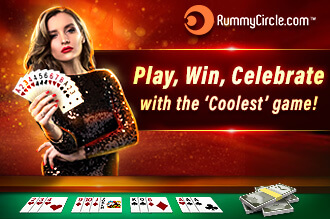 Play Rummy Now
Publisher: Games 24x7
Cost: Freemium
Platform: Android / iOS
Genre: Card Games
Editorial Review:
If you are looking for the best companion to while away your pastimes, then online Rummy probably tops the list by a distance. So, why don't you have yourselves enrolled in RummyCircle, arguably the best stakeholder of online Rummy? RummyCircle easily prevails over other Rummy sites, by being the most user friendly site with various safety measures that safeguard your personal data and money transactions. Even a layman with zero knowledge of Rummy can become an expert by visiting the site as it contains enormous video tutorials and practice matches. You can play as many practice matches as possible before testing your skills on cash tables and tournaments. Always remember it is one of the free online adult games and hence strictly not for kids.
Game Play:
The objective of the game of Rummy is to arrange the cards to form at least two sequences one of which has to be a pure one and the remaining cards can be grouped to form sequences and sets. Each of the players is first served with the cards taken from the deck of 52 cards. The balance cards are kept in the closed deck. Each player has to pick up a card from the open or closed deck and discard one every turn. This process is repeated till the sequences and sets are formed in conformance with the objective of the game. You can also use joker cards to form sequences but the sequences so formed cannot be called as a pure one.
Badminton League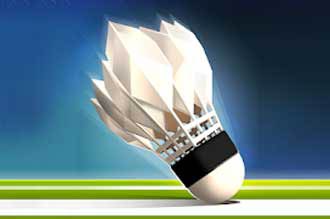 Publisher: Redfish games.
Cost: Freemium
Platform: Android / iOS
Genre: Sports
Editorial Review:
Don't just be awed looking at your favorite sportspersons dominating the game on televisions. Become one instead by taking up any of the sports offered by online gaming like say for example, the badminton league. The realistic game play that the game has to offer will stun you. The user interface is easier to control and yet the game is challenging to win. There are numerous attractive badminton outfits to choose from. The sound effects related to the players' movements and the racquet hitting the shuttlecock are programmed realistically. Overall, it is a must play game for all badminton fans.
Game Play:
The badminton league does not involve any complicated game play. You are just going to make the player back and forth to reach the shuttlecock and go for a short or long range shots. While engaging in a rally, you should know the appropriate time to score a point. Corner your opponent and use the smash hit option when it is time. Play this game as 1 As 1 or participate in the tournaments offered by the badminton league. You can use the points earned to upgrade a player's ability like agility and endurance. This game is a smash hit and is one of the popular free online games to play now.
Brawl Stars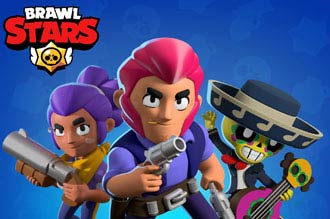 Publisher: Supercell
Cost: Freemium
Platform: Android / iOS
Genre: Action
Editorial Review:
The action packed games are generally most preferred and loved online. No wonder why Brawl Stars is one of the most trending games in the gaming world right now. All you need to do is to unlock new and powerful brawlers. You will be thrilled to see new events and modes introduced quite frequently, in fact almost daily. You will be amazed by its character designs as well as animations. The skills involved in this game are much more than what you have seen in other games of this genre including clash of cans.
Game Play:
Your success in this game depends largely on how you are able to move your characters and unlock new brawlers. Move your characters with left joystick or by touching the screen and drag your characters with the help of right joystick to shoot in any direction. Unlock new brawlers by either opening the brawl boxes or big boxes using the game play or purchase them from the store as in-app purchases. You need to grind a lot for winning the games. For example, your chances of unlocking a new brawler increases only when you spend a lot of days finding one. Nonetheless it's quite an impressive game with so much of action adventures.
The Battle of Polytopia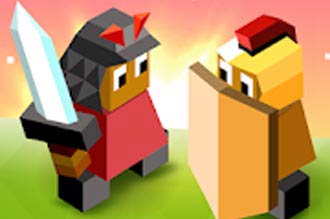 Publisher: Midjiwan AB
Cost: Freemium
Platform: Android / iOS / Windows / MacOS
Genre: Strategy
Editorial Review:
The game involving strategies are always challenging to play. The battle of Polytopia pushes you to the limit in achieving your objective. It is a 3D turn based strategy game filled with adventurous elements. It is free if you are playing it with AI offline in a single player mode. On the other hand, you may have to purchase at least one tribe if you are going to play online with other people. What makes it interesting is each of the games is unpredictable. The strategy worked for a particular game will not work for the next game and so you are always kept guessing, leaving you thrilled forever.
Game Play:
The objective of the game is to build a civilization of your own and lead them into a war with other civilizations. There are different tribes available for you to choose from to raise your civilization. Most of the free games to play now have different player modes. If you play a single player mode, you must either gain the highest possible points in 30 turns or destroy all the opposing forces. In the multiplayer mode, your goal is to reach the first 10.000 score points or if not conquest all rival capitals. You can expand your kingdom by using a warrior to discover and conquer small villages hidden in the fog which will become your new town in the kingdom. Explore all such possibilities and build a strong civilization which can withstand any attack.
XOB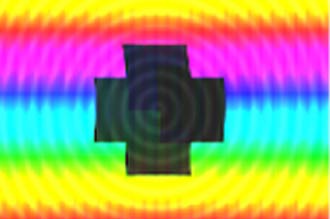 Publisher: Rule Weaver
Cost: Freemium
Platform: Android / iOS
Genre: Puzzle

Editorial Review:
It is a challenging free puzzle game with a limited in-app purchase. Normally in certain games when you are not ready to spend you will be bombarded with ads of many kinds frequently forcing you to see the same to gain some points. But XOB will not push you to watch ads so frequently. The tutorial that is available is helpful up to a certain level. If you feel that you are stuck in a particular level, you can use the hints or tips. The game as such is designed with great ambience and style.
Game Play:
XOB is known as a kinetic puzzle game which makes you not only to think but feel. There are no definite mechanics in this and if anything, they remain just abstract. Try to go through the tutorial to understand the game. The game play is very pure, and you need to experiment, observe, test and learn Enjoy the cool game play by downloading the app. It is one of the best free online games as far as the genre of Puzzles are concerned.
Asphalt 9: Legends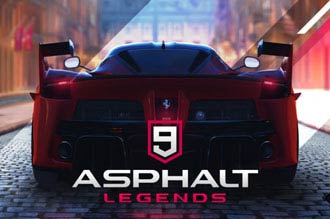 Publisher: Gameloft SE
Cost: Freemium
Platform: Android / iOS / Windows / Nintendo Switch
Genre: Racing

Editorial Review:
Wish to experience a racing spectacle involving the cars of world famous car manufacturers? Asphalt 9: Legends is just the type of game that gives you an opportunity to take on some of the world's best racing cars. This game has come up with an ultimate racing control called TouchDrive which is very innovative. It frees your mind a bit by streamlining the car steering and lets you focus on the arcade fun and fast speed. The visuals are great and come in great varieties too. There are plenty of free content available including daily and regular events, multiplayer and private races with your team.
Game Play:
Pick up your dream car from the plenty of options available (Ferrari, Porsche, Lamborghini and W Motors) and race across various locations competing with your rival speed machines. Become a street legend by participating and completing over 800 events in 60 seasons. Create your own community of like-minded friends consisting of fellow speed freaks to gather their inputs for racing your best. So, what are you waiting for? Inscribe your name in the list of legends by playing one of the best free games in racing.
City Mania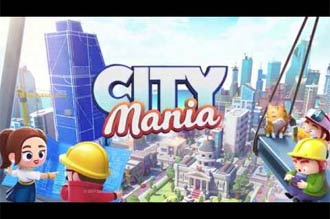 Publisher: Gameloft SE
Cost: Freemium
Platform: Android / iOS
Genre: City Building Game

Editorial Review:
The game, as the name suggests, is about building a city and make it your own. The efforts that you take in completing this task sum up the game. You will be enchanted by the detailed graphics and easy tap/drag operations thereby providing a pleasant gaming experience. There are many cartoon characters that help you build the city in the way you want it to be. You will have a series of tutorials that guide you to create the structures and expand the city's resources. This game is a good mind exercise for you which will put your intelligence to test in grooming the city.
Game Play:
Out of the many free PC games online, role-playing games are widely preferred by people of all ages. Are you interested in owning an entire city? Then build it from scratch by playing the game called City Mania. Plan your strategy carefully and recruit many funny characters to bring your city to life. Build as many buildings as possible and expand it from a small town to one of the busiest cities. Build famous landmarks to make the city look more beautiful and reputed to the outside world. Also build advanced skyscrapers by merging the buildings into it and unlock specializations. This is shortly called as fusion. Likewise, think and do whatever you can in building the city which will help you in becoming a proud owner of the world's best city.
Pokemon Go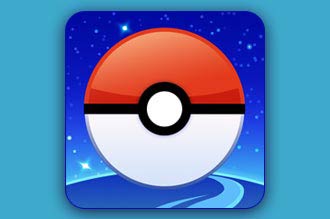 Publisher: Niantic, INC
Cost: Freemium
Platform: Android / iOS
Genre: Location-based Game
Editorial Review:
This game allows you to step out of your house and catch Pokemon in the real world. You may not find proper explanation as to how to catch Pokemons but you can definitely learn the same better by trial and error method. Since it needs constant tracking of location, the mobile internet needs to be kept on all the time. There are several levels to play which help you earn experience points as and when you have a steady progress. It is an attractive game among all free games overall which you can never stop playing.
Game Play:
The game play starts with customizing your avatar completing which you will be finding three pokemons appearing in front of you. If you want to capture more, you have to keep loitering in the populated areas. Find pokestops nearby where the creatures are bound to be found in abundance. As you start walking your avatar will walk along the map with GPS. When you find a pokemon nearby it will pop up on your screen. Your phone will vibrate giving you the notification that a pokemon is nearby. This feature is available so that you do not meet with any accident as you walk keeping your eyes on the cell phone. Download the game and have a great catching.
Darkness Rises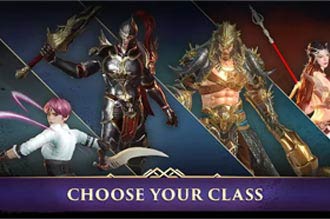 Publisher: NEXON Company
Cost: Freemium
Platform: Android / iOS
Genre: Role playing Game
Editorial Review:
Here is a chance to turn a hero and save the world from the clutches of darkness which provides a cover for some of the ferocious demons. Such a plot requires gorgeous graphics and innovative game play in addition to intense boss battles, all of which are present in this game called Darkness rises. There are four kinds of characters available each of them is bestowed with different skills. There is a skill called Soul Link with the help of which you can control the monsters. If you are a natural role-player you will achieve the objective of the game at any cost.
Game Play:
Most of the fun free games turn out to be role-playing. Be ready to step into the darkness by moving to hell fearlessly and demolish all the demons to save the world. There are numerous challenging battles awaiting you which will put your skills to test. Tie up with your allies and make your way into the dungeons to raid and discover rare loots. With Soul link as an option you can turn your enemies against themselves. Therefore, use it whenever you want to take control of the monsters. Your task is to defeat the darkness before you get conquered by it.
Shadowgun Legends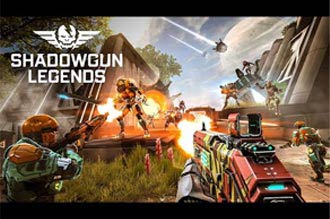 Publisher: MADFINGER Games
Cost: Freemium
Platform: Android / iOS / TvOS
Genre: First Person Shooter
Editorial Review:
This game is all about surviving an alien invasion and so it goes without saying that is another game of relentless adventures. It carries a stunning work of graphics detailed elaborately. Unlike other shooting games, you are not required to fire manually with your primary weapon by keep pressing the shoot button. It happens automatically. The missions are not going to be difficult as your enemies' lack intelligence to even run for a cover when the shots are fired on them. So, try to exploit this lacuna and go as long as possible.
Game Play:
Confront a deadly alien invasion which has come as a threat to the humanity by joining forces with legendary warriors and heroes with Shadowguns defend the world. Gun down the giant enemy bosses and try to survive in war game arenas. There are around 600 unique guns and 1000 armour pieces to choose from. If your actions are welcomed the world will accept you and react to your actions. Use unique multiplayer mode or diverse multiplayer mode to attack and defeat your enemy forces.
The above-mentioned games are not the only ones available for free online. There are many such fun free games available both in Android and iOS. Try exploring them and pick up the best one and play. There are ratings and reviews available which will give you an idea as to which one to choose. The ones stated above are handpicked the same way and presented.