Introducing India's fastest Mobile Rummy App; 7 reasons to download it now!
|
Brace yourselves…for the ride is going to be thrilling with India's fastest Rummy App! If you've enjoyed a game of Rummy on your laptops/computers, you will definitely love it on your mobile phones. On the other hand, if you don't know much about Rummy, then this App is definitely for you. After all, it is the smartest way to win cash!
Why should I download the app?
Well for one coz it's the fastest, and second it's the smartest way to win money. That's not all. We give you 7 more reasons after which you just won't be able to resist downloading this Android Mobile Rummy App.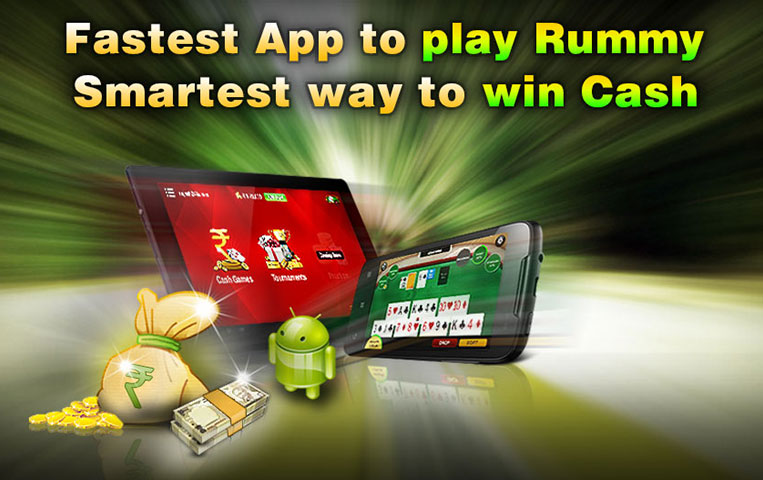 1) Make money from a game: It's legal, it's safe and it's a lot of fun…plus it gives you money J No other gaming app offers you the chance of winning real cash! So no matter where you are, if you have a few free minutes, just play and enjoy the thrill of winning the moolah.
2) You will never get bored again: With rummy in your pockets, or rather in your palms, you can say goodbye to boredom. It's a fun-filled, exciting and thrilling game that will challenge your grey cells. Match your wits with people across the country. We promise you will keep coming back for more.
3) Practice Games to hone your skills: Rummy isn't only for Pros. If you don't know the game, here's your chance to 'Practice and make Perfect'. It's exactly like the real thing except that there is no money involved. When you become confident about your game and are ready to challenge people, you can play for as little as Rs 25 and win cash prizes in thousands & lakhs.
4) No distractions: Don't you just hate the ads that keep popping up when you are deeply engrossed in a game? Well, you don't have to worry about that with this app as it's absolutely clutter-free. No banners, ads, pop-ups – just pure gaming.
5) No Computer; only Real Players: Unlike other apps, you don't play with a computer. You match your wits against real players from across the country. Challenge them, outsmart them and feel the adrenalin pumping.
6) Special promotions: Since you have Rummy in your hands AND you can play anywhere, anytime, we have designed special offers & tournaments only for the mobile app users. Even though you are on the go, the best rummy experience will follow you J
7) Real-time updates: And just so you don't miss out on any special offers or a chance of winning, we give you real-time alerts on the app – all you need to know to make your best rummy experience even better.
How to download the Android Rummy App?
Now that you have many reasons to download this app, you can just give a missed call on 08080894422. You will get an SMS with a link to download the app and voila, you can step into the enthralling world of Rummy.
Remember to register if you are a new player – it's absolutely free.
What about non-android phones?
As the name suggests, the app is specially designed for Android handsets. However, the non-android users needn't be disheartened. Those who wish to play rummy online on iPhones and other operating systems, we have our exclusive mobile website.
On your mobile handsets, type this link on the Chrome or Safari browser m.rummycircle.com and you are ready to play. Our mobile website is also ultra-cool with a friendly interface, rich colours and an awesome game-play experience.
So get the Rummy app on your Android mobile phones and tablets for a faster, smoother and incredible experience. But don't take our word for it…try it yourself.
Also Read –