The Biggest Diwali Rummy Tournament You Will Witness This Year
|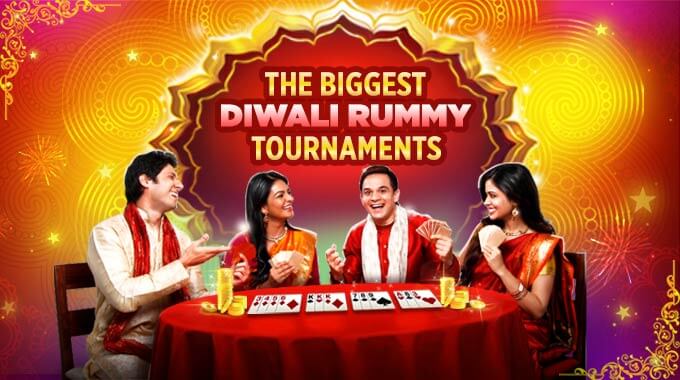 Every year RummyCircle endeavors to bring the big and the most exciting online rummy tournament. This year also the Diwali Rummy Tournament has entered its Week 1 journey. The Finale is yet a few weeks away, however to win, you need to climb the Step 1. If you are new to online rummy you can learn how to play rummy by online rummy tutorials at RummyCircle. What makes this Diwali Rummy Tournament so exciting…
You Can Win Over 4 Crore in Prize Pool
How can you enter the tournament?
If you are all excited about the Diwali Rummy Tournament, here are some things that you need to keep in mind.
Diwali Rummy Tournament (DRT) can be entered by any cash player of RummyCircle.
DRT has entered the first week and is running from 2nd October – 8th October 2017.
There are qualifying tournaments known as Shooter and there would be 112 winners from each Shooter tournament. Each of these winners will win a ticket to the Satellite Tournament that is held at 3:00 PM from Monday-Saturday and for Sunday it is 2 PM.
Winners of these Satellite Tournament will win a ticket to Sunday Grand Finale.
Prizes for the Diwali Rummy Tournament
Diwali Rummy Tournaments are never fun without exciting prizes for the winners. Does that mean, you only get prizes at the grand finale. No, there are winners at every stage and prizes to push you forward as well.
The winners of the DRT are eligible for both cash and non-cash prizes, as per the tournament distribution plan.
All cash prizes will be credited to the RummyCircle user account, once the winners complete the round.
Diwali Rummy Tournament Week 1
To enjoy playing online rummy this Diwali, here is how you should go about the different levels and play on. Remember, without playing in a systematic way, you will not be able to enter the grand finale on Diwali.
Options you can pick from
Option 1 – Ride as a Shooter
To enter as a Shooter you need to register with Rs. 40/-
You can win a ticket in the Shooter and enter the 3PM Satellite tournament
You can then further win a ticket to the Satellite and then make it to the Sunday Grand Finale.
Compete in the Grand Finale and win from a Prize Pool of Rs. 40/- lakh.
Option 2 – Ride in a Satellite
You can enter the tournament with Rs. 400/ deposit
You can now directly play and win a ticket into the Sunday Grand Finale and then compete to win the grand prize pool with Rs. 40 lakh.
Option 3 – Ride in a Super Satellite
You can enter the tournament with a deposit of Rs. 4000 and win a ticket to the Sunday Grand Finale
You can also win prizes worth Rs. 15,000
To know more about the Diwali Rummy Tournaments, just view the details here. (https://www.rummycircle.com/promotions/diwalirummytournament-overview.html)