Press Releases
RummyCircle.com in bwdisrupt.businessworld.in « Back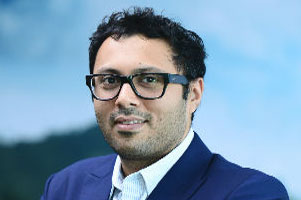 Play Games24x7 Sees the Mobile Gaming Segment Grow 10x in Next 5 Years.
With close to 40 million players across their games, Play Games24x7 Pvt. Ltd. (Games24x7) is India's number one mobile and web games business. RummyCircle, their flagship rummy product, is India's top destination to play rummy on smartphones and desktop, with millions of players visiting every month. BWDisrupt spoke to Bhavin Pandya, Co-founder and CEO, Play Games24x7 to know more about their businessmodel:-
In 2015, Games24x7 launched its mobile games studio Ultimate Games, offering freemium mobile games and it already has two top grossing games in India - Ultimate Teen Patti and Ultimate Rummy. The games are available for free download on Android smartphones and iPhones. Play Games24x7 has 250 employees at its offices in Mumbai and Bengaluru.
Inception of the Startup
The idea of Play Games24x7 was conceived by Bhavin Pandya and Trivikraman Thampy in 2005 when they were pursuing their Ph.D. in Economics at New York University. In addition to their interests in studying economic problems, Thampy and Pandya were passionate about competing in online games like pool, mahjong, and poker. Struck by the immense growth potential of the Internet, rapid economic growth and the increase in spending power of the people in India, Thampy and Pandya decided to tap the potential of web-based games for the Indian market. By mid-2006, the duo incorporated Play Games24x7 with the vision to entertain people in India through games they have always enjoyed and loved playing.
In late 2005, Pandya dropped out of his fully funded Ph.D. program to move to India and establish Play Games24x7. In line with their vision, Play Games24x7 started developing an online 13 card rummy game - an extremely popular card game in India. They spent a large part of 2006 and 2007 building the team and the product and in the middle of 2008, launched the beta version of what was then called games24x7.com. The duo launched the full-fledged Games24x7.com in March 2009 and rebranded it into Rummycircle.com in August 2012.
Investment Till Date
Play Games24x7 started in 2006 with some seed capital that was later followed by more substantive funding first from New York based angel investors, and finally from Tiger Global.
Business Model
RummyCircle provides a platform to online rummy players to play real cash rummy games and collects a small percentage of the amount that is played for as service charge.
In Ultimate Games, the freemium mobile games business, players start out with some free virtual currency which is required to play games, along with subsequent top ups every few hours. However, if players want to play more than what they can with the free virtual currency, they can purchase additional virtual currency from Ultimate Games. The company plans to consider monetizing through advertisements in the future.
Features that are a Key Differentiator
Play Games24x7 treats every single player as someone that has a unique set of expectations from their gaming experience. The company dedicates substantial resources to analyzing player behaviour and accordingly customizing their experience.
This starts at the very beginning with localization where players can have the option to see content in their choice of language, and carries over to our loyalty program where players receive not just promotional offers but also tournament offerings and customer service that is highly individualized.
In essence, the company believes that through their actions on the game, players are constantly speaking to them and telling them how and where they can improve their gaming experience. The company takes this feedback very seriously and strives on an ongoing basis to respond to their players' needs and desires.
Growth Estimates & Futures
As per the latest App Annie report, the total game revenue in India is expected to reach $1.1 billion by 2020. Currently, India ranks in the 5th place globally in game downloads and is expected to push up significantly in the coming years.
Play Games24x7 has seen a year on year surge and the company estimates a 100% growth in this year as well. With the smartphone user base in India crossing 300 million and headed to 500 million in the next 2-3 years, Play Games24x7 sees the rummy industry growing 10x and the freemium mobile games segment growing 40-50x in the next 5 years.
Date: March 29, 2017
Source: http://bwdisrupt.businessworld.in/article/Play-Games24x7-Sees-the-Mobile-Gaming-Segment-Grow-10x-in-Next-5-Years/29-03-2017-115280/
Games24x7.com has now become RummyCircle.com