5 Activities That Will Make Your Summer Awesome
|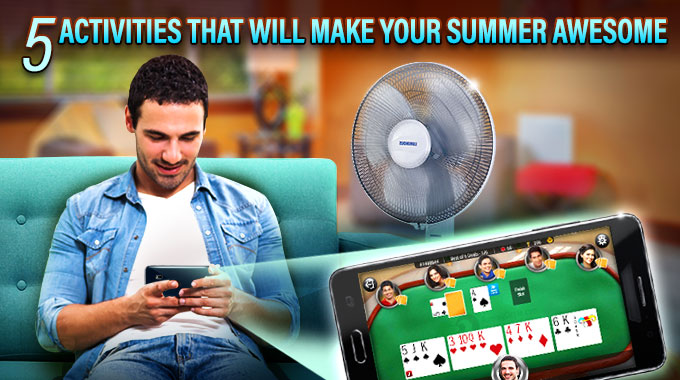 Summers can push you indoors and give that feeling of getting stuck and not getting anything constructive done. Well, even though the heat can sometimes get a bit too much and your favourite thing to do would be to laze in front of the air conditioner, here are five activities that are much more fun, even in the summer heat.
Learn to swim
We all avoid that sweaty workout sessions during summers. But swimming is something that is absolute fun during the summer months. You can enjoy spending time in the pool, learn a new skill and get fit as well. No matter, what's your age you can learn how to swim and get fitter this summer. Try to go in early morning or towards the evening and enjoy the cool water and calmness of the day.
Playing rummy cash games
You can always get started with rummy cash games. Even if you have never played rummy before, you can learn how to play rummy online by logging into the practice tournaments and improving your skills. There are regular cash games and tournaments running live all through the day, and you can play any time you want, even those moments when there are power cuts. Even though the heat is annoying, the real cash winnings are sure to make you smile.
Go camping
We mostly hide inside our homes and think that stepping out is a big mistake. But on the contrary, there are some things that you would love to do, especially in summers. One such activity is to go camping and enjoy a star gazing night. The nights are cool and there are different places you can go camping around your city. Not much required, except some comfortable clothes. As we are just stepping into the summer months, try doing this activity at least once.
Download some useful stuff
Well yes, you can download at any given point of time and in most cases you are already doing so, however how many of those apps are useful rather than being purely entertainment. This summer try to download at least some useful applications like free new courses, some utility apps and also download rummy for free to get the most out of the games and add new skills as well.
 Visit the Hills
No matter which part of the country you live in, there are some hill stations that you can surely explore for a short break. Summers give you the perfect time to explore the hills and get some respite from the heat. So, whether it is short weekend trip or a planned summer holiday, make the most of this period and have some cool breeze in your hair.
Summers are not as dull that you may think of it. Rather, have a mix of all these activities in your life and you will actually find yourself looking forward to the long summer months ahead of us.
Also Read –
Best Real Money Earning Games You Should Not Miss In 2018