Best Real Money Earning Games You Should Not Miss In 2018
« Back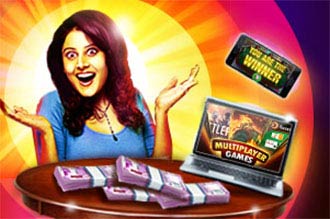 Playing online games improves focus and relieves stress in a bigger way. It is just not the passion that drives people to get hooked towards playing online games, it is also a source of non-stop fun and entertainment. Most of the online games are now acting as real money earning games too. Let us now see in detail about some of the games that help winning real money.
1.
Heroes Of Loot 2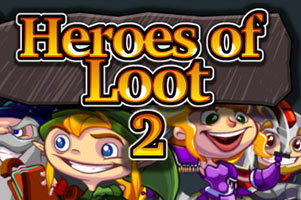 The game Heroes of Loot 2 is one of the real money games offered by la-la loot gaming website. It is a sequel to its other half Heroes of Loot by Orange pixel.
Editorial Review:
This game is all about venturing into various dungeons and surviving till the last before reaching the Loot boss also called as the final level. It has come up with a much advance graphics showing better improvement in textures than its earlier version. The ambience looks much better altogether, and the speed of the game has also largely improved. The camera movements track the movements of the enemies with ease.
Game Play:
The game play of this game is pretty straightforward with no complicating scenarios. You must venture into each of the dungeons with each level having an exit hole to reach the next one. Once the game is loaded, there is an option for you to choose one ranger and one warrior with both coming under your control. There are some hidden characters in the levels that can provide you requisite weapons or an option to skip a level.
Tips and Tricks:
Choose characters that fit your style and good enough to put the monsters down.
Do not worry about the traps as they can cause only minor damage.
Game Availability:
Takes Rs.280/- to download in Android Play Store
2.
Exodus 3000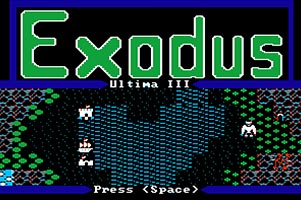 If you are an adventure lover having a huge aspiration of exploring the universe, then exodus 3000 is just the best bet for you to lay your hands on.
Editorial Review:
This is one of the money winning games with flashy animations. This game can help you win a whole lot of money, purchase upgrades and claim settlements if you can use your daily quota of 250 moves wisely. You can also gain extra moves by referring other players and increase the stats. Once you are able to collect enough money you will be able to receive real money.
Game Play:
This is a futuristic game, where the earth becomes uninhabitable and so as the name suggests, the humans have to choose planet Mars to make their living. Here comes your adventure part wherein you are required to defend your homestead at Mars at all costs including gaining influence over other settlers over there.
Tips and Tricks:
Make sure your weapon level is better than your opponent's when attacking others' settlements and defending your own.
Since the volcanoes can have precious metals, you can win more Mars dollars, upgrades and prizes by mining them.
3.
Jumanji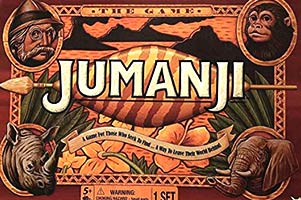 It is a board game more popularly known by the movie in its name. This is one of the exciting games for money which offers some spine-chilling experience and thrills right from the beginning till the end.
Editorial Review:
The board looks exactly as how it was shown in the movie in its honey comb layout featuring 5 reels and a 3-4-5-4-3 row structure. You can see the theme related icons including wild animals in the reels. There are so many exciting features you can find on the reels including Sticky Vines, Monsoon Wilds, Monkey Mayhem and Wild Stampede that rewards you with Respins which can last till winning symbols appear.
Game Play:
Jumanji is a strategy-based Ludo game where your objective is to compete with the other players to race your tokens and reach first. You have to strategize cleverly to keep your rival tokens away by moving yours wisely. If you fail to do that properly, other players can take your token back to the home position by killing it. The one who is able to take all his tokens home will be declared the winner of the game.
Tips and Tricks:
Buy as many properties as you can and obtain monopoly in the jungle.
Try to collect many rare cards which will increase your winning chances.
4.
RummyCircle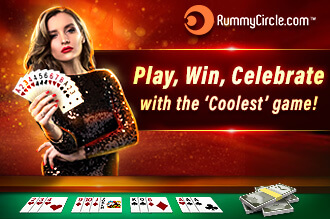 When you talk of online real money winning games, it is difficult to overlook Rummy games, hosted by RummyCircle, India's leading Rummy site.
Editorial Review:
The RummyCircle has a very simple registration process with not much details needed to fill in the form. The website has neatly designed tutorials and practice tables. It has many tournaments and cash games played 24x7. There are chat options too where you can interact with players all over India. The payment processes are also very simple with easy withdrawal options. It is a secured site where your personal information is kept confidential.
Game Play:
The dealer is decided by the toss and the game begins once the cards are dispensed. The objective of the game is to form at least two sequences (one of which has to be a pure one) and sets and the remaining cards to be arranged as sequences or sets or both. On each turn a player must take a card from the open deck or a closed deck and discard one. Once the objective is met, he should submit the cards for validation.
Tips and Tricks:
Please ensure you have practised enough before going for cash tables.
Do not play more than one real cash game or tournament at a time as the stakes are high.
REGISTER to play online rummy at RummyCircle.com
Or
DOWNLOAD OUR APK to get RummyCircle Android App
5.
Hall Of Gods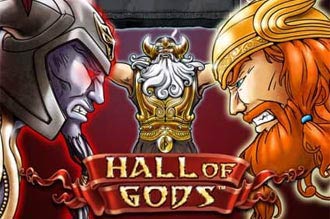 This game is based on Norse mythology that features Thor, Odin, Freya, Loki and Idun. This is a game where there is an opportunity of going places if you are able to crack the jackpot.
Editorial Review:
This game comes up with varieties of distinctive features. This is the game which runs on the theme of the best ancient age of Greece. The players can keep playing for hours driven by fast, lucky, fun slot machine casino action. You get multiple boosters to further your mega slot machine earnings. Also, free bonus slot coins can be won every two hours.
Game Play:
The game play of hall of Gods is easier as it has clearly indicated controls and display windows. The control panel has clear indication of bet level, coin value, cash and coins etc. You can also set up auto play if you wish and same goes with turning off or on sound effects. Each spin enables the smooth flow of Reels and there are indications of coloured symbols on the paylines.
Tips and Tricks:
You should stick to the amount you are going to wager per spin and not deviate.
Always go for the maximum bet.
6.
Bejeweled 2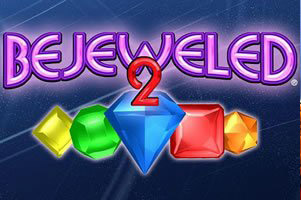 Bejewelled, one of the money making games, is, as its name indicates, is about matching the gems by swapping them to create three in a row and complete as many levels as possible by beating the clock.
Editorial Review:
This game has several different modes available to play viz. Classic, Action, Puzzle, Endless, Blitz, etc. The puzzle mode, however, does not appear in the Android and iOS versions of the game. This game is primarily based on the Shakiri game mechanic just like its prequel. Some of the modes introduce bombs or unmatchable rocks into the playing field.
Game Play:
The objective is to line up the gems which are adjacent to each other and form a chain of the same colour. As soon as the chain is created the gems disappear leaving random gems at the top to take the place of the former. Such gems, when they fall, form a chain by itself. There are certain special gems like power gem, hypercube, bomb gem and rock (available only in Puzzle) each has its own capacity to turn the game.
Tips and Tricks:
A blitz or action mode requires faster moves whereas the classic mode requires smart moves.
Your score multiplies when you can make faster matches.
7.
Canasta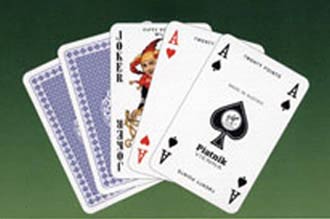 This card game from the Rummy family is believed to be a variant of Rummy 500. It is played with two standard decks of cards, mostly played between four players.
Editorial Review:
This game will have 108 cards excluding four jokers. In this game, the dealer will have no privilege or advantage for being one. Unlike original Rummy, a meld here means a formation of seven cards, be it natural or mixed. Every card is assigned a specific value which decides the minimum score a player needs before laying down their first meld.
Game Play:
The turn of a player begins when he draws a card from the draw pile or when he picks up entire cards in the discard pile. Then the cards are grouped into melds where the valid ones are placed on the table face up. Each meld is made up of at least three cards of the same value. A set number of canastas need to be laid down at the end of each round. Apart from the score points which are based on the cards in their melds, meeting certain conditions will give you bonus points.
Tips and Tricks:
Always keep in mind the cards available in the discard pile.
If none of you have melded yet, it is advisable not to lock the pack.
8.
8 Ball Pool Game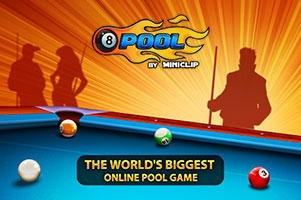 This game is similar to the board games like snooker and billiards. It is available to be played against players all over the world through the internet.
Editorial Review:
As the name indicates, 8th ball is the key which you must pocket once you have put away the other seven balls. Though there are certain pop ups and ads which appear on its notification bar which can add to your frustration, it is ignorable considering the price that you pay to play. The alignment guide helps you fix your angle in putting the target ball in the intended pockets.
Game Play:
Before beginning the game, you will be asked to bet some amount of money which keeps you engaged in the game. Use the power meter on the left with which you create the power required to strike the ball. Touching the cue icon zooms the ball that enables you to perfectly time the ball. Your opponent turn comes when you miss pocketing a ball. The upgrade of cue is important to make a progress in the game.
Tips and Tricks:
Put the spin on the ball wisely when you hit
Tapping and dragging on the pool surface enables you to shoot faster.
9.
Family Feud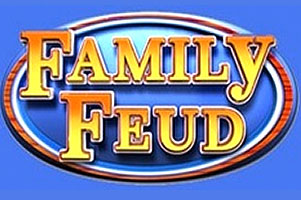 The family feud is a fast-paced survey game which was based on a hit game show. It is about guessing the popular answers to survey questions.
Editorial Review:
There have been many changes and updates witnessed in the family feud game like new hosts, set dresses, board game and video game iterations. The main advantage of this game is that it has managed to stay relevant even competing against million-dollar prize type shows. The game is designed in such a way that it is assumed to be a wrong answer if the reply that a player types does not appear or show up. The game is programmed to accept a near to correct answer too.
Game Play:
The game is all about typing your answers to the questions and click on submit. You must correctly guess the survey answer. If the answer happens to be the more popular one, then you are bound to win points. Same way, if you type a wrong answer or if your time runs out, you will get a strike and three such strikes will disable the round for you.
Tips and Tricks:
As you are pitted against many players you must try to answer the questions as fast as you can.
Use the auto word system to answer the questions quickly.
10.
Stack Money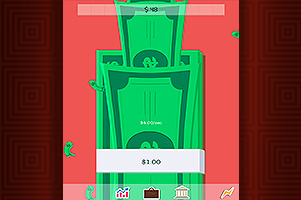 Playing this real money-making game is like a do or die situation where your objective is to stack up your cash till it reaches the skies or die while trying.
Editorial Review:
This addictive game of building towers is designed with beautiful animations and HD backgrounds. The HD backgrounds look pleasantly gorgeous with soothing Zen music. Though it may sound simple, practically it is as hard as earning money in the real world. This is a skill-based game which requires your sharp acumen to achieve the objective of the game. If you are looking for getting rewarded phenomenally then this game is all for it.
Game Play:
The money stacks available in this game are in the denominations of $1s, $2s, $5s, $10s ,$20s, $50s, $100s. In addition to it the stacks are also available as sparkly bars of Diamond, Gold and Silver. Using them you need to reach the skies. It is purely in your hands to make effort to unlock the precious metal bars made of Gold and Silver. You should put in your best effort to become a billionaire and build building using billions.
Tips and Tricks:
Try to use the blocks like a pattern to build buildings.
Your fingers need to be close to the screen.
Don't focus on multiple corners while building the blocks. Keep your focus on one of the corners.
App info:
Android version 3.0.11
iOS
Conclusion
Those were some of the popular games played online for real money in India. After all, when you are using your skills and intelligence to the maximum extent in emerging victorious, it is only appropriate that you get duly rewarded for it. There are so many options to explore in this particular field. Go for it and make every second count.