Top Trending Games Online
Updated: Nov 25, 2019, 16:30 IST << Back
---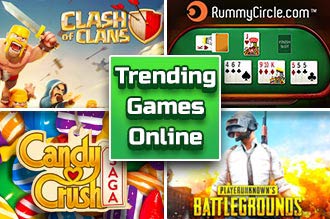 Generation gap seems no longer a taboo in the 21st century, irrespective of the decade in which one was born. Everyone loves online games and is absolutely hooked to it. This is probably the reason why different types of games are trending so much. Let us now look in detail at the top ten trending games and what could be the reason behind their popularity.
Call of Duty: Mobile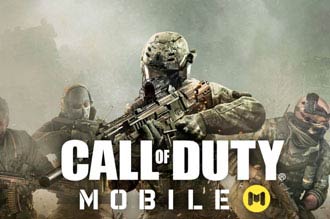 Publisher:
Activision
Cost:
Freemium
Platform:
Android / iOS
Editorial Review:
You have played it on your computer, now you can play it anywhere. Call of Duty: Mobile is a first-person shooter game that is now playable from anywhere. You can pick from one of the iconic characters, navigate through different maps, and play it with your friends.
Even though it is a mobile version, the maneuvering and shooting are flawless and easy to operate. There are lot of icons on the screen and plenty of detailing, which gets annoying when you are playing. To progress faster, there are in-app purchases that allows you to upgrade and unlock rewards.
Game Play:
Players feel that is game is similar to Call of Duty: Black Ops. However, here you can choose between modes – battle royale or multiplayer and pick a character-you may recall them from Black Ops and Modern Warfare. That said the strategies and gameplay changes with the mode. A player starts off with classical mode and after gaining experience, the battle royal mode is initiated for you.
The mobile version is one of the best contenders for PUBG and Fortnite. Will it take over gamers, making it one of the best games we have for a while?
RummyCircle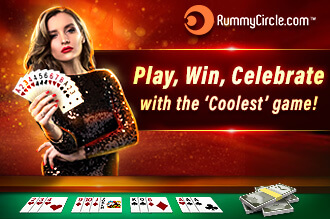 Play Rummy Now
Publisher:
Play Games24x7
Cost:
Freemium
Platform:
Android / iOS / Windows
Editorial Review:
With its unbeatable user-friendly interface, RummyCircle is certainly one of the most popular games online. In fact, it's India's largest rummy platform. The platform offers cash and free games and just about anyone can get started in no time. There are enough video tutorials and practice matches available to prepare one for the cash tables. The game is also available on the app, giving players a personalized experience. All money transactions are dealt in a secured manner. The numerous cash games and tournaments let you enjoy a variety of games round the clock.
Game Play:
The prime objective of the game is to form at least two sequences one of which has to be a pure one and the remaining cards can be used to form sequences and sets. The game starts with a random toss as to which of the players should begin first once the cards are dispensed. On every move, each of the players has to pick up a card from the open or close deck and drop one. You have a joker card also with which you can form a sequence except that it can't be categorized as a pure one. Once if the cards are found to be aligned as per the laws of the game, you can submit the cards for declaration. The Rummy game is purely based on skills, and strategy. The smarter the calculations behind the game, the closer is a player to the win.
PUBG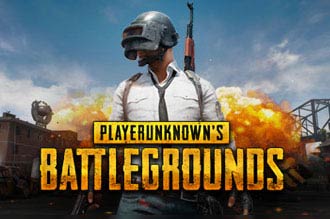 Publisher:
Pubg Corporation
Cost:
Freemium
Platform:
Android / iOS / Windows / PlayStation / Xbox
Editorial Review:
PUBG or Player Unknonwn's Battlegrounds, developed and published by PUBG corporation, stands inspired by the 2000 Japanese film Battle Royale. It is a game packed with thrill, excitement and challenge all at the same time. The game has superbly created graphics and sounds that are simply mind-blowing. It is a game of survival where you are expected to shoot and kill other people. Players form team and challenge other players. The last man standing wins the popular 'Chicken Dinner'.
Game Play:
This action-packed shooting game starts with players parachuting from a plane before landing in one of the four maps each with varying length of 8x8 kms, 6x6 kms and 4x4 kms. As the players start with virtually no gear other than normal clothing, they need to go for searching the gear, weapons, vehicles and other equipment in various buildings, ghost towns and other sites. The gears of the killed players can also be looted. As the playable area gets shrunk every few minutes, the players stand eliminated if the safe zone is not entered in time. In the event of random regions in the map getting bombed, the players are warned in advance to ensure their safety. The excitement of the game is battling it out, adding new weapons and making the war strategy.
Candy Crush Saga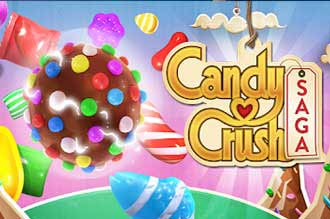 Publisher:
King
Cost:
Freemium
Platform:
Android / iOS / Windows Phone Store / Amazon App Store / Linux
Editorial Review:
Candy Crush Saga is a match three game which is quite faster in nature. You are no longer stuck with the age old 2D graphics. The change has come in the form of 3D. If you are a suspense lover, then you will absolutely enjoy this game as you can never predict what is in store for you every level. While some of them are extremely easy some are incredibly hard.
You may love the characters being goofy bouncing around the screen. There is still scope for improvement in the sound levels which could make the game far more interesting.
Game Play:
There's not much change in the gameplay from the original Candy Crush, and we all know what it's about. So, the player matches candies in the given number of moves and move to the next level. If the game play is so simple, what keeps the players playing this game on and on? Well, the unlimited number of levels and the challenge each one throws at you. They are not highly difficult that a player gives up but exciting enough to keep trying. There are of course those special bonuses like striped candies, hammer etc that we are so familiar with. it is the casual fun quotient in the game that makes it the top trending games today.
Clash of Clans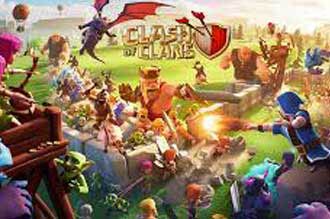 Publisher:
Supercell
Cost:
Freemium
Platform:
Android / iOS
Editorial Review:
Released first on iOS platform in the month of Aug'2012, this freemium mobile strategy video game was launched in Android platform too in Oct'2013. As a strategy game it tests your brain as you are pitted against both artificial intelligence and real-life characters. Though there are several clashes involved, no graphical violence is attached to it. This game is full of fun, but the only concern is the amount of time that it consumes. Though it is quite a complex game, the availability of tutorials makes it easy to follow.
Game Play:
You become vulnerable when the shield, that gives the base a 72-hour protection, goes down. You will be needed to upgrade your troops with the resources available, i.e. gold, elixir and dark elixir. The most important part of your base is the town hall which needs to be protected at all costs. You are expected to place the same at the centre of the map surrounded by multiple buildings which makes enemy riders difficult to enter the town hall. Also placing walls around your town hall with gold and elixir storage units slow down the enemy. A player looking for action and thrilling games, should definitely try this out.
Coin Master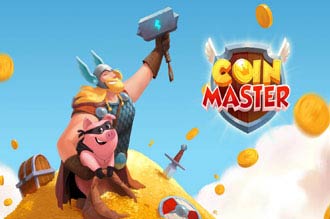 Publisher:
Moon Active
Cost:
Freemium
Platform:
Android / iOS
Editorial Review:
This is an adventure game with a social quotient. So, it allows the player to play the game with his Facebook friends and millions of players around the world to build his viking village to the top. The game is completely ad free too. It is not a lengthy game and hence can be completed in a short span of time. If you look for fun and entertainment, the game is here to provide that in abundance.
Game Play:
This game is all about spinning to earn the loot first, and then attack and raid fellow Vikings before finally playing with friends trading them. After spinning the wheel which falls on your fortune, win your loot and build strong villages which will help you to go up further levels. One can become the coin master even by stealing it not depending only on the slot machine. You can attack and raid your friends to build your village. Also, you can collect cards to complete the sets and move to the next village.
Rise of Kingdoms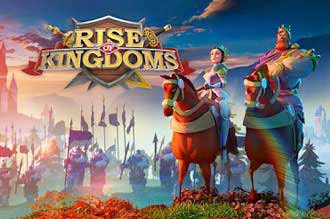 Publisher:
Lilith games
Cost:
Freemium
Platform:
Android / iOS
Editorial Review:
Are you someone who has always dreamt of being an achiever wanting to rewrite the history? If so, then Rise of kingdoms is just the sort of game that you should look forward to play. Go through the tutorial available which is simple to understand before starting to play. Efficient utilisation of available resources and cleverly planning the upgrades will make you enjoy the game. Overall it is a wonderful strategy game which gives you something or the other to love it. Go for it if you are ambitious as the plot is straight forward and simple.
Game Play:
Make alliance with the help of alliance features that is available and by fighting together with them, the vast kingdom can be taken under your control. Invoke the historical figures who will be available in dozens like Julius Caesar, Sun Tzu, Joan of Arc, etc. and make them as your trustworthy commanders. With the help of such commanders, destroy all the barbarians. By using superior tactics and upgrading your abilities, have your name rewritten in the history books.
Homescapes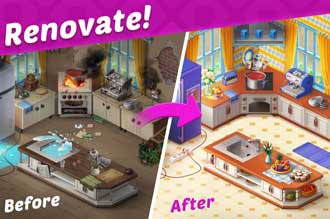 Publisher:
Playrix
Cost:
Freemium
Platform:
Android / iOS
Editorial Review:
This game is one such kind that can test your intelligence. You will be required to solve various puzzles on the way. If you have played candy crush before, this game becomes easier to understand as both the games are almost similar and so are the mechanics used in both. The levels are quite challenging and therefore it is very exciting to play. At times it can be frustrating with only limited number of lives available. In such a case you can login to your Facebook asking for lives. If you are a puzzle lover, you will enjoy this for sure.
Game Play:
The payer needs to help Austin, the hero of this game, to renovate his ancestral mansion in order to bring back its comfort and warmth. By swapping and moving the pieces, this old mansion needs to be given a new makeover. With thousands of design options available, you can use your creativity to turn an obsolete mansion into a dream house. This game has three levels and achieving the goals set for each level, you can move into the next one. In addition to it, there are certain other events in the game that gives special awards for the players.
8 Ball Pool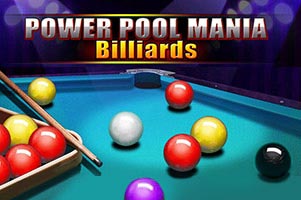 Publisher:
Miniclip
Cost:
Freemium
Platform:
Android / iOS / Windows / Web Browser
Editorial Review:
Among all pool-based games, 8 ball pool game is reckoned as one of the most popular games online. You can play with your friends as well as with legends. In fact, playing the game with friends is easier as all you need is to log in to your miniclip or Facebook account and challenge them straight from the game. Another new feature called a Golden shot has been introduced that can help you earn better rewards. If you are well-versed in billiards, you can easily understand this game.
Game Play:
This game is played with a white cue ball and 15 numbered balls including a black 8 ball. The game is said to be won by a player who pockets the 8 ball first. Strike the rack of balls in a triangle with the white cue ball. Proper legal break shot is one where you are able to either pocket a ball or drive four numbered balls to the rail. A failure to hit a legal shot is called foul which means the incoming player is awarded with the cue ball in hand. A player is allowed to play continuously until he fails to pocket a ball.
Ultimate Teen Patti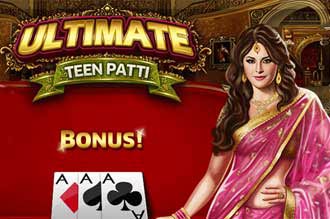 Publisher:
Ultimate-Games
Cost:
Freemium
Platform:
Android / iOS / Windows
Editorial Review:
Ultimate Teen Patti is one of the biggest Teen Patti games. Once the UTP app is installed the player will receive 3,00,000 free chips and he can start playing a variety of Teen Patti games. The player will also receive free chips every 4 hours. The player can play Teen Patti with his friends by creating a private table. Public tables are available where he can challenge strangers as well. The app is available in both Hindi and English.
Game Play:
The player needs to bet on card hands. BLIND and CHAAL are the two ways using which he can bet chips on card hands. The player who has the highest-ranking hand wins at the end of the game. The winner will get all the chips that was used for betting. Ultimate Teen Patti offers Classic Teen Patti and No-Limit Teen Patti. In a Classic Teen Patti game, the player has lower BOOT tables and he can play as per his comfort. Whereas, in No-Limit Teen Patti the player has the complete freedom to choose the BOOT and bet without any higher limit. Ultimate Teen Patti also offers different variations such as Hukum, Muflis, Lowest Joker, Higher Joker and 10x boot.
Garena Free Fire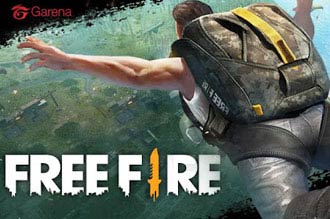 Publisher:
Garena international private Ltd
Cost:
Freemium
Platform:
Android / iOS / Windows
Editorial Review:
As the name indicates, this game is all about shooting your opponents for survival. In short, if you want to win this game, you must survive. You can use text or voice chat to communicate and join or create guilds. Also, you are encouraged to buy virtual currency and use it to buy costumes, weapons, etc.
Game Play:
Survival is the objective of the game where you are placed along with 49 other players in a remote island. Searching of weapons to staying in safe zone and looting the enemies are part of the game play. You also should gain an extra advantage over others by surviving air strikes and at the same time make legendary air drops. Try creating a four-man squad and effectively make communication with them before leading your friends to victory.
Ludo King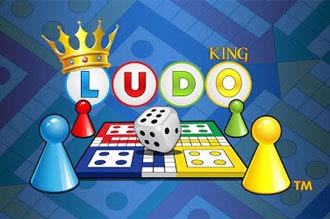 Publisher:
Gametion Technologies Pvt Ltd.
Cost:
Freemium
Platform:
Android / iOS / Windows
Editorial Review:
Ludo is one of the most traditional Indian board games and is a newer version of the ancient royal game, Pachisi. Now future generations can play the game on their smartphones, tablets, laptops, and other devices. All you have to do is download Ludo King, the ultimate app for this game. Since it is a cross-platform game, you can continue playing it as you travel—bus, train, or car, if you are not driving.
Game Play:
It is a simple, yet entertaining game. You just have to roll the dice and move your token according to what is rolled out. The aim is to reach the centre before the others do and become the King. Hence, this game was popular with the royals of yesteryears. Even though it is played on a device, you can still play it with your friends and families wherever they are located. So, shake the dice, roll it, move ahead to be the King.
FIFA 20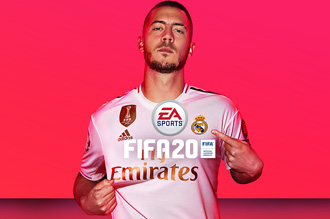 Publisher:
Electronic Arts
Cost:
Rs. 3999
Platform:
Windows / PlayStation / Xbox / Nintendo
Series:
FIFA
Editorial Review:
This is one of the games that has hooked people from its very first release. Use your football knowledge and select a team of your choice and put them to the test as they play with the opponent. FIFA 20 brings to you new additions even though the gameplay remains the same. Some of the exciting things are the speed of the players, Volta mode, and the animation has improved. The ball physics is a little difficult at first, but you ease into it after practicing.
Game Play:
We need to talk about the Manage Mode and Volta Game Mode. The Manager Mode has few add-ons. There are female managers too to choose from and you can negotiate the deal of transfer by yourself. You converse the clauses, transfer fee, etc. via a dialogue option.
The Volta Game Mode may seem like it is taking you to the streets, but it is not so. This mode allows you to play on a smaller ground, like a rink and you play with fewer people. It is definitely fast paced and exciting at the same time.
The Volta Mode is one of the best reasons to play FIFA 20. It is an innovative idea and unleashes unbelievable thrill for football.
Sekiro: Shadows Die Twice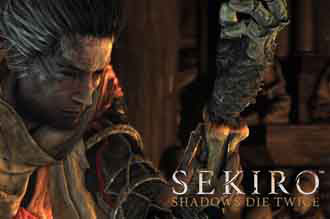 Publisher:
Activision
Cost:
Rs. 3999
Platform:
Windows/ PlayStation/ Xbox
Editorial Review:
Sekiro: Shadows Die Twice is a Japanese-based game that is pumped with action as well as with adventure. The game is played from a third-person's perspective. It also has heavy reference to Buddhist mythology and philosophy.
The graphics of the game is rich in detailing and immerse you in the fictional world. The game has several villains that you have to defeat such as Lady Butterfly, the Chained Ogre, the Great Serpent, and General Tenzen Yamauchi.
It is difficult to criticise the game, whether it is the settings, gameplay, or storyline. The creators of Souls series (Demon's Souls and Dark Souls) developed this game, but they wanted to make a game that is set apart from these series. And they have managed to create a unique game. Sekiro: Shadows Die Twice is one of the PC/ console games that has made its mark in 2019.
Game Play:
In Sekiro: Shadows Die Twice, you play a character or shinobi called the Wolf. He is on a quest to avenge the kidnapping of his Lord and the attack he faced at the hands of a samurai clan. The game is set in a fictional place that has a magical cover and the game happens during the Sengoku period in Japan.
The Wolf has the ability to go in stealth mode along with other skills that are procured as the game progresses. Also, the game is about exploration and takes you to amazing lands that is based in Japan. The game heavily focuses on combat and there are intense fights, especially when Wolf is faced with the lethal villains. Even though the game is set in a fictional area, there are familiar structures, buildings, and locations you will notice in Japan.
Control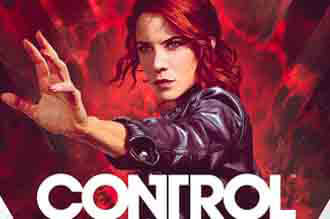 Publisher:
505 Games
Cost:
Rs. 3370
Platform:
Windows/ PlayStation/ Xbox
Editorial Review:
Control has a slow start to the game, but it picks up later. Also, there are few structural compromises with the setting and story, but it is overlooked when you are engulfed in real life visuals that has a cinematic flare. The environment is smartly designed and reflects the details of the real world.
The performance and experience of the game is completely invigorating, electrifying, and captivating. The narrative encapsulates you and draws you through the various missions. The game is so impactful that you keep thinking about it after you have stopped playing.
The graphics are spectacular that it even details out the smallest particles. Also, you feel like you are watching a television show, but you are actively playing it. The live-action and voice-over performances blends in beautifully and works seamlessly bringing the game to life. Control has one of the most unique gameplay and the setup is what sets it apart from other third-person shooter games.
Game Play:
Control takes you through a world of paranormal activities. The player dons the role of Jesse Faden, who is the newly appointed Director of Federal Bureau of Control (FBC). This confidential government agency explores and studies activities that cannot be explained. In the game, Jesse checks out the Oldest House, which is the FBC's paranormal New York headquarters. Jesse is endowed with abilities that she has to use to take down Hiss, a deadly enemy, who has corrupted the world.
Conclusion:
The aforesaid top trending games are not just meant for mere entertainment. Rather it moulds you as a person developing your problem-solving ability and intelligence. So, why waste a Golden opportunity by missing out. Explore the options of downloading them and make your pastimes count.