5 Things That Are Going to Be Important for Online Rummy in 2018
|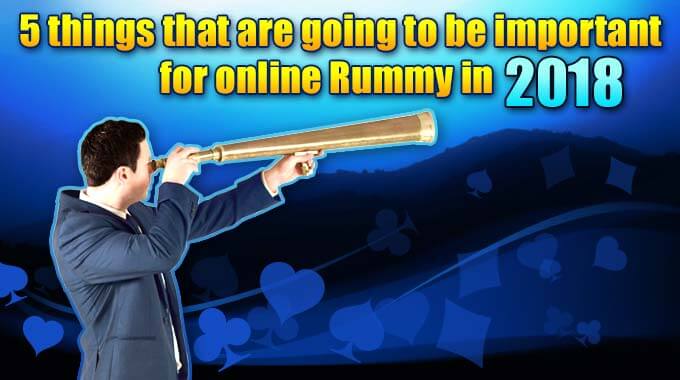 The online rummy industry saw some significant changes in the year gone by. However, what stands ahead of us is far more interesting and a must read for each and every rummy player. Let's see the five important things that you need to know about, if you are a rummy player.
Online rummy and legality
This last year has seen a lot of debates and discussions around the legal status of rummy. Online rummy is no more allowed to be played for cash in Telangana. However, that doesn't mean that online rummy is based on chance or has some risk involved. In fact, rummy has been acknowledged as a game of skill and is absolutely legal to play in the remaining parts of the country. What rummy players can expect in 2018 is the growth in player base, making it one of the most popular games in the country. Players, need not worry that this game will be banned, and they wouldn't be able to play for cash.
Fair Play and Security Becomes the First Priority
There are new groups that has been formed like, 'The Rummy Federation' (TRF), that brings together the leading online rummy service providers together. TRF has been formed to instigate the practice of fair play, uniform rules and regulations and appropriate checks and balances to ensure that there is no chance for foul play in the system. 2018, will see the growth of such groups, with more and more rummy service providers coming together and giving a just and uniform experience to players.
The Rise of Multiplayer Games
The two main factors that contribute to the rise of online games like rummy are smartphones and internet. Players in 2018 are expected to enjoy more and more of live and multiplayer games that gives them a feeling of challenge, excitement and real action all at the same time. Playing with bots looks somehow a bit superficial as compared to real players. Further, with added layer of security and fair play, today players enjoy these multiplayer games than any other form.
The Mobile Penetration
The expected number of smartphone users in India this year in 2018 is expected to reach 530 Million. Online players prefer playing games on mobiles as compared to desktops and this scale up in numbers is absolute good news for online games like rummy. What makes online games turn towards the mobiles is the smooth interface weaved in with sleek and fast working apps. Along with it, is the affordable and fast internet network that makes playing live games at Rummy app very much possible.
Improved technological advancements
Technology will remain the driving force behind online rummy games. New and improved interface and new technological advancements, makes rummy one of the fastest growing games in the gaming industry. RummyCircle has recently added the Docker environment helping to improve the detection of error and resolving them in a smooth way.
So, with the beginning of New Year, rummy finds itself on a strong ground and welcomes all its players to bigger tournaments, larger prizes and grand cash rewards.
Also Read –
Best Real Money Earning Games You Should Not Miss In 2018